While many residents in the path of Hurricane Florence evacuated to avoid the storm, Jimmy Buffett headed to the beach to catch some waves.
"I ain't afraid of dying I got no need to explain. I feel like going surfing in this hurricane," the 71-year-old musician captioned an Instagram post, using words from his 2009 song "Surfing in a Hurricane."
The social media picture showed the Margaritaville founder with his surfboard and had a location tag indicating he was at Folly Beach in South Carolina. Buffett warned other people not to imitate his behavior, adding "on a serious note—respect mother nature, please be safe and listen to your local authorities" to the caption.
An Orlando Sentinel editorial writer rebuked Buffett, calling his post "irresponsible."
"Buffett has evolved beyond artist to a lifestyle-brand with a massive following and his words—and images— carry power. And at 71 years old, he should be more responsible with his messaging when it quite literally has life-and-death consequences," Shannon Green wrote. "Instead of posting a photo next to a surfboard, it would have been nice to see him posting a photo next to a private jet with a suitcase titled #notimeforfolly 'get the heck out of Dodge.'"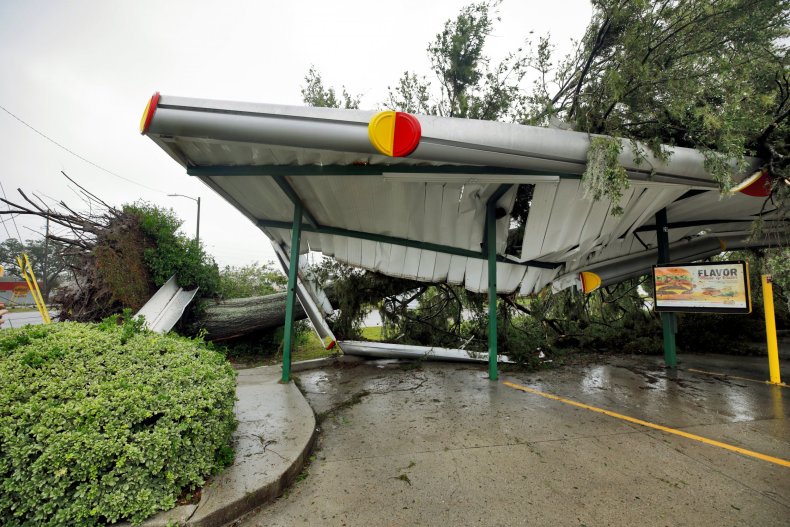 The hurricane struck land in Wrightsville Beach, North Carolina, on Friday morning. The National Hurricane Center (NHC) reported that the storm had deposited more than 20 inches of rain in the municipality of Oriental. More than 14 inches of precipitation accumulated in other areas. Five hundred thousand people lost power, and 20,000 went to shelters, according to The Washington Post.
"I see a Biblical proportion flood event that's going to occur," Wilmington Police Chief Ralph Evangelous told ABC News. "I see the beach communities being inundated with water and destruction that will be pretty, pretty epic."
The NHC predicted that te eye of Florence would cross into South Carolina Friday night before sweeping northward.
Hurricane-related damage will last for days. The National Weather Service issued a caution about inland landslides occurring over the weekend.
"Florence will bring heavy rain to the western Carolinas Saturday through Monday. The heavy rain is expected to result in significant flooding along creeks and streams," the statement warned, according to The Guardian.
"Landslides, including fast-moving debris flows consisting of water, mud, falling rocks, trees and other large debris, are most likely within small valleys that drain steep slopes."