Jimmy Butler Trade Latest: Minnesota Star Reportedly Yells at GM, Confronts Wiggins, Towns at Tense Practice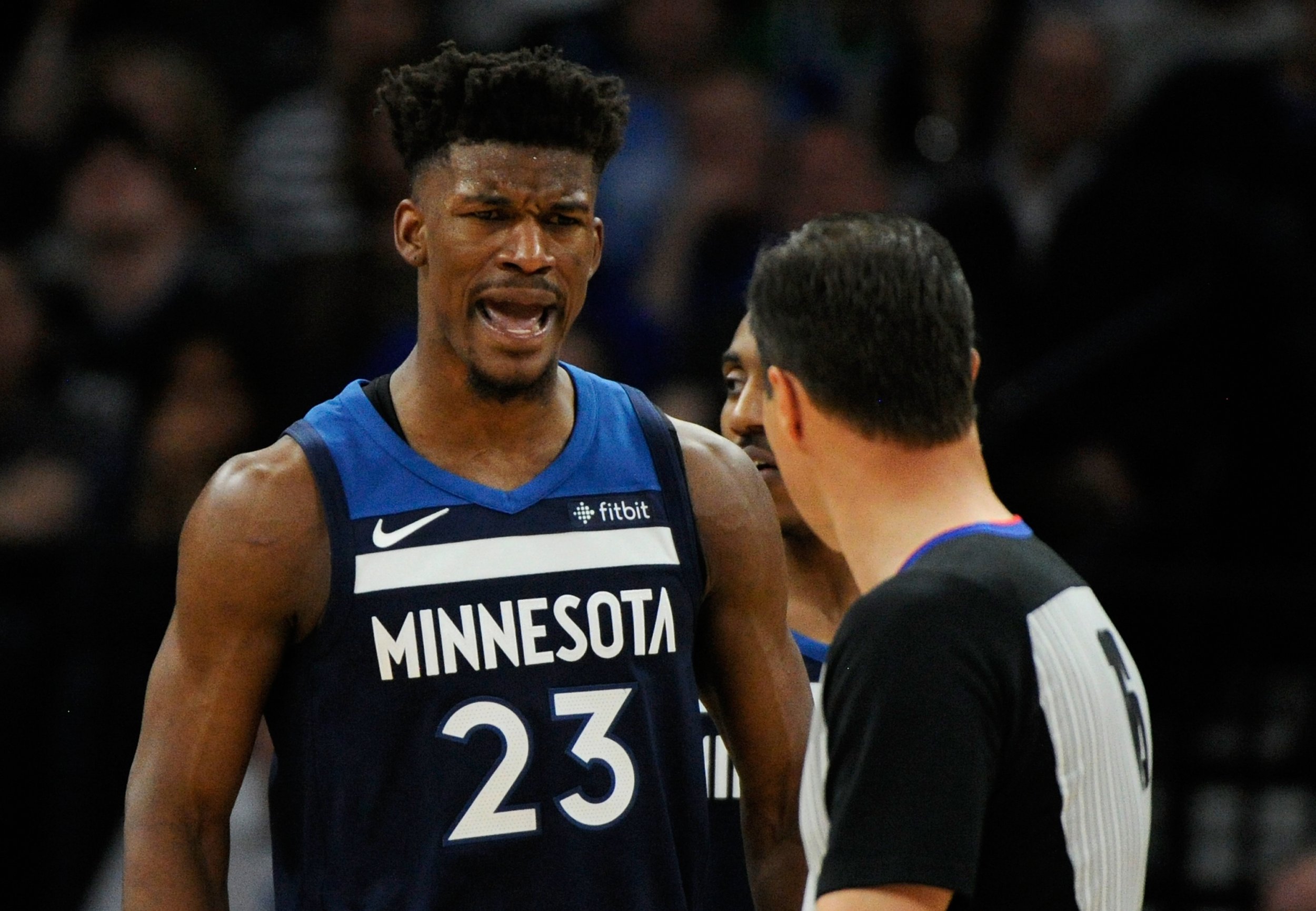 A tense, really weird situation in Minnesota has reportedly grown even more tense and weird on Wednesday.
Amid his demand to be traded elsewhere—and the franchise's reluctance to comply—Minnesota Timberwolves star Jimmy Butler returned to practice on Wednesday and promptly trash-talked his GM and confronted his coach and teammates, reported ESPN's Adrian Wojnarowski.
Citing league sources, ESPN's Woj reported that Butler yelled at Minnesota General Manager Scott Layden, saying: "You f***ing need me. You can't win without me."
ESPN also reported that Butler was "vociferous and emotional at times" and went after Minnesota coach/president Tom Thibodeau as well as his star teammates Karl-Anthony Towns and Andrew Wiggins.
The Butler situation has played out in tense fashion but, even by those standards, Wednesdays practice was odd. "Is this like a Bansky public art installation or something? This is incredible even by NBA standards," tweeted ESPN writer Zach Lowe.
Butler—one of the elite talents in the NBA—demanded a trade last month but Minnesota has been dragging its feet. There has also been reports that NBA front offices are not sure who to approach among Minnesota's leadership of Thibodeau, Layden and team owner Glen Taylor.
The Miami Heat have reportedly been in hot pursuit of Butler and a deal—the package led by Miami's Josh Richardson and a protected first-round pick, reported The New York Times—was nearly in place over the weekend before it apparently fell apart. Woj tweeted on Wednesday, however, that the Heat were back on the Butler trail.
"After talks fell apart over weekend, Miami's still pursuing discussions with Minnesota on a Jimmy Butler trade, sources tell ESPN," he tweeted, hours before reporting on the tense practice.
The NBA season starts in just one week. The Wolves will open with a road game against the San Antonio Spurs next Wednesday. It remains unclear if Minnesota will deal its star before then, but if Wednesday's practice is any indication it appears Butler doesn't plan to make things easy on the franchise.