Jimmy Butler Trade Rumors: Did Timberwolves Star Sit Out Game to Force Trade?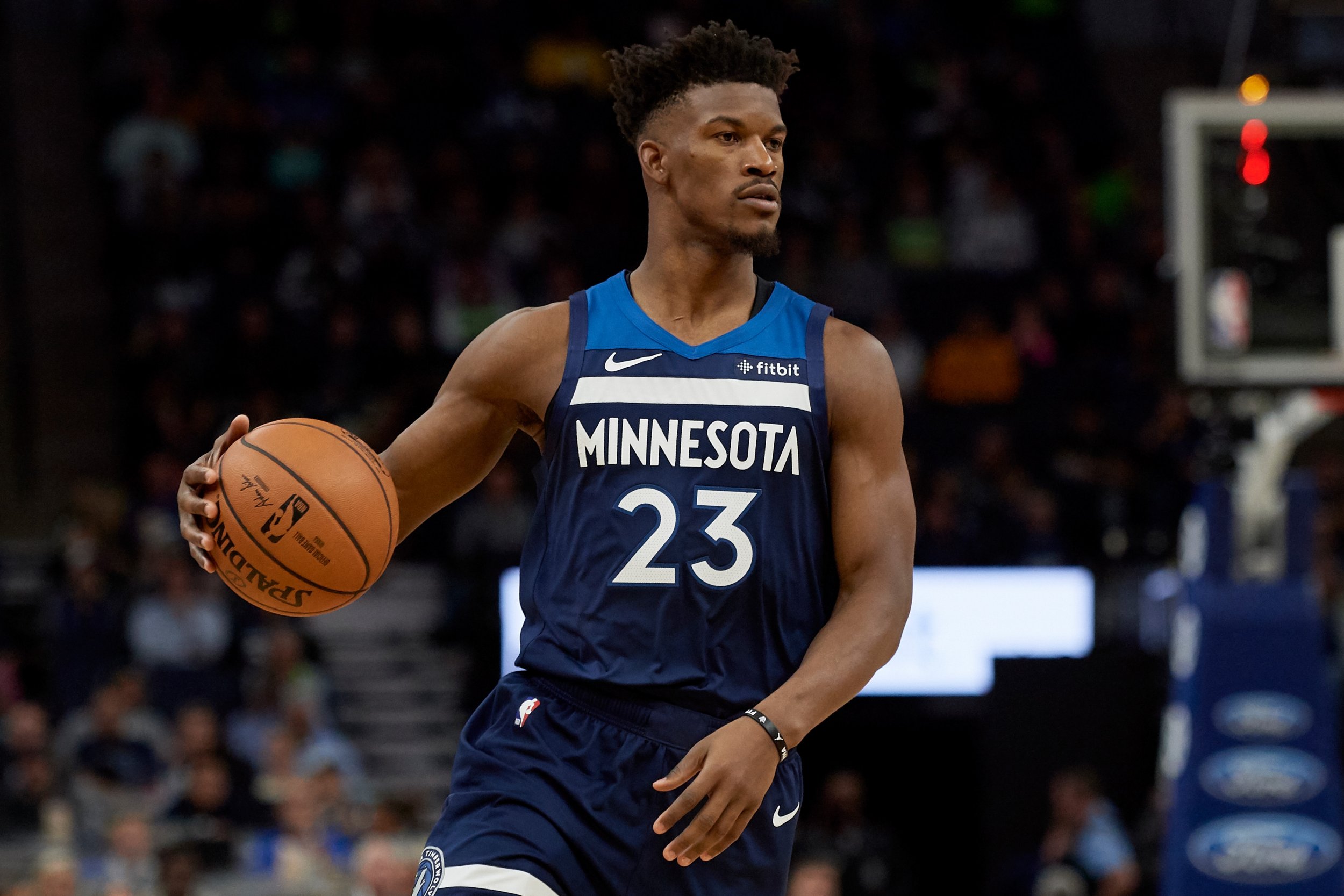 Jimmy Butler has dismissed rumors that sitting out Wednesday night's game against the Utah Jazz was his latest step in a bid to force a way out of Minnesota.
The 29-year-old did not play a single minute of the Timberwolves' 128-125 win against the Jazz on home court and watched from the sidelines as Derrick Rose scored a career-high 50 points, which saw Minnesota win a second game in a row and improve its record to 4-4.
On Wednesday afternoon, Shams Charania of The Athletic suggested Butler had voluntarily opted to sit out in order to pressure the Timberwolves into trading him. Minnesota subsequently quashed the rumors, indicating it had told Butler to rest ahead of a five-game road trip that begins in Oakland on Friday night.
ESPN's Adrian Wojnarowski reported Minnesota as saying it expected Butler to join the team on the flight to the Bay Area, a stance the player confirmed to ESPN's Rachel Nichols.
Butler explained he opted to sit out of Wednesday night's game because of general soreness, which seems a plausible enough excuse given he missed almost all of training camp while holding out for a move.
Since returning to the fold, the Houston native has played six of Minnesota's eight games so far this season, averaging 33.56 minutes on the court. During that time he has produced 18.6 points and 5.3 rebounds.
The Timberwolves are a much better team with Butler on the court, which might explain why they opted to sit him out ahead of what promises to be a daunting road trip. At the same time, that would have suited Butler too, who has made no mystery of his desire to leave an organization he feels won't allow him to achieve his ambitions.
On September 20, the 29-year-old requested a trade, but in five intervening weeks very little progress has been made. Last week, ESPN reported the Houston Rockets had offered four future first-round draft picks in their most recent bid to acquire Butler.
Last month, the Rockets were asked for a package including shooting guard Eric Gordon and forward PJ Tucker, but they were reluctant to part ways with the latter.
However, following a dismal 1-5 start, the Rockets—who finished with the best regular season record in the NBA last season and only surrendered to the eventual NBA champion Golden State Warriors in Game 7 of the Western Conference Finals—are reportedly prepared to sacrifice several long-term assets to kickstart their campaign.
Minnesota has shown little interest in trading Butler—despite reports of listening to offers—after the former All-Star requested a trade prior to the NBA season and told the organization he plans to leave as a free agent this summer.
The latter point has severely limited other teams' interest in Butler, as with the exception of the Rockets no organization seems prepared to put forward the kind of trade package that would appeal Minnesota without assurance that Butler will commit to a long-term deal.