The NBA churns out intrigue and drama like clockwork.
The latest bombshell dropped on Wednesday when it was reported—by Shams Charania and Jon Krawczynski of The Athletic—that star Jimmy Butler had requested a trade off of the Minnesota Timberwolves.
Citing league sources, Charania tweeted, "Butler has given Minnesota a list of one-to-three teams with whom he's open to signing extension, in anticipation of trade."
Soon after, ESPN's Adrian Wojnarowski tweeted the list: "Minnesota's Jimmy Butler has three preferred destinations for a trade, league sources tell ESPN: The Brooklyn Nets, Los Angeles Clippers and New York Knicks. Those three teams have max cap space to sign Butler as a free agent in July."
Now—to be clear—Minnesota is neither obligated to trade Butler to one of his select teams, nor is the franchise obligated to deal him at all. But having a disgruntled star on the squad isn't exactly ideal, either.
"Tom Thibodeau has been resistant to the idea of trading Butler, we're told," tweeted Krawczynski. "With media day on Monday and training camp set to being on Tuesday, the clock is ticking."
The speculation, per usual, quickly took off after the initial report from The Athletic.
Before the list was reported, Sporting News, for instance, ticked off the New York Knicks, L.A. Lakers, Boston Celtics, L.A. Clippers and Philadelphia 76ers as teams that would likely reach out about Butler. Those all seem to make some sense, considering that the Sixers, Lakers and Celtics have seemed to be connected to every major player that has recently hit the market. And, of course, the Clippers and Knicks were soon reported as a preferred destination.
Before the list was reported by Wojnarowski, Sam Vecenie of The Athletic pointed out that the Lakers might struggle to make a Butler trade work financially and added that some competitive teams who may not be on his list—like the San Antonio Spurs, Toronto Raptors or Denver Nuggets—could potentially think about (at worst) renting Butler for a year via a trade before his contract is up.
It's also worth noting that Butler seemingly has a good relationship with Miami Heat legend Dwyane Wade—who announced he would retire after next season—and that Miami is, of course, a popular destination for star NBA players.
We now the request from Butler and the list of teams Butler wants to go to. That's something.
But with the NBA, there's no telling where things will go.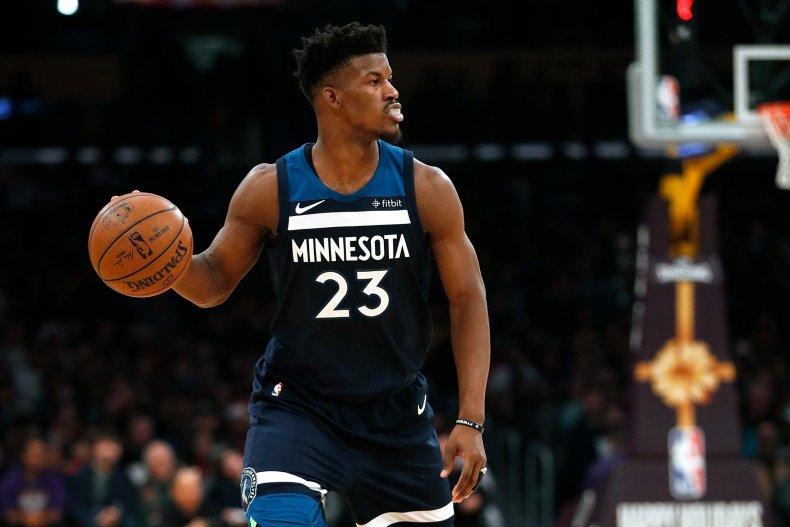 Uncommon Knowledge
Newsweek is committed to challenging conventional wisdom and finding connections in the search for common ground.
Newsweek is committed to challenging conventional wisdom and finding connections in the search for common ground.
About the writer
Reporter, covering a bit of everything.