Jimmy Carter 95th Birthday: Happy Birthday to the 39th President, Greatest Quotes from Over the Years
Today is former President Jimmy Carter's 95th birthday.
He served as the 39th president of the U.S. from 1977 to 1981 as a member of the Democratic Party. He previously served as a Georgia State Senator from 1963 to 1967 and as the 76th Governor of Georgia from 1971 to 1975.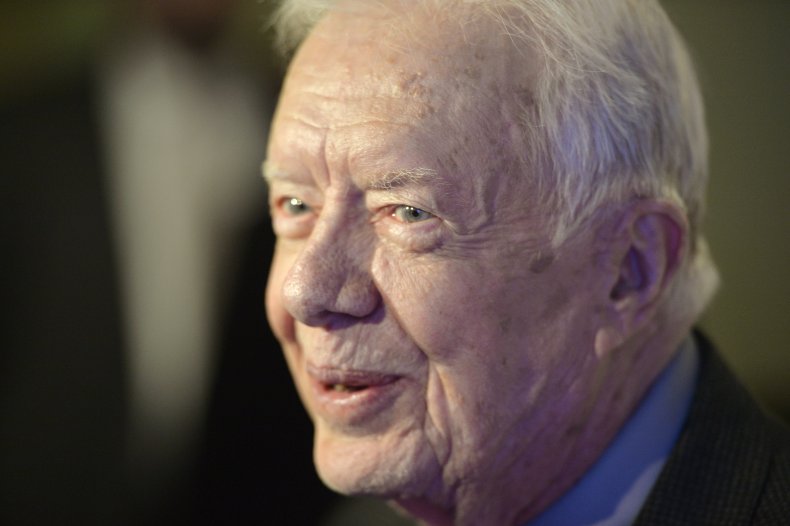 Following his presidency, Carter turned to humanitarian work, working with Habitat for Humanity and founding the Carter Presidential Center to promote human rights. In 2002, he was awarded the Nobel Peace Prize "for his decades of untiring effort to find peaceful solutions to international conflicts, to advance democracy and human rights, and to promote economic and social development."
In celebration of Carter's birthday, Newsweek has pulled together some of his best quotes over the years.
Jimmy Carter Quotes
"Our American values are not luxuries, but necessities—not the salt in our bread, but the bread itself."
"We have become not a melting pot but a beautiful mosaic. Different people, different beliefs, different yearnings, different hopes, different dreams."
"A strong nation, like a strong person, can afford to be gentle, firm, thoughtful, and restrained. It can afford to extend a helping hand to others."
"We are a purely idealistic Nation, but let no one confuse our idealism with weakness."
"For this generation, life is survival, liberty is human rights, and the pursuit of happiness is a planet whose resources are devoted to the physical and spiritual nourishment of its inhabitants."
"America did not invent human rights. In a very real sense, human rights invented America."
"The experience of democracy is like the experience of life itself—always changing, infinite in its variety, sometimes turbulent, and all the more valuable for having been tested by adversity."
"War may sometimes be a necessary evil. But no matter how necessary, it is always an evil, never a good. We will not learn how to live together in peace by killing each other's children. The bond of our common humanity is stronger than the divisiveness of our fears and prejudices."
"We've uncovered some embarrassing ancestors in the not-too-distant past. Some horse thieves, and some people killed on Saturday nights. One of my relatives, unfortunately, was even in the newspaper business."
"You can do what you have to do, and sometimes you can do it even better than you think you can."
"Well, as you know, there are many things in life that are not fair; that wealthy people can afford and poor people can't. But I don't believe that the Federal Government should take action to try to make these opportunities exactly equal, particularly when there is a moral factor involved."
"I've looked on a lot of women with lust. I've committed adultery in my heart many times."
"We should live our lives as though Christ were coming this afternoon."