Jimmy Carter 'Angry' That Georgia GOP Is Trying to Restrict Voting Access
Former President Jimmy Carter criticized voting rights bills that are making their way through the Georgia Legislature, in a statement released Tuesday.
Carter, a Georgia Democrat, said state legislators are trying to "turn back the clock" on voting rights for state residents in a series of election-related bills that have been introduced in the wake of the 2020 general election, which saw the traditionally red state elect a Democratic presidential candidate for the first time in nearly 30 years.
"As our state legislators seek to turn back the clock through legislation that will restrict access to voting for many Georgians, I am disheartened, saddened, and angry," Carter said in a statement released by the Carter Center, a not-for-profit charity based in Atlanta.
"Many of the proposed changes are reactions to allegations of fraud for which no evidence was produced—allegations that were, in fact, refuted through various audits, recounts, and other measures. The proposed changes appear to be rooted in partisan interests, not in the interests of all Georgia voters," Carter said.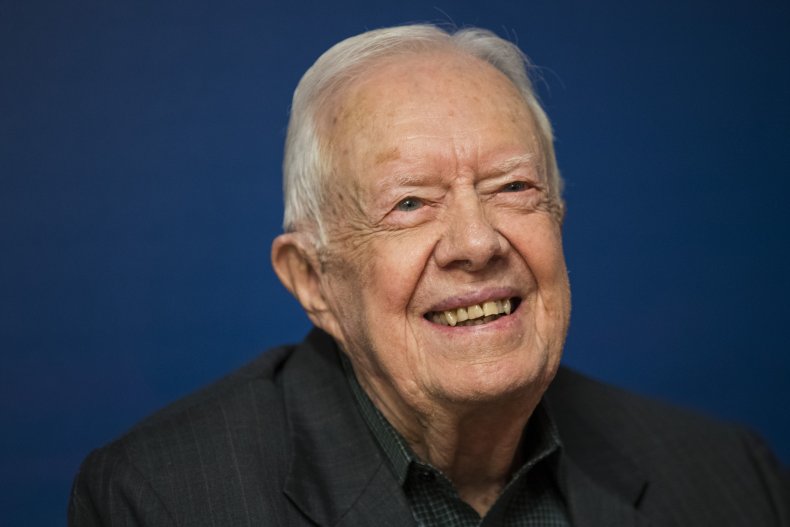 The election bills are primarily supported by Republican legislators and have received pushback from Democratic lawmakers and political strategists in recent weeks. One of the proposed pieces of legislation, aimed at eliminating no-excuse absentee voting in Georgia, successfully made its way through the state Senate on Monday.
Fair Fight Action, an organization founded by Democratic politician and former gubernatorial candidate Stacey Abrams, spoke out Monday against that bill, which the Georgia Republican Party referred to as an "elections integrity" bill in a tweet announcing it had passed in the state Senate. Fair Fight called the legislation "one of the worst voter suppression bills" in the U.S. and attributed its passing to the Georgia GOP.
"The GOP-led Georgia Senate just voted 29-20 to PASS ‪#SB241, one of the worst voter suppression bills in the country," Fair Fight said in a Monday tweet. "The GOP continues their relentless attack on voting rights."
In his Tuesday statement, Carter began with a mention of his own experience with allegations of election fraud when he ran for a seat representing Georgia's 14th Senate District in 1962. He said that experience contributed to the decision he and former first lady Rosalynn Carter later made to launch the Carter Center.
"One thing we have learned from our international work is that while states must safeguard the integrity of the election process to prevent fraud, this should not be at the expense of voters' access to the polls. They should proactively expand voter access through safe, secure administrative practices," Carter's statement said.
The former president went on to say that Georgia has emerged as a "leader" both in providing greater voter access and protecting the integrity of elections. But he suggested that the new election-related measures the Legislature is considering are out of line with that leadership.
"American democracy means every eligible person has the right to vote in an election that is fair, open, and secure," Carter said. "It should be flexible enough to meet the electorate's changing needs. As Georgians, we must protect these values. We must not lose the progress we have made. We must not promote confidence among one segment of the electorate by restricting the participation of others.
"Our goal always should be to increase, not decrease, voter participation," he concluded.
Newsweek reached out to the Georgia Republican Party for comment and will update this story with any response.
This story has been updated with additional information and background.