Jimmy Carter Calls on Georgia's Secretary of State Brian Kemp To Step Down Over Alleged Voter Suppression
Former President Jimmy Carter has waded into Georgia's heated gubernatorial race, calling on Republican candidate Brian Kemp to resign from his current role as Secretary of State over allegations of voter suppression.
Carter, 94, made the request in an October 22 letter obtained by the Associated Press, after it came to light that Kemp's office had held 53,000 voter registrations submitted from predominantly black American voters ahead of the November midterm elections.
"One of the key requirements for a fair and trusted process is that there be a nonbiased supervision of the electoral process," Carter wrote in the letter, according to AP.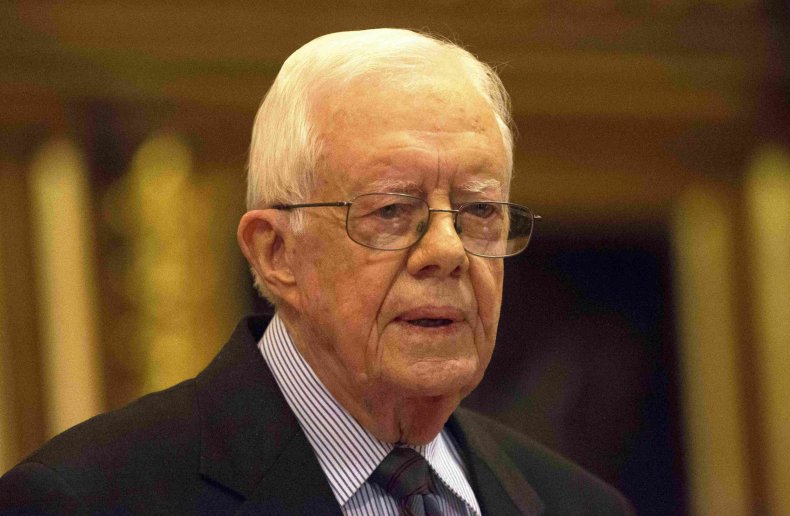 The former president said that if Kemp chose to step down, it "would be a sign that you recognize the importance of this key democratic principle and want to ensure the confidence of our citizens in the outcome."
It is unclear whether Kemp, whose office had not immediately responded to a request for comment, had read or responded to Carter's letter.
The Republican has faced widespread calls from Democrats to resign from his role and withdraw from the upcoming November midterm elections over allegations of voter suppression in Georgia.
In addition to filing a lawsuit against Kemp over the incident, the Georgia NAACP also filed a complaint with the Georgia State Board of Elections claiming that voters in multiple counties had notified the branch of defective polling machines.
Voters had reportedly claimed that in some instances, their votes were being changed from Kemp's rival, Democratic gubernatorial candidate Stacey Abrams, who, if elected, would be the first black woman governor in the United States, to Kemp, who is Georgia's chief election officer.
"We've seen issues across the state of Georgia," Khyla D. Craine, the NAACP's assistant general counsel, told The Root.
"It's not something that's new, unfortunately. These machines are old, but it's incumbent upon the people running the election to ensure that machines are fully functional," Craine said.
Read more: Here are all the accusations Stacey Abrams's opponent Brian Kemp has faced ahead of midterm election
Amid growing reports of voter suppression in the state, Abrams accused Kemp of purposely trying to keep potential voters away from the polls in a bid to guarantee a win in the November election.
Kemp vehemently denied the allegations, asserting that "this farce about voter suppression and people being held up from being on the rolls...is absolutely not true," during a debate with Abrams earlier this month.
Carter's call for the Republican to step down came as Kemp and Abrams continued locked in a tight race, with Kemp in the lead by less than 2 percentage points, according to a RealClearPolitics average of polling.