Jimmy Carter, Who Voted for Bernie Sanders in 2016, Says He Hopes 'There's an Age Limit' on the Presidency
Former President Jimmy Carter has said he would hate to see Donald Trump re-elected in 2020, but appeared to suggest Bernie Sanders and Joe Biden might be too old to take office.
Delivering his annual report at the Carter Center in Atlanta with his wife of 73 years Rosalynn, Carter described how he would like to see the U.S. be the "number one champion" of human rights.
He told the audience he was undecided who he would vote for in 2020, but would be likely to be drawn toward the Democratic candidate who put equality and human rights at the forefront of their vision.
"I'm going to vote for one of them, and I haven't decided yet which one. I voted for Bernie Sanders last time. But I'm going to keep an open mind," Fox News reported him as saying.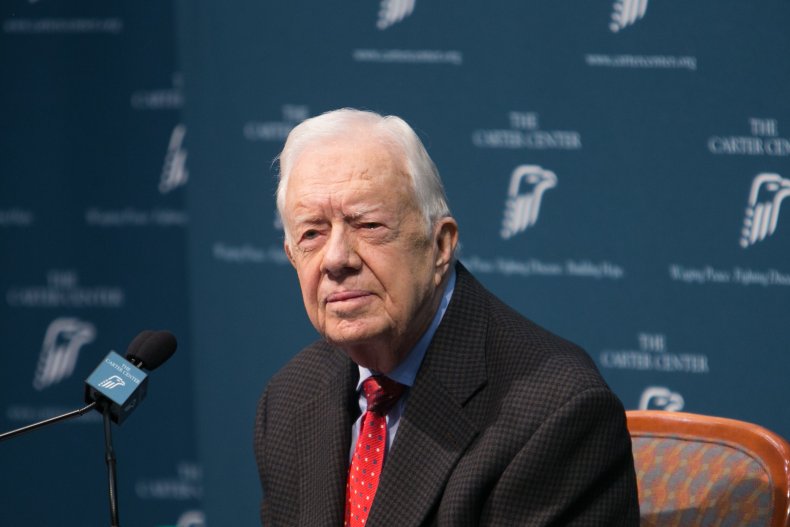 "One of the major factors I will have in my mind is who can beat Trump. Because I think it would be a disaster to have four more years of Trump."
Carter has previously questioned Trump's legitimacy as president, saying that his presence in the White House was due in no small part to Russian interference.
However, he did pay Trump one compliment during an exchange about the recent strain with Iran in connection with the attacks on Saudi oil facilities, when he said: "One thing I like about Trump is that he seems to be reluctant to go to war.
"Don't ask me anything else I like about him," he quipped, to laughter from the audience.
In a light-hearted exchange, the 95-year-old was asked if he would consider running for president again.
Carter responded by saying: "I hope there's an age limit. If I were just 80 years old, if I was 15 years younger, I don't believe I could undertake the duties I experienced when I was president."
This was because the presidency requires you to be "very flexible with your mind."
Last week, Bernie Sanders turned 78, and would be 79 on inauguration day 2021, should he be elected. It would mean that he would be 83 if he got a second term and 87 when he left office.
Democrat frontrunner Joe Biden turns 77 in November, and would be 78 on inauguration day 2021 and 86 if he left office after two terms.
In 1980, Carter lost his re-election bid to Ronald Reagan, who served two terms and left office as the oldest sitting president in history, at age 77.
If either Biden and Sanders won, they would be older taking office than Reagan was when he left office. Trump now 73, and 70 when he won in 2016, is the oldest newly elected president in history.
The age of the candidates has become an issue during the Democrat debates. Julian Castro took a swipe at Biden's memory when he said: "Are you forgetting what you said two minutes ago?"
Castro got the backing of Sen. Cory Booker, who told CNN: "I think we are at a tough point right now, because there's a lot of people concerned about Joe Biden's ability to carry the ball all the way across the end line without fumbling.
"I think that Castro had really legitimate concerns about can he be someone in a long grueling campaign... and has every right to call out," he told the network.