Jimmy Carter Accuses Donald Trump of Being Illegitimate President and Elected Thanks to Russian Interference
Former President Jimmy Carter accused President Donald Trump Friday of being elected to office illegitimately as a result of Russian election interference in the 2016 elections.
That belief was rooted in the intelligence community's assessment of Russian attempts to influence the election in a favorable way to Trump, the 94-year-old explained. Trump has repeatedly contradicted his intelligence officials' conclusions that the foreign adversary tried to subvert a U.S. election and has misrepresented the Mueller report as an exoneration of all wrongdoing.
"I think the interference, although not yet quantified, if fully investigated would show that Trump didn't actually win the election in 2016," Carter said at a Carter Center event on human rights in Virginia. "He lost the election, and he was put in office because the Russians interfered on his behalf."
Asked whether Trump, based on those remarks, was an "illegitimate president," the Democrat responded in the affirmative.
"Based on what I just said, which I can't retract," he said with a smile after a brief pause, resulting in laughter from those in attendance.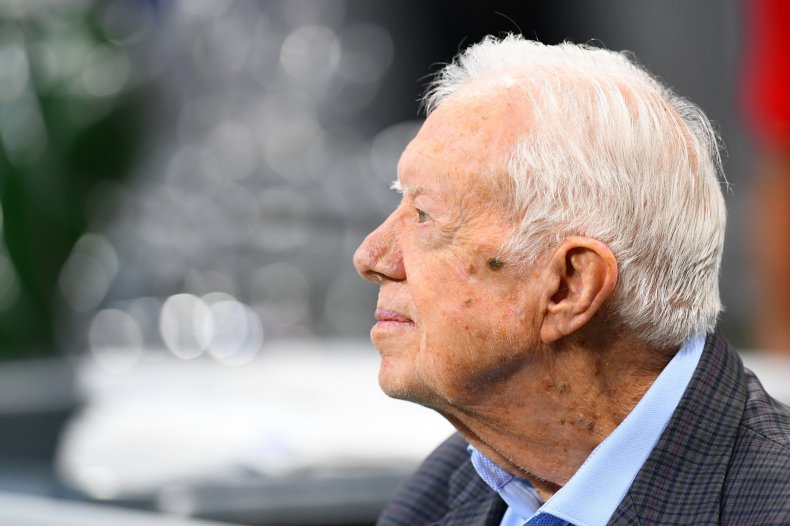 Former special counsel Robert Mueller's 448-page report concluded that Russia interfered in a "sweeping and systematic fashion," that the "Russian government perceived it would benefit from a Trump presidency" and that the Trump campaign "expected it would benefit electorally from information stolen and released through Russian efforts."
Due to Mueller's conclusion there was "insufficient evidence" of a criminal conspiracy with Russia, Trump has misconstrued the report's findings as a "total exoneration." But the report stated that such a claim is false.
"[W]hile this report does not conclude that the President committed a crime, it also does not exonerate him," the report said. During rare public remarks in May, Mueller added that if they "had confidence that the president clearly did not commit a crime, we would have said so."
A 2017 report released by the CIA, FBI and NSA also contained details of Russian efforts, ordered by Putin, to interfere and benefit Trump by using government agencies, state-funded media, third-party intermediaries and paid social media users.
"We assess Russian President Vladimir Putin ordered an influence campaign in 2016 aimed at the US presidential election," the intelligence report stated. "Russia's goals were to undermine public faith in the US democratic process, denigrate Secretary Clinton, and harm her electability and potential presidency."
Neither Mueller nor the intelligence community agencies stated what impact Russia's meddling had and whether it swayed the election's outcome.
Carter also urged Trump to "condemn" and "admit" there were attempts by Russia to interfere. "There's no doubt that the Russians did interfere in the election," Carter added.
The remarks came as Trump joked about election interference with Russian President Vladimir Putin at the G20 Summit on Osaka, Japan.
"Don't meddle in the election," he said to Putin while smiling after receiving a question of whether he would tell Russia not to interfere in the 2020 election.
Trump also joked with Putin about "fake news" and ridding the United States of reporters. "Get rid of them. Fake news is a great term, isn't it? You don't have this problem in Russia but we do," he said.
Putin responded: "We also have. It's the same."
Since Putin came into power in 2000, more than two dozen journalists have been killed in Russia, according to the Committee to Protect Journalists.