Jimmy Carter Says There's Something Very Wrong With Georgia Governor Election Between Stacey Abrams and Brian Kemp
Former President Jimmy Carter has formally asked Georgia gubernatorial candidate Brian Kemp to resign from his position overseeing state elections among accusations of voter fraud by his Democratic opponent Stacey Abrams, the NAACP and others.
In a letter dated October 22 and obtained by the Associated Press this week, the 94-year-old native Georgian asked Kemp to step down from his role as secretary of state to ensure a fair election.
"I have officially observed scores of doubtful elections in many countries, and one of the key requirements for a fair and trusted process is that there be nonbiased supervision of the electoral process," wrote Carter. "In Georgia's upcoming gubernatorial election, popular confidence is threatened not only by the undeniable racial discrimination of the past and the serious questions that the federal courts have raised about the security of Georgia's voting machines, but also because you are now overseeing the election in which you are a candidate."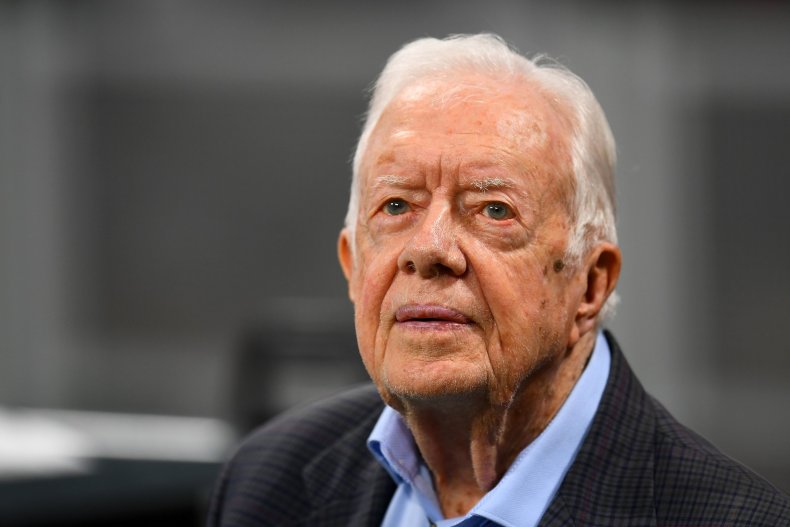 Kemp has been accused of ignoring questions about the security and functionality of Georgia's decades-old voting machines, and some early voters have complained that their machines had malfunctioned and mislogged their gubernatorial votes.
Kemp has also been accused of delaying approval for 53,000 voter registration applications, mostly by African-Americans, because of errors and mismatches on the forms. Between the 2012 and 2016 elections, Kemp's office purged nearly 1.5 million voters from Georgia's rolls, according to the Brennan Center for Justice.
In leaked audio, Kemp was heard telling his donors that he was worried about his opponent's focus on voter turnout and "the literally tens of millions of dollars that they [the Abrams camp] are putting behind the get-out-the-vote effort to their base."
In his letter, Carter said that Kemp's unwillingness to resign from his post "runs counter to the most fundamental principle of democratic elections—that the electoral process be managed by an independent and impartial election authority."
"Other secretaries of state have stepped down while running for election within their jurisdiction, to ensure that officials without a direct stake in the process can take charge and eliminate concerns about a conflict of interest," Carter wrote.
Current polls show Kemp up by an average of about 1.6 points over Abrams, making the race one of the tightest in the country.
If there was a recount, Kemp said, he would not recuse himself from the process. "I took an oath to serve as secretary of state, and that is what I will continue to do," he said.
If Abrams wins, she will be the first black woman to hold the position of governor in the United States. "Voter suppression isn't only about blocking the vote," said Abrams during Tuesday's debate of Kemp's record as secretary of state. "It is also about creating an atmosphere of fear, making sure their votes won't count."