How to Wish Jimmy Carter Happy Birthday by Sending Message to Former President
Former President Jimmy Carter turns 96 today, on October 1, and you can help him celebrate by sending him a birthday message.
The Carter Center, a nonprofit organization founded by Carter and former First Lady Rosalynn Carter, is celebrating the oldest living former president's birthday with a birthday board, inviting members of the public to share their own messages and photos.
On Wednesday, the Carter Center said on Twitter: "President Carter's birthday is TOMORROW! Our hearts are full with the kind and inspiring messages from around the world."
To participate, head to the Carter Center kudoboard and press "add to board." You will be invited to add a message, a photo, or video, and once your post has been approved, it will be added to the board for Carter to see.
People are sharing memories of meeting Carter or expressing what he meant to them as president, while some are simply wishing him a happy birthday.
Jimmy Carter was born James Earl Carter Jr. on October 1, 1924. Born in the small farming town of Plains, Georgia, Carter grew up in the nearby community of Archery with his father, James Early Carter Sr., a farmer and businessman, and his mother, Lillian Gordy Carter, a nurse.
He attended the public school of Plains, the Georgia Southwestern College, and the Georgia Institute of Technology, eventually receiving a bachelor of science degree from the United States Naval Academy in 1946.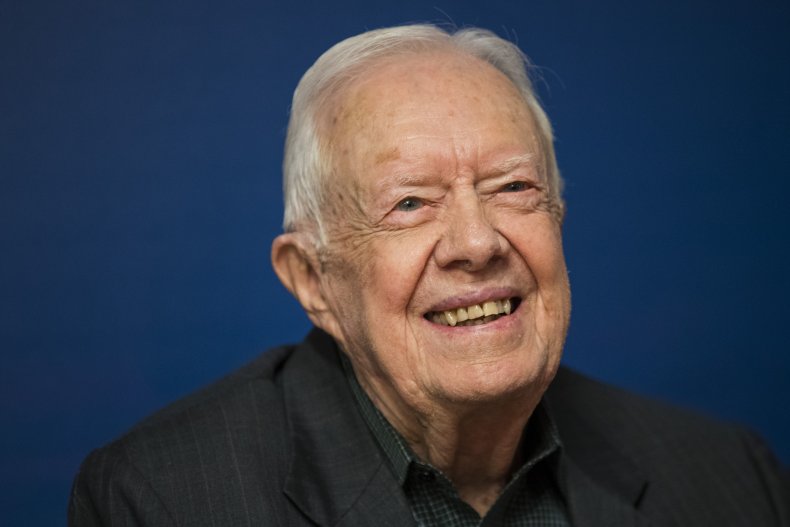 Carter became a submariner in the Navy and served in the Atlantic and Pacific fleets, rising to the rank of lieutenant. He was chosen by Admiral Hyman Rickover for the nuclear submarine program and was assigned to Schenectady, New York, where he took graduate work at Union College in reactor technology and nuclear physics and served as a senior officer of the pre-commissioning crew of the Seawolf, the second nuclear submarine.
Carter married Rosalynn Smith of Plains on July 7, 1946, and when his father died in 1953, he resigned his naval commission and returned with his family to Georgia. He took over the Carter farms and operated Carter's Warehouse, a seed and farm supply company, with Rosalynn.
Carter became a community leader, serving on county boards supervising education, the hospital authority, and the library. He won election to the Georgia Senate in 1962, and though he lost his first gubernatorial campaign in 1966, he won the next election and became Georgia's 76th governor on January 12, 1971. Carter was also the Democratic National Committee campaign chairman for the 1974 congressional and gubernatorial elections.
Jimmy Carter announced his candidacy for president of the United States in 1974 and won his party's nomination at the 1976 Democratic Convention. He was elected as the 39th president of the United States on November 2, 1976.
Carter served as president from January 20, 1977 to January 20, 1981. As president, he championed human rights throughout the world, and achieved significant foreign policy accomplishments.
Domestically, Carter's accomplishments included a comprehensive energy program conducted by a new Department of Energy; deregulation in energy, transportation, communications, and finance; major educational programs under a new Department of Education; and major environmental protection legislation, including the Alaska National Interest Lands Conservation Act.