Jimmy Carter Says Don't Impeach Trump Even If Mueller Finds Dirt on President in Russia Investigation
Updated | President Donald Trump should not be impeached even if Special Counsel Robert Mueller's investigation turns up wrongdoing by the president, according to former commander-in-chief Jimmy Carter.
Carter expressed faith Sunday in the United States government and its checks and balances, adding that he believed Trump would serve out his full four-year term unless Mueller brought criminal charges against him.
"You know, I have confidence in the American system of government," Carter told CBS' Sunday Morning. "I think ultimately the restraints on a president from the Congress and from the Supreme Court will be adequate to protect our nation, if he serves a full term."
Carter continued: "And I think he will serve a full term unless the special investigator, Mr. Mueller, brings some criminal charges against him."
The 39th president added he could not predict whether Trump would serve his full term, stating he hoped the secretive Mueller would make it clear to the country if Trump was in legal peril.
"I don't have any idea," Carter said. "I think Mueller's been very successful in keeping his cards close to his vest and not revealing any plans. But my wish is that Mr. Mueller would go ahead and make a decision, even if it's not anything personally that President Trump has done to violate the law; then I think he ought to make that obvious. And if he has violated the law, that ought to be revealed as well."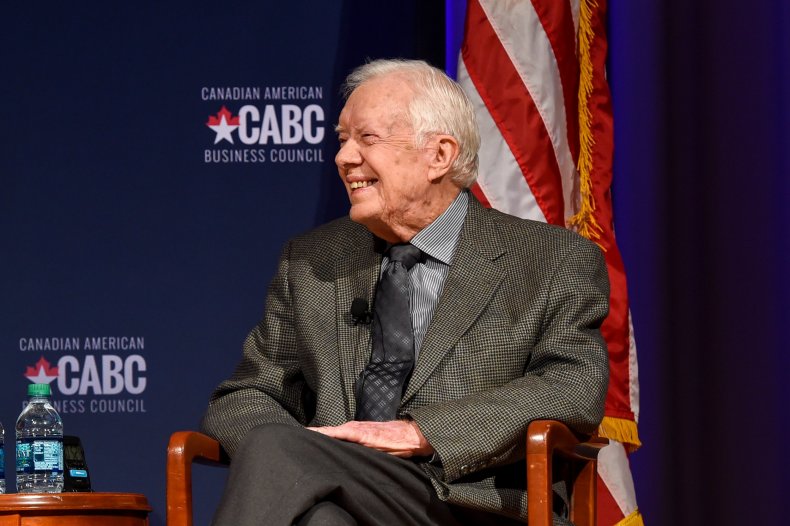 Carter went on to explain that impeachment was not his preference and that he believed Trump wanted to "do a good job" while in office. He also offered to help the president should he ask.
"But my own preference would be that he not be impeached, but that he be able to serve out his term, because I think he wants to do a good job. And I'm willing to help him, if I can help him, and give him the benefit of the doubt," Carter said.
Trump has dealt with cries for his impeachment throughout his 14 months in office. Some of the president's critics have challenged his legitimacy by accusing his former campaign of colluding with Russia in order to win the White House in 2016.
Mueller's probe, which began in May of last year under the wide scope granted by Deputy Attorney General Rod Rosenstein, has reached deep into the president's former campaign and flipped several officials. Most recently, former campaign official Rick Gates pleaded guilty and agreed to cooperate with the special counsel.
According to multiple reports, Trump is also being investigated for possible obstruction of justice over his attempts to wade into the probe.
But what Mueller may have on the president, if anything, remains open to speculation.
Some Democrats have pushed for impeachment, but lacking a majority in the House of Representatives has severely hindered those efforts. The last procedural vote to file articles of impeachment against Trump, led by Texas Representative Al Green following the president's use of the term "shithole" to describe Haiti and African nations, resulted in a 355-66 vote against. Only Democrats voted for impeachment.
This story has been updated to include further information about efforts to impeach President Donald Trump.