Jimmy Carter Wants To Discuss Peace With Kim Jong Un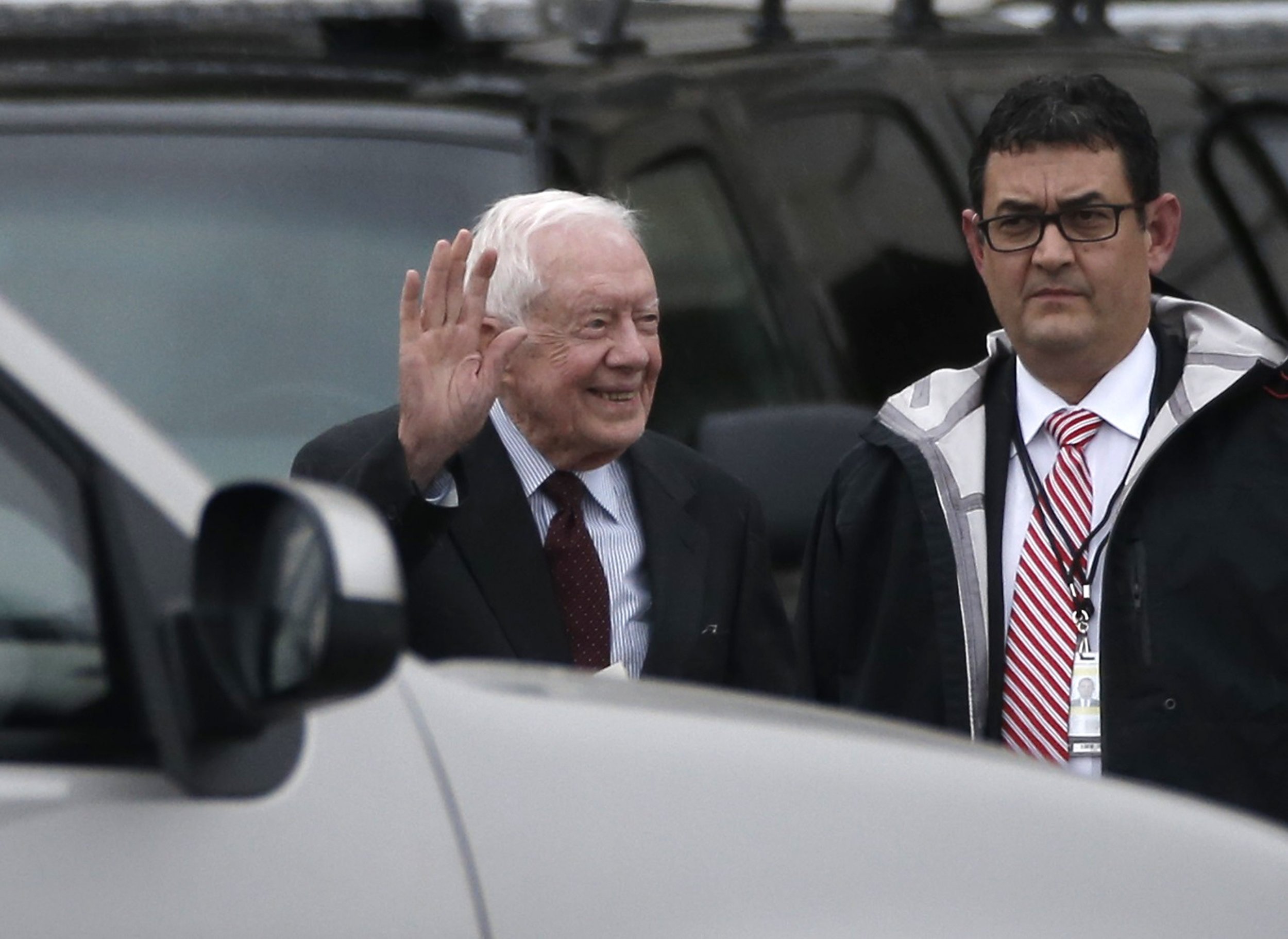 As President Donald Trump talks trash, former President Jimmy Carter wants to take a different approach with North Korean leader Kim Jong-un: He wants to talk peace.
Carter wants to revise a role he played in 1994, when he visited North Korea and helped reduce tensions between then-President Bill Clinton and the rogue state, said a University of Georgia professor who met with Carter recently, Korea JoongAng Daily reported.
"Carter wants to meet with the North Korean leader and play a constructive role for peace on the Korean Peninsula as he did in 1994," Park Han-shik told the newspaper. "He wants to prevent a second Korean War."
Any agreement would involve "a complete denuclearization of North Korea," Park asserted, though there is little evidence that North Korea would consider unilaterally disarming.
Carter traveled to Pyongyang in June 1994 when Clinton and then-leader Kim Il Sung were in a standoff over the North's nuclear ambitions. Clinton had drawn up a plan to strike a nuclear reactor in Yongbyon, but Carter got North Korea to put its nuclear program on hold.
But North Korea has resumed testing under Sung's son, Kim Jong Un, allowing Trump to argue that diplomacy has failed. The Trump administration slapped new sanctions on several North Koreans banks in September after Pyongyang claimed it successfully tested a miniaturized hydrogen bomb.
Earlier last week, Defense Secretary James Mattis said that the U.S. military must "be ready" to confront North Korea.
Trump has been very dismissive of a diplomatic approach, even criticizing direct talks being undertaken by Secretary of State Rex Tillerson
"Our country has been unsuccessfully dealing with North Korea for 25 years, giving billions of dollars & getting nothing. Policy didn't work," Trump's tweet read.
"I told Rex Tillerson, our wonderful Secretary of State, that he is wasting his time trying to negotiate with Little Rocket Man," Trump tweeted, using his dismissive nickname for the North Korean leader. "Save your energy Rex, we'll do what has to be done!"
He has also tweeted that a military solution may be his preferred approach.
"Agreements violated before the ink was dry, makings fools of U.S. negotiators. Sorry, but only one thing will work!" Trump tweeted.
Carter isn't the only American president considering heading to the Korean peninsula. Trump is also reportedly considering a trip to the demilitarized zone, the border area splitting the Korean peninsula, sometime in November.