A Timeline of Every Jimmy Fallon Scandal
Tonight Show host Jimmy Fallon once again found himself at the epicenter of backlash on Tuesday.
Old images of Fallon wearing blackface while impersonating Chris Rock on Saturday Night Live resurfaced on social media, sparking instant outrage. Calling the images racist, users took to Twitter to call the comedian "canceled" by launching the viral hashtag #JimmyFallonIsOverParty.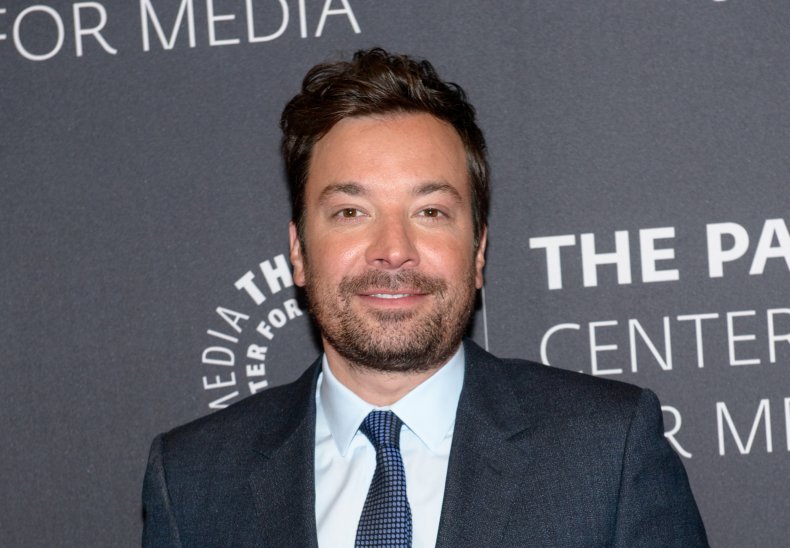 Fallon issued a statement addressing his past with blackface on Tuesday.
"In 2000, while on SNL, I made a terrible decision to do an impersonation of Chris Rock while in blackface. There is no excuse for this," Fallon wrote on Twitter. "I am very sorry for making this unquestionably offensive decision and thank all of you for holding me accountable."
Newsweek's reached out for further comment from Fallon's representatives but did not receive a response before publication.
While some fans were shocked to learn of the happy-go-lucky late-night host's offensive behavior in the past, others were long familiar with Fallon's racial indiscretions. After all, this isn't the first time Fallon has come under fire. See the timeline below for some more moments when fans have canceled Fallon.
2019
Fallon came under fire Tuesday after photos of him wearing blackface made the rounds on Twitter. But such images have landed Fallon in the hot seat before. In February 2019, Fallon was scourged by fans after Nick Cannon shared an Instagram collage depicting a number of white late-night hosts and comedians dressed in blackface. A screenshot of Fallon's SNL Chris Rock impersonation—in which his skin is darkened to appear as a black man—was included in the post.
"Happy "BLACKFACE" History Month!!!" Cannon captioned the post. "I'm sure we can expect some more 'Apologies' by Monday."
Fallon has not publicly addressed the blackface controversy. However, a 2019 report by The Wrap claimed he likely received Rock's approval before the SNL appearance.
2016
Fallon provoked ire after he conducted an interview with Donald Trump, who was then campaigning for the Republican presidential nomination. Critics slammed Fallon for his seemingly fawning behavior toward the candidate and for attempting to humanize him with innocuous questions. Only fueling the fire, Fallon concluded the interview by playfully running his fingers through Trump's hair.
In 2018, the incident resulted in Fallon receiving a Twitter lashing from Trump himself, after Fallon complained about the backlash he received over the interview while appearing on The Hollywood Reporter's Awards Chatter podcast.
"@jimmyfallon is now whimpering to all that he did the famous 'hair show' with me (where he seriously messed up my hair), & that he would have now done it differently because it is said to have 'humanized' me-he is taking heat. He called & said 'monster ratings.' Be a man Jimmy!" the president wrote.
2014
Fallon was allegedly involved in a bar fight while hanging out with friends in New York City. Although the late-night host did not suffer any injuries from the dustup, the incident did raise eyebrows, given his squeaky-clean image. Fallon's former SNL castmate Horatio Sanz seemed to confirm Fallon has had his share of fights in the past.
"Yeah, we got in a couple of brawls," Sanz told Vulture in February 2014. "I've seen Jimmy clock a few people."
Fallon's alcohol use, which has long been a topic of interest for some fans, was a hot button issue for the late-night host that year. Over the years, former castmates and friends, including Sanz, have swapped stories about Fallon's drinking.
"[We] were super-functioning alcoholics, definitely," Sanz said of their time on SNL. "They say that kind of goes hand in hand with SNL, some kind of substance abuse issues because it's so stressful you easily find yourself blowing off steam a lot."
Fallon dismissed speculation about a drinking problem, telling The New York Times in 2017 that he "could never do a day-to-day job if I was drinking every night."
"That's just kicking you when you're down," he said.
This article was updated to include Jimmy Fallon's statement released on Tuesday.