What Jimmy Fallon Said About Blackface Scandal
Jimmy Fallon received criticism from many people on Twitter on May 26 after footage emerged of the chat show host playing Chris Rock in a 2000 Saturday Night Live sketch. After the hashtag #JimmyFallonIsOverParty began trending on Twitter, The Tonight Show host issued an apology on the social media app.
He wrote: "In 2000, while on SNL, I made a terrible decision to do an impersonation of Chris Rock while in blackface. There is no excuse for this.
"I am very sorry for making this unquestionably offensive decision and thank all of you for holding me accountable."
The sketch emerged just over a year after SNL aired a sketch mocking white people's attitudes towards blackface, in which Kenan Thompson reacts to a character saying it was "funny and cool in the '80s" by saying: "It does still count and it was never funny or cool."
Jimmy Fallon is not the only chat show host with a history of blackface–in fact, he is not even the only late-night host called Jimmy to have done it. In the same year as the SNL sketch that has got Fallon into hot water, Jimmy Kimmel did what Jezebel called an "extremely racist impersonation" of NBA Hall of Famer Karl Malone on The Man Show. On the same show, he also played Oprah Winfrey.
This was something Nick Cannon tried to bring to the internet's attention in February 2019. The Masked Singer host captioned an Instagram video showing the Fallon and Kimmel footage: "Are these your Kings of Late Night??? @JimmyFallon @JimmyKimmel you know I'm always on the side of the comedian and never pander to the sensitive, but I feel there needs to be some "truth & reconciliation" discussions and teachable moments amongst our communities. I'm ready and willing for the discourse, so who wants to step up to the table first? In the meantime, I'll just leave this right here. Tell the Jimmys to holla at me!"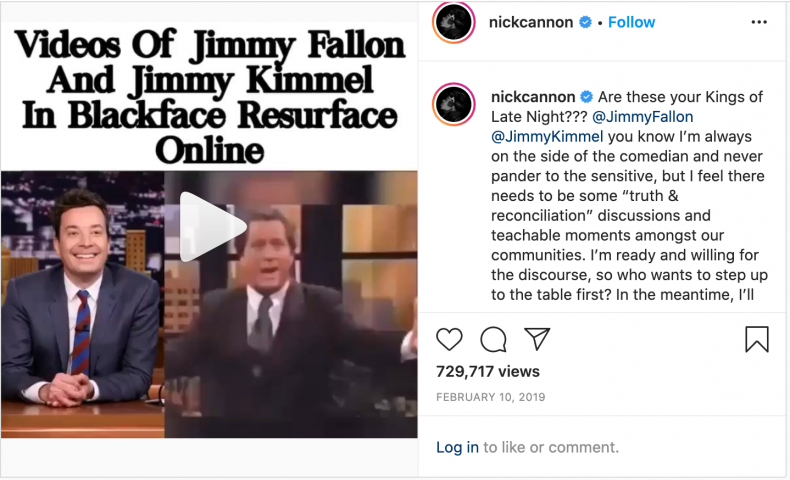 SNL also has a wider history of blackface. Among the other actors who donned dark makeup on the show to play black characters were Billy Crystal, who played Sammy Davis Jr. in a 1984 sketch, Darrell Hammond, who played Jesse Jackson, and Fred Armisen, who said he wore "a honey color" make-up to play Barack Obama in 2008.
Speaking to The Washington Post at the time of Armisen playing Obama, SNL boss Lorne Michaels said he auditioned "four or five" cast members to play the then-president, including African American cast member Kenan Thompson. However, "when it came down to it, I went with the person with the cleanest comedy 'take'," said Michaels.