Fallon on Trump Interview: 'Tonight Show' Host Says He Was 'Devastated' by Backlash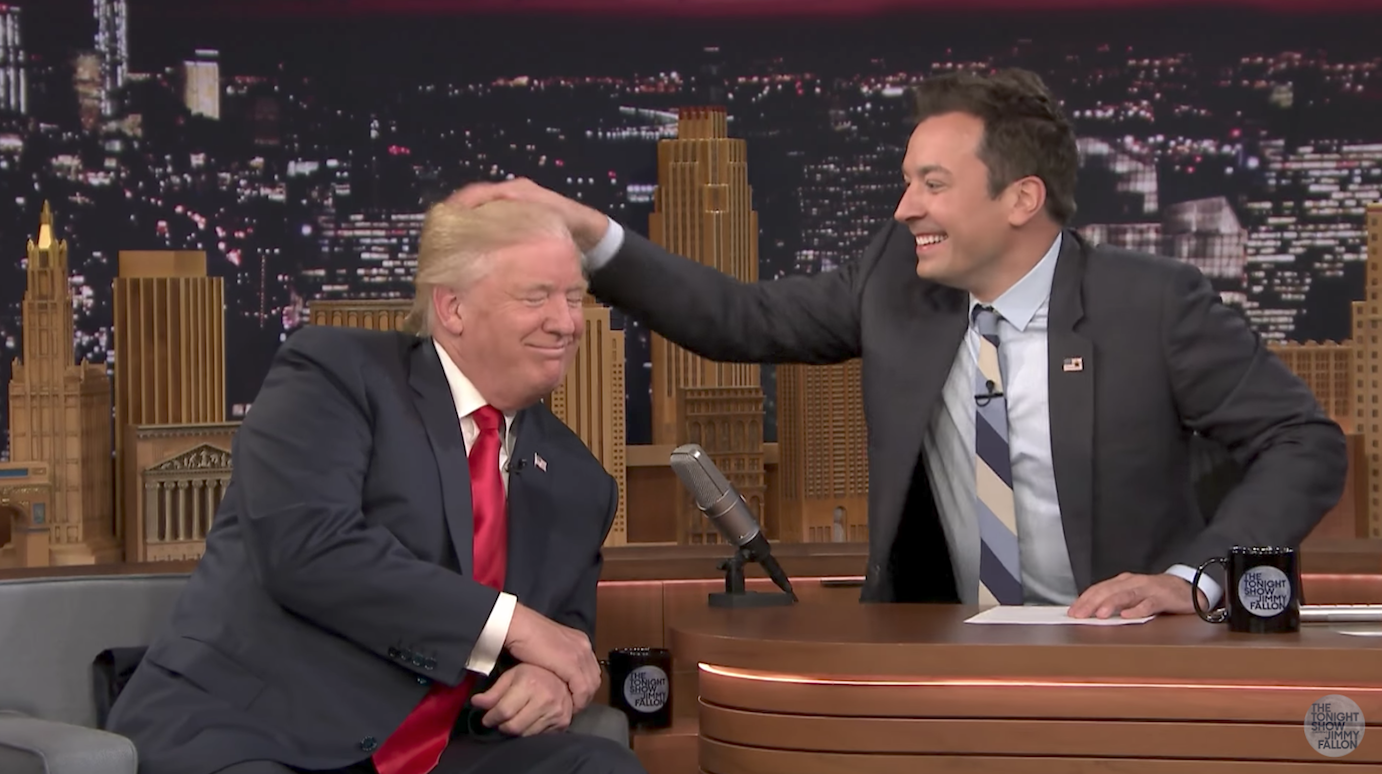 While Stephen Colbert and Seth Meyers have been using Donald Trump's presidency to boost their shows, Jimmy Fallon, host of the Tonight Show, has remained wholly apolitical. Fallon is affable; he is lovable; and he is more likely to let Kevin James hit him in the face with a banana cream pie than he is to hurl a mean-spirited insult at the president. He may poke fun at Trump's appearance or accent, but Fallon's not going to get into the weeds of his scandals, as his late-night counterparts have been doing. His show's ratings have suffered.
Related: Colbert suggest Trump should release tax returns as distraction
In a new interview with The New York Times, Fallon addressed his recent struggles as well as the now-infamous show he did with Trump in September 2016. You know, the one when he tousled Trump's hair. It was that show and the reaction to it, on which Fallon has not commented until now, that served as the turning point for the Tonight Show as America descended into rampant politicization.
He now realizes it may be too late to make it up to those he disappointed. "I feel like it's sailed," he said of his chances to make amends. "I haven't talked about it at all."
At the time, Fallon says he took the fallout from the interview hard. "I'm a people pleaser," he told the Times. "If there's one bad thing on Twitter about me, it will make me upset. So, after this happened, I was devastated. I didn't mean anything by it. I was just trying to have fun."
The interview was so controversial because it came at a time when many in America were just beginning to accept that Trump had a real chance of winning the presidency. He had also just refused to acknowledge that President Obama was born in the United States. Despite the backlash, Fallon was giddy throughout the interview, lobbing softball questions and, ultimately, tousling Trump's hair like the candidate was a golden retriever.
"I didn't do it to humanize him," Fallon told the Times. "I almost did it to minimize him. I didn't think that would be a compliment: 'He did the thing that we all wanted to do.'"
As the Times notes, the Tonight Show is still profitable despite the Late Show taking over the top spot in the ratings. Fallon doesn't seem to care that much about ratings, anyway, even though his show is still tops among the coveted 18-to-49 demographic. "We're winning in something," he said. "People in the height requirement between 5-7 and 5-11, we're No. 1, from 11:50 to 11:55."
He's also not going to lean into the politicization of late-night TV, even though it has meant a hike in ratings for his competitors. "I don't want to be bullied into not being me, and not doing what I think is funny," he said. "Just because some people bash me on Twitter, it's not going to change my humor or my show."
We recently dubbed Fallon America's "least woke" comedian. Though Fallon may be bothered by such reaction on the internet, it's not going to keep him from staying out of politics and having fun on the air.