'SNL' Favorite Jimmy Fallon Is Back For One Night With Harry Styles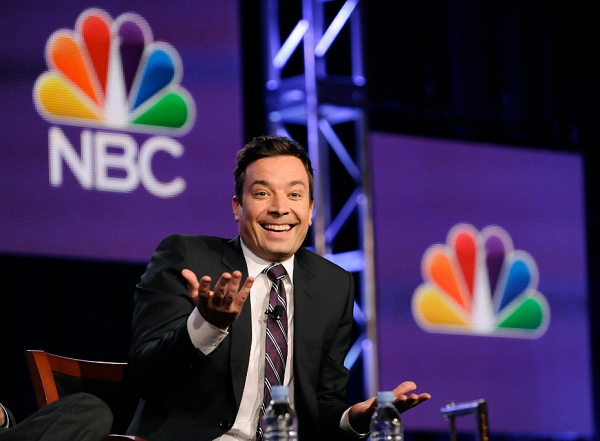 It's been a year since Jimmy Fallon cracked fans up on Saturday Night Live, but The Tonight Show host is expected to bring the laughs full fledge again when he hosts the sketch comedy show Saturday.
Fallon will appear on SNL with musical guest, former One Direction singer, Harry Styles, who is set to perform his debut solo ballad, "Sign of the Times," and a second track from the British singer's self-titled debut album.
Fans have been highly anticipating Fallon's return to SNL. He hasn't performed on the show since 2016 when he and Tina Fey made a surprise appearance during Colin Jost and Michael Che's "Weekend Update" segment—a skit they dominated until Fallon left the show in 2004.
Details regarding potential skits Fallon's prepared to perform have yet to be revealed, and it's unclear if Styles will appear in any other capacity besides his musical performances.
In the latest trailer for their upcoming SNL appearance, Fallon and Styles seem to be fighting for the spotlight, pushing each other out of the camera's view while snapping their fingers to jazz music in unison. The trailer continues with a trio of bloopers, including one in which Styles bursts into uncontrollable laughter while reciting his lines—almost like the way Fallon used to frequently break character during his time on the show.
While it's almost expected for Fallon to break character at some point during his appearance Saturday, many fans are hoping to see Fallon revive some of his most hilarious and memorable skits like "Jarret's Room" and his knee-slapping-funny impressions of talk show host Barry Gibb.
Here's to hoping Fallon will play a guest contestant during SNL's Family Feud skit, in which Kenan Thompson impersonates the actual ABC show's host, Steve Harvey. Some of Fallon's most notable moments on SNL include his Family Feud bits with Thompson and singer Justin Timberlake.
The last time Timberlake and Fallon appeared on SNL was during the comedy show's 40th anniversary, which Fallon kicked off with a grand musical performance that was instantly overshadowed when Timberlake interrupted. The duo continued the cold open with a hysterical rap performance, reminiscent of the many side-splitting musical numbers they often performed together when Timberlake would drop by SNL—or The Tonight Show— during Fallon's tenure.
Fallon's appearance on SNL will air live simultaneously for the first time, on Saturday at 11:30 p.m. Eastern Standard Time, 10:30 p.m. Central Time, 9:30 p.m. Mountain Time and 8:30 p.m. Pacific Time.
Check out a few of Fallon's former SNL skits below.