Jimmy Fallon, Late Night's Least Woke Comedian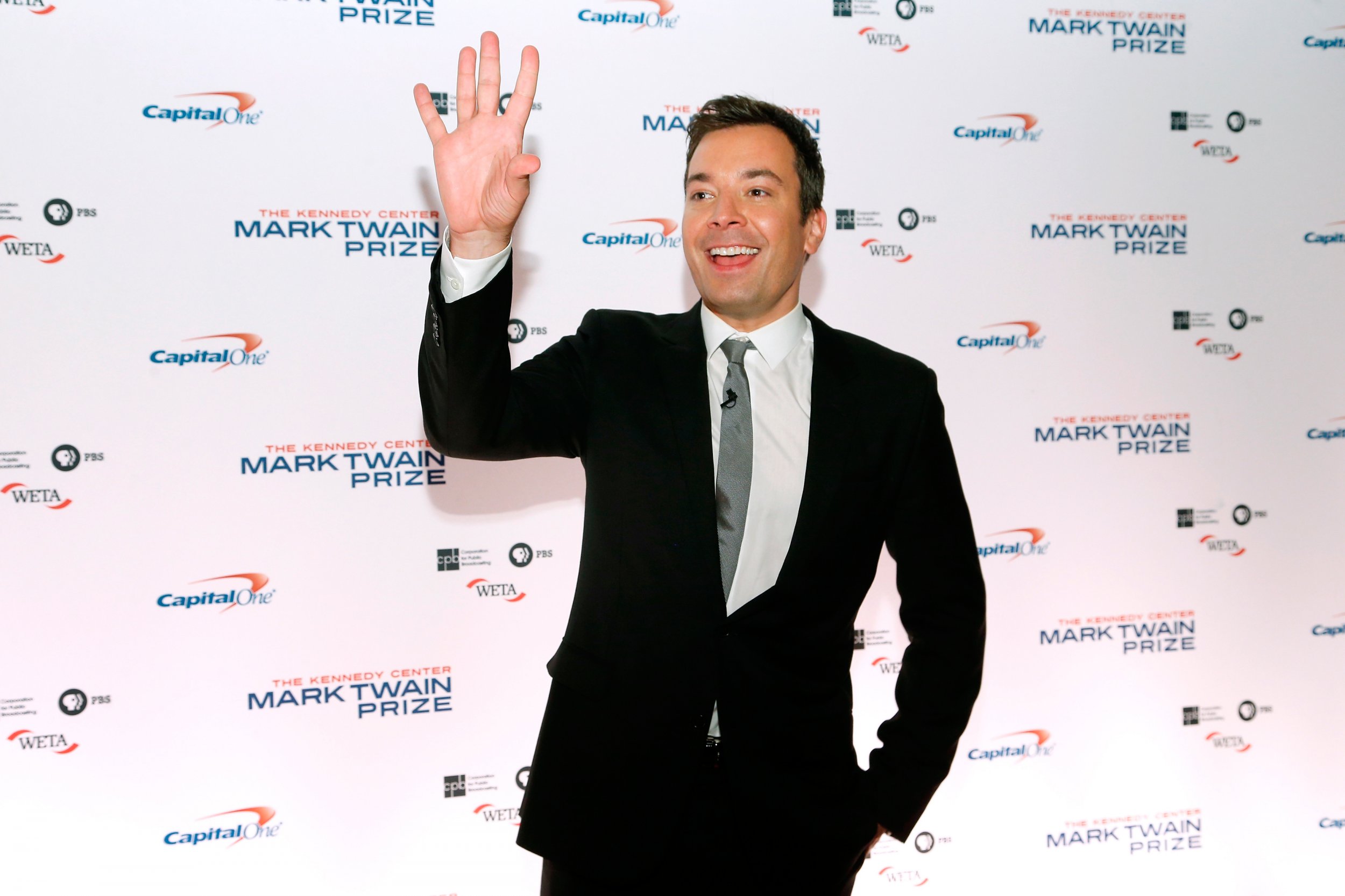 Last week, Jimmy Kimmel delivered a poignant monologue about his newborn son's heart condition, which turned into a plea for House Republicans to refrain from eviscerating the Affordable Care Act. After they did just that, Seth Meyers used a segment of his late-night show to savage House Speaker Paul Ryan, almost entirely by using his own words against him, in the best Daily Show/ Jon Stewart fashion. And there was Stephen Colbert, firing off an anti-Trump diatribe that amounted to the comedic version of a drone strike.
Jimmy Fallon, meanwhile, had the following exchange with Goldie Hawn, who was promoting her new comedy Snatched.
Fallon: "You and Amy Schumer. I mean, come on. This is a perfect combo."
Hawn: "It was so perfect."
Fallon: "It's a perfect combo."
That's not to say that Fallon's show was light on substance. His week, after all, included slapping actor Chris Pine with an oversized fake hand and reworking a Smash Mouth song from 1999.
You can't exactly blame Fallon for wanting to return to the final year of Clintonia, a time before hanging chads and burning towers, before Putinism and long before Trumpism. That was the beginning of a good stretch for Fallon, who'd joined Saturday Night Live in '98. He was best as an over-enthusiastic Bostonian in a recurring skit he shared with Rachel Dratch. He did a funny song about Valentine's Day. He did one about Halloween too. Here was the sensitive fratboy singing the nation its lullabies as Osama bin Laden's most fanatical acolytes learned about box cutters and flight controls.
SNL creator Lorne Michaels put Fallon in the coveted Weekend Update anchor's chair in 2000. His co-anchor, Tina Fey, made the smarter jokes, but it didn't matter, because Fallon looked very good in a suit, grinning devilishly (but not too devilishly) into the camera. He left SNL in 2003, spent a decade making good money for bad movies. Then, in 2013, Jay Leno announced he would be retiring from The Tonight Show. NBC had the perfect replacement: the sweet, inoffensive, uncomplicated Fallon, who could appeal to Walmart America just as Leno had, with easy topical one-liners and gentle celebrity interviews.
Of course, the executives at 30 Rock didn't foresee the political ascendance of Donald Trump any more than the rest of us. Nor could they have known that in the Age of Trump, late-night comedians, told for years they were being supplanted by YouTube "personalities," would suddenly become the conscience of a riveted, anxious nation, their humor weaponized into political commentary, virtually all of it in the service of anti-Trump forces.
"Trump was the butt of 1,060 zingers on late-night TV during his first several months in office, higher than any of his prior three processors drew within their entire first years in the White House," Politico reported last week. That's especially astonishing when you consider that the Oval Office was once occupied by George W. Bush, who frequently struggled with subject-verb agreement. Not only that, but Trump reached the record number of jokes in just his first 100 days. More than 1,300 days remain.
Fallon's first Tonight Show was on February 17, 2014, well before Trump descended the escalator in his Midtown tower to ramble about Mexico and declare his bid to make America great again. During his first monologue, Fallon reminisced about how his parents let him watch Johnny Carson's monologue before bed when he was a kid. Carson has proven to be Fallon's biggest influence, a relentlessly chipper host who understood that any political stance he took was bound to lose him viewers.
Carson, though, is painfully irrelevant today. If the late-night comedy of 2017 has a precedent, then it is in The Dick Cavett Show. Cavett, the cool-blooded Yale graduate, became famous for his aggressive coverage of Watergate, which must have been strange terrain for a late-night host. Then again, Cavett was less comedian than witty conversationalist, one who has aged much better than his competitors (he frequently contributes political columns to The New York Times ). "The Dick Cavett Show demonstrated the ability of late-night to not just make fun of the political elite but to cover hard news with both pointed questioning and a sly wink," noted a 2014 item in the Columbia Journalism Review about whether late-night would ever become political again.
Would it ever. But then there's Jimmy, poor Jimmy, who wants to offend nobody. In what has been called the age of the "woke" late-night comedian, Fallon has been hosting The Tonight Show through squinted eyes, doing his best to pretend that we are still in the age of Smash Mouth, not that of Kid Rock invited to the White House by President Trump (Ted Nugent and Sarah Palin were there, too). As his fellow late-night comedians do their own part to stoke the resistance, Fallon smirks into the camera, pained and awkward, wondering when it will all end so he can do hip-hop medleys with Justin Timberlake again.
Fallon's desire to be liked, once his main asset, has become a lethal liability. This was on full display when then-candidate Trump appeared on Fallon's show in mid-August, in an episode that may taint the rest of Fallon's career. Of all the questions Fallon could have asked, he posed one that will live in infamy: "Can I mess your hair up?"
An obliging Trump leaned forward and Fallon mussed his golden mane. This thrilled him to an unimaginable degree.
"Donald Trump, everybody," Fallon shouted, rising from his hair as if in the midst of sexual rapture. He messed up his own hair, then pointed to Trump again. "Donald Trump, everybody!"
The interview didn't go over well, at least with those of us who publicly broadcast their opinions about late-night television. "In his defense, Jimmy Fallon just pulled in a 35 share among white supremacists 18-49," tweeted the former Jeopardy! champion Ken Jennings.
A lot has happened since that September night, you might say. One of those things — among many others, like possible war against North Korea — is that Fallon has been supplanted in the ever-crucial ratings contest by Stephen Colbert. That first happened in December, according to analysis by JumpShot, which measures the streaming of web videos. The more traditional metric of Nielsen ratings had Colbert overtaking Fallon a little later, in February. That's almost certainly because Colbert decided to embrace the dismay over Trump, while Fallon tried to ignore it.
It's not only that Fallon is losing to Colbert, he's becoming ever more irrelevant as the Jon Stewart brand of journalism supplants that of Jay Leno (Colbert is a Jon Stewart alumnus, as are Samantha Bee, Trevor Noah and John Oliver, all of which have successful, aggressively political shows of their own). It's notable that Fallon's competitor for Leno's seat was Conan O'Brien, once seen as NBC's most promising star. Smarter and edgier than Fallon, he shared with Fallon an aversion to politics and a profound, almost pathological desire to be liked by all. He has been relegated to the wilds of TBS, where he reportedly still tells jokes.
Fallon's apolitical stance was becoming indefensible as election turned into transition, Obama handing the keys to American democracy to a driver you wouldn't trust in an empty parking lot. In March, David Letterman told New York magazine about Fallon's interview with Trump, "I don't want to criticize Jimmy Fallon, but I can only tell you what I would have done in that situation: I would have gone to work on Trump." He compared Fallon with Carson, who, according to Letterman, "had an unstated policy that he would never mention" the Vietnam War. That same week, the New York Post 's gossip column, Page Six, had an item about NBC execs pushing Fallon to be more political. While one wants to think this was the product of good reporting, it is far more likely the result of a tip whose subject was also its intended recipient.
We're about two months into that experiment. I don't want to call it a failure just yet, because next Friday's interview with Derek Jeter could be the one that has Fallon finally speaking truth to power.
To be fair, Fallon has been delivering more Trump jokes during his monologue, but these have a rushed, checking-the-box quality; you get the feeling that after each one, he wants to look over to some executive standing backstage for an approving smile. The jokes are also relentlessly topical, dinging Trump on his most superficial faults, ones even his supporters would admit: the ties to Russia, the intellectual incuriosity, the manic tweeting.
"President Trump canceled his White House Cinco de Mayo celebration," he said last Thursday. "He made the decision after Mexico said they wouldn't pay for it."
Well, OK.
Does a late-night comedian need to make jokes about Trump? Of course not. Earlier this week, Maureen Callahan of the New York Post persuasively argued that Colbert and his fellow anti-Trump late-night comedians have become mired in "unblinking self-righteousness," preaching all-too-loudly to a choir. She has a point, about Colbert and Noah especially. Neither host seems to have quite come by his outrage honestly; their jokes, though far better than Fallon's, do have a pandering quality. Bee and Myers, on the other hand, plainly relish flailing Trump, she with dismay and he with glee. Oliver is snooty and annoying. Some are said to like him precisely for that.
Given the surfeit of anti-Trump animosity in late-night television, I'd far more prefer a totally apolitical Fallon who decided that his viewers needed a respite from politics, and that he was going to be an oasis of humor in the pitiless desert that is the 24-hour news cycle. I'd be curious about a pro-Trump comedian, too, one who runs counter to the prevailing late-night sentiment. Because, let's face it, there's plenty on the left to skewer: microaggressions, Bernie Sanders, the idea of Chelsea Clinton running for office. I'm thinking of the Dennis Miller of the late '90s, before he started making appearances on Fox News.
Except that isn't the decision Fallon and NBC have made. Sensing the nation's hunger for anti-Trump humor, the suits have forced him into throwing weak punches in hopes that they seem like upper-cuts. But as the diminishing ratings indicate, people aren't fooled. If the election showed anything, it is that Americans want rage, whether channeled by a rumpled Vermont socialist or a real-estate developer from Manhattan.
So what is someone like Fallon to do? He has no views, it seems, on North Korea or the Affordable Care Act. He just wants people to like him. He just wants to tell Goldie Hawn how great her new movie is going to be.