Jimmy Haslam: Browns Not Giving Up on Season, 'Rebooting' Following Hue Jackson, Todd Haley firings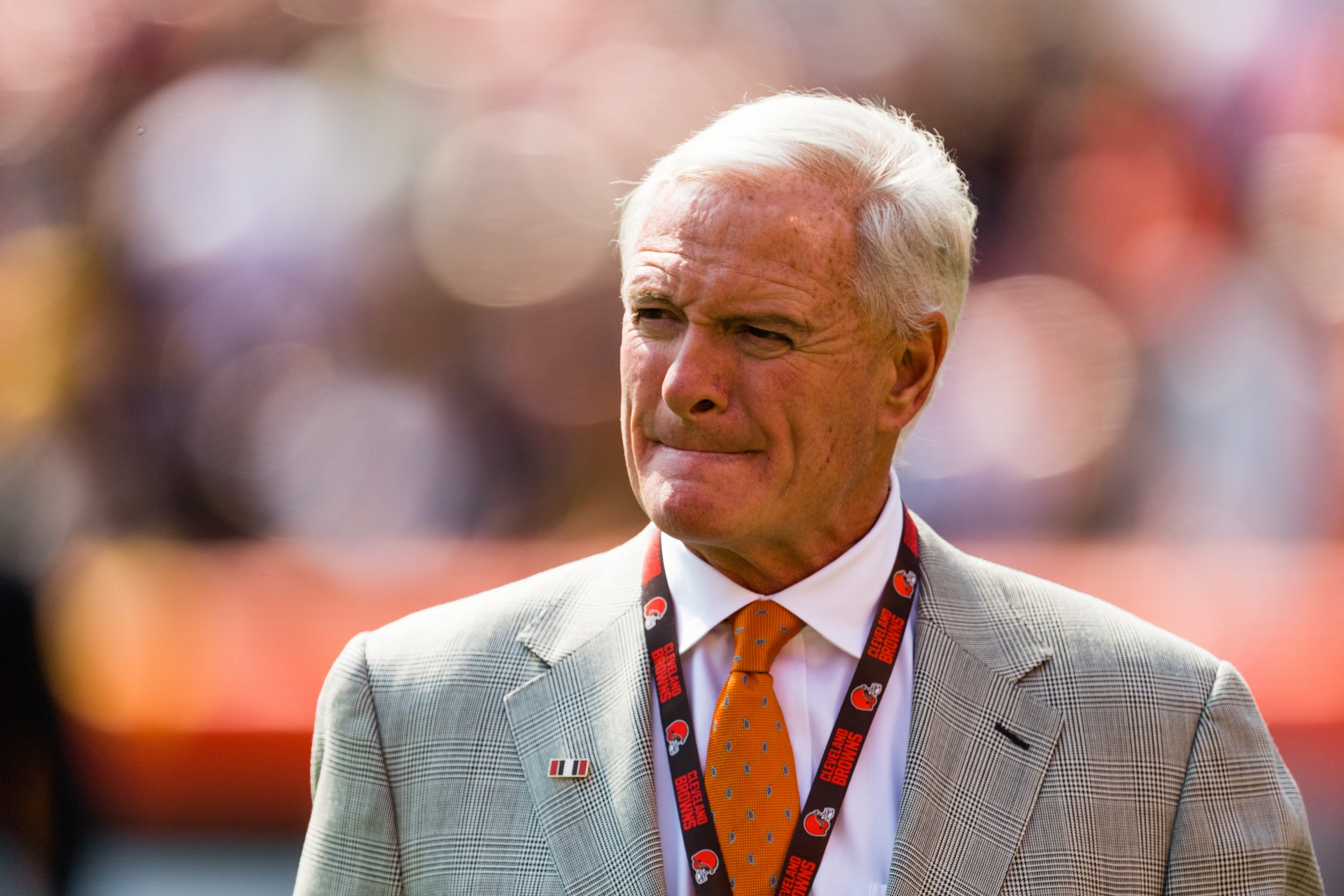 Cleveland Browns owner Jimmy Haslam insists that his team isn't giving up on the 2018 season following the firing of head coach Hue Jackson and offensive coordinator Todd Haley, rather that they're "rebooting" instead.
"This is not a throwing in of the towel," Haslam said Monday afternoon via ESPN. "It is a rebooting, if you will, an opportunity to give them a fresh start these last eight games."
Haslam and general manager John Dorsey plan on focusing on the Browns' remaining eight games and helping interim coach Gregg Williams win as many as he can.
"I think that we put the organization in a better place today than it was yesterday moving forward," Haslam said. "And we are comfortable with the decision."
Haslam wouldn't divulge into details about any other potential coaching moves, although he did address the reported rift between Jackson and Haley.
"I think the message today is we're not going to put up with internal discord," Haslam said. "That we want people who are collaborative and work together."
Several reports indicated that Jackson and Haley had a strained relationship over the course of the 2018 season, with many expecting the head coach to take over play calling duties prior to his termination on Monday.
Haley, who had previously worked as the offensive coordinator for the rival Pittsburgh Steelers from 2012-17, was in his first season with the Browns.
According to ESPN's Chris Mortensen, the coaching changes were made in order to benefit the development of starting quarterback Baker Mayfield, who was selected No. 1 overall in the 2018 NFL Draft.
Oklahoma University coach Lincoln Riley, who coach Mayfield in college, addressed whether he'd be interested in reuninting with his former quarterback shortly after news broke of Jackson's termination.
"I knew that was coming," Riley said during his weekly news conference on Monday. "No, not right now. You sit here and answer these questions, and I always want to be truthful. The truth is for me is I love Oklahoma. I love coaching here. I love college football. I certainly don't have that itch right now. Don't know that I ever will.
Cleveland is currently 2-5-1 in 2018, which doubled Jackson's win total from his first two seasons with the organization. The Browns went 1-5 during the coach's first year in 2015 and 0-16 in 2016.
Cleveland is coming off a 33-18 loss to the Steelers on Sunday, who it had played to a tie in Week 1. The Browns fired five previous coaches -- Romeo Crennel (2005-08), Eric Mangini (2009-10), Pat Shurmur (2011-12), Rob Chudzinski (2013) and Mike Pettine (2014-15) -- immediately after their second regular season matchup against Pittsburgh.
Cleveland has the NFL's lowest winning percentage, offensive efficiency, points per game and total quarterback rating of any team since 2016.
Jackson's career .205 win percentage is the second lowest in NFL history among coaches who have appeared in at least 40 games, according to ESPN.
Jackson had previously coached one season with the Oakland Raiders in 2011 before joining the Browns, which resulted in an 8-8 finish.