Jimmy John's Staffers Fired for Making Noose Out of Bread Dough
Four Jimmy John's employees have been fired after a video of them with a noose made out of bread dough was posted to social media. The incident took place at the Woodstock, Georgia, branch over the Fourth of July weekend.
In the video, an employee can be seen helping another put the noose made of dough around his neck. Another employee can be heard telling the one with the noose around his neck that he has been sentenced to death, while another employee films the event.
The video of the Jimmy John's employees was originally posted on Snapchat—with a Fourth of July banner at the bottom—but someone shared a recording of the Snapchat video playing on a cellphone, and posted it to Twitter. The video has more than 44,000 views at the time of writing.
The Twitter user said: "In Woodstock, GA at a Jimmy Johns, some white employees made a noose, look at the DETAILS in the damn noose dough that's used for sandwiches. Crazy. They done this before..."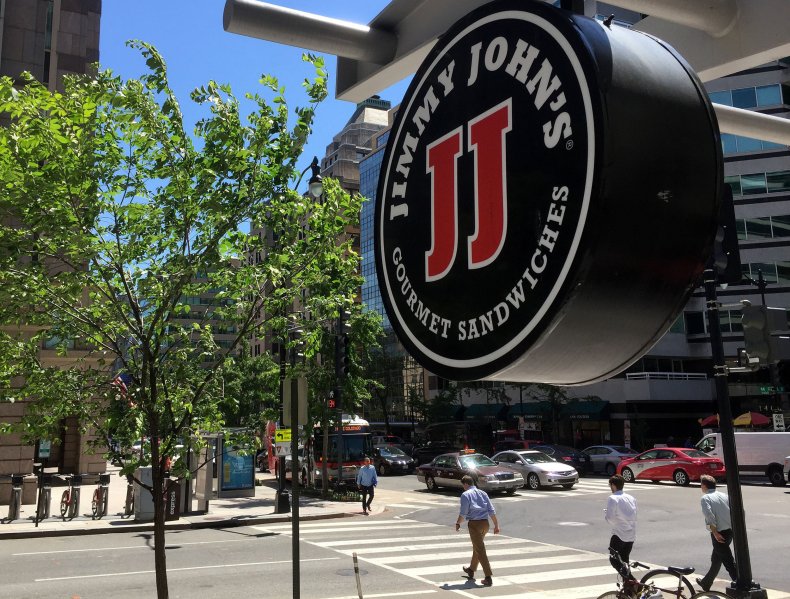 Jimmy John's replied to the video posted on Twitter and said: "We have zero tolerance for racism or discrimination in any form. The franchisee has taken immediate action and the employees have been terminated. The actions seen in this video are completely unacceptable and do not represent the Jimmy John's brand."
In a statement posted to Twitter, Jimmy John's said: "The actions seen in the video are absolutely unacceptable and do not represent the Jimmy John's brand or the local franchise ownership team. As soon as we were alerted to the video, we notified our franchisee, who quickly investigated and terminated all employees involved.
"The franchisee is also meeting with their team to conduct training to help prevent anything like this from ever happening again."
Last week, a similar incident occurred at a Little Caesars restaurant in Ohio, when employees were fired over a pizza that featured a swastika symbol made from pepperoni. Two employees made the pizza "as a joke," but it was then sold to a customer by another employee who hadn't realized what was on the pizza.
Little Caesars told local media: "We have zero tolerance for racism and discrimination in any form, and these franchise store employees were immediately terminated. We're deeply disappointed that this happened, as this conduct is completely against our values. We have also reached out to the customer to discuss this personally with him."
Earlier this week, two Walmart employees were fired after a video of them telling a Spanish speaker to learn English was posted on social media. Walmart told Newsweek: "We want to be clear that the behavior shown in the video does not represent our values, and we do not condone the remarks."