Jimmy John's Trends After Old Photo of Owner With Elephant He Killed Goes Viral Again
Jimmy John's — and the hashtag #BoycottJimmyJohns — trended on Friday with calls for a boycott of the fast-food sandwich restaurant, after a photo of the owner with an elephant he killed resurfaced. The photo itself is old, and has frequently made the rounds on Twitter.
Internet sensation and Twitter personality "Brother Nature" — known for his viral Twitter videos of him befriending wild animals — tweeted on Friday, "We boycotting Jimmy Johns [sic]."
Jimmy John's is an American franchised fast-food restaurant chain. It was founded by Jimmy John Liautaud — the man seen in the hunting photos — in 1983.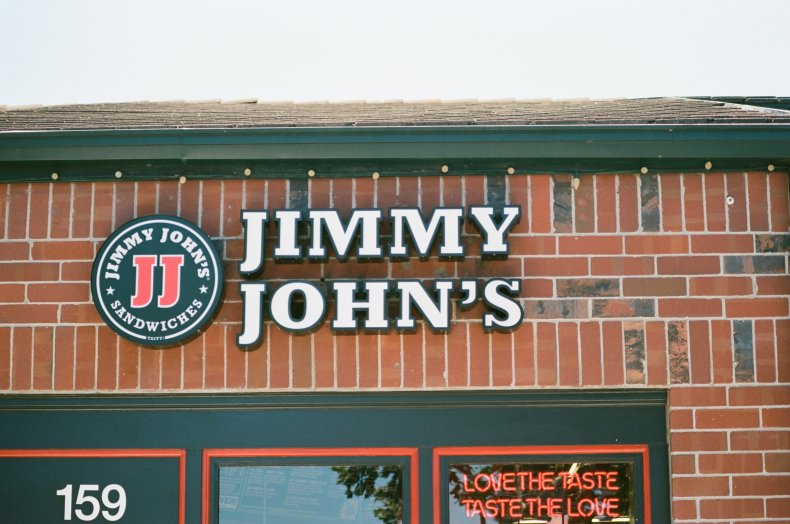 A wave of tweets followed from Brother Nature's post, with Twitter users saying that they would join in the rejection of the "gourmet sandwich" chain. One user said on Friday, "If you patronize @jimmyjohns it means you're supporting this evil animal murderer. #BoycottJimmyJohns."
Another tweeted out pictures of Jimmy John with various other killed animals saying, "The owner of Jimmy Johns [sic] is a repeat offender. Feel free to stop buying his sandwiches and funding his inhumane exploits."
As #BoycottJimmyJohns began to trend on Friday, some were quick to point out that this is not the first time a boycott like this has been called for. Journalist Yashar Ali — who is known for his love of elephants — tweeted on Friday:
"Few times a year this pic of the founder of Jimmy Johns [sic] goes viral. It almost always starts trending and everyone is shocked! Tons of retweets! But this pic is from years ago and meanwhile [elephants] are facing a real crisis & when people tweet about that, it gets little attention."
He continued, "To be clear, I am asking people to move on from this! Seriously! Elephants are facing some serious issues and a trophy hunting pic from years ago is the focus."
Other users said things like, "Haven't we been doing this since April?"
The old photo of the sandwich franchise's owner has gone viral as recently as April of this year, in 2017, and other times before that.
@yossarian317 tweeted on the issue, with the same photograph, in April and the post received almost 30,000 retweets.
Some people disagree with the boycott notion altogether, saying that some game hunting is perfectly legal. One user said on Friday, "Please learn about African wildlife conservation before boycotting anything and making assumptions. Every time one of these pics pops up people go crazy and don't have the slightest clue about the entire process. And the actual benefits behind this type of hunting."
Trophy hunting is the shooting of carefully selected animals – frequently big game such as rhinos, elephants, lions, pumas and bears – under official government license, for pleasure. The trophy is the animal (or its head, skin or any other body part) that the hunter keeps as a souvenir.