Jimmy Kimmel Is Killing the Republican Health Care Bill, and Delighting His Viewers in the Process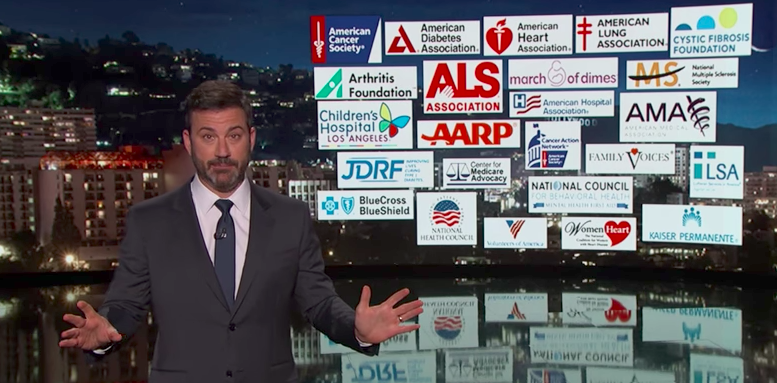 In the new book One Nation After Trump, which is witheringly critical of the current administration, E.J. Dionne, Norm E. Ornstein and Thomas E. Mann write that widespread dismay at the Donald J. Trump presidency "could be the occasion for an era of democratic renewal." Prime evidence for that argument is a trio of unprecedented monologues delivered by Jimmy Kimmel this week, in what may be the first instance of a congressional bill killed by a comedian's wit and outrage.
Before the age of Trump, devoting a late-night monologue to healthcare would have portended career suicide, the host likely subjected to mental-health examinations by his worried producers. But it is unlikely that ABC has any such concerns with Jimmy Kimmel Live: The host has proved to be the nation's most effective critic of the Graham-Cassidy bill that would repeal and replace the Affordable Care Act, the Obama-era legislation that has been a longtime Republican target.
Trump would "sign copies of the Koran at the Barnes & Noble in Fallujah if it meant he could get rid of Obamacare," Kimmel joked during Thursday's monologue, which was mostly but not entirely devoted to healthcare.
The primary victim of Kimmel's anger has been Bill Cassidy, the Louisiana Republican who is one of the legislation's two sponsors (the other is Lindsey Graham, Republican of South Carolina). Kimmel's monologue on Tuesday took issue with Cassidy's earlier invocations of what the senator, who is a doctor by training, called "the Jimmy Kimmel Test," which Cassidy introduced on CNN last spring. He did so days after Kimmel delivered a passionate monologue about the high costs of care for his infant son Billy, who was born with a heart condition that involved a complex and expensive set of interventions.
"I want to make sure folks get the care they need," Cassidy said at the time. Several days after the CNN appearance, Cassidy was interviewed by Kimmel. Although he did not make explicit promises to Kimmel, Cassidy did seem to commit himself to an expansion (or at least preservation) of coverage, as this transcript of their exchange shows:
Kimmel: "Do you believe that every American, regardless of income, should be able to get regular checkups, maternity care, etc., all of those things that people who have health care get and need?"

Cassidy: "Yep."

Kimmel: "You do. Where do you stand on the annual or lifetime payout caps, where the insurance companies cap how much money they can pay out so that when a family has a child with a condition like my son has, they could potentially go bankrupt because of all the expensive surgeries?"

Cassidy: "Yeah, as it turns out, the caps don't contribute...having a cap does not contribute that much to the expense."
But the bill Cassidy and Graham introduced earlier this month would allow individual states to severely curtail protections afforded by the Affordable Care Act. Thirty-four states would see fewer federal dollars devoted to healthcare, according to one analysis. Thomas Huelskoetter, an analyst with the left-leaning Center for American Progress, called it "the most harmful version of repeal yet."
Kimmel this week became one of few comedians to ever use the words "block grant" in network prime time (the exact figure is unknown; he may be the only one). But while he has shown a willingness to delve into the particulars of the bill, Kimmel has also responded by treating Graham-Cassidy, which the Senate may vote on next week, as a personal affront, even a betrayal, openly accusing Cassidy of lying.
On Thursday night, Kimmel also took issue with members of the conservative media who have suggested he has no business discussing healthcare: "Jimmy Kimmel, Policy-Wonk Wannabe," said a National Review headline that captured widespread sentiment on the right.
Kimmel answered his critics, as he had the previous night. "Bill Cassidy named this test after me," he said with audible indignation. "Am I supposed to be quiet about that?"
Concerns about Kimmel's understanding of the bill's particulars appear to be overblown. A New York Times fact check found that Kimmel "has a strong grasp on the proposal," including his assertion that pre-existing conditions in some states could no longer be covered.
Kimmel was especially amused by charges that an entertainer had no business in politics, playing a clip from The Celebrity Apprentice as a retort.
"He fired Meatloaf," Kimmel said of Trump, who hosted that reality-television program. "And you put him in the White House."