Jimmy Kimmel Blasts Marjorie Taylor Greene for Harassing David Hogg
Jimmy Kimmel has roasted Marjorie Taylor Greene for the politician's support of QAnon and for harassing school shooting survivor, David Hogg.
The Republican congresswoman from Georgia who subscribes to QAnon made headlines this week for posting a wide-ranging conspiracy theory tinged with anti-Semitic tropes, leading to the #JewishSpaceLasers hashtag trending on Twitter.
"The chair of the RNC, Ronna McDaniel... tried to distance the party from QAnon. She said it's beyond fringe and dangerous," the late-night host explained on Thursday night. "QAnon is so fringe, in fact, Republicans in the House just put their screwiest, Q-iest member on the Education and Labor Committee—that is Marjorie Taylor Greene from Georgia."
QAnon believers are proponents of the baseless conspiracy theory that Donald Trump is waging a secret war against the so-called Deep State and elite Satan-worshipping pedophiles in government, business and the media.
"If you don't know who this person is, I wish I didn't too. She is the lady who, among other things, called for Nancy Pelosi's execution; called for Joe Biden's impeachment on his first day in office; and she believes our former governor here in California, Jerry Brown, used space lasers to set the wildfires here. She saw the Austin Powers movie and thought it was a documentary, I guess," Kimmel explained.
Taylor Greene has also been criticized this week over a video posted to her YouTube channel on January 21 showing her confronting David Hogg, who survived a 2018 mass shooting at Marjory Stoneman Douglas High School in Parkland, Florida.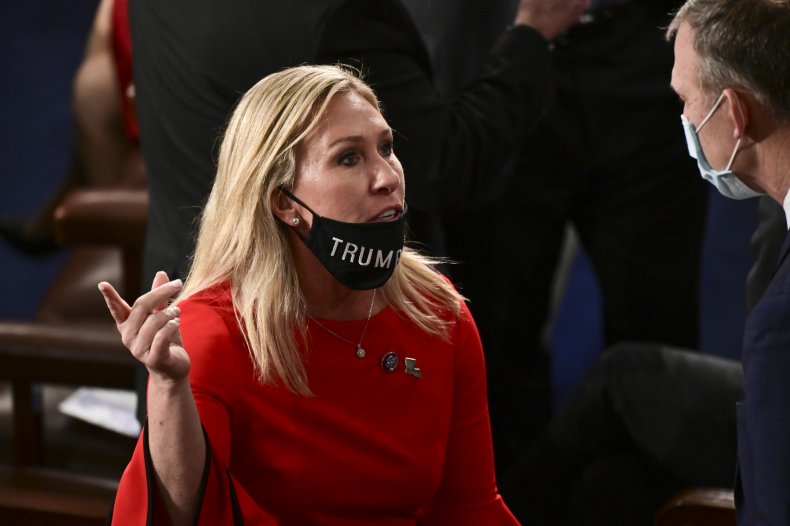 "Marjorie also called some of the terrible school shootings 'false flag operations,' meaning the perpetrators weren't who we think they were," Kimmel continued. "And here she is stalking and harassing a child not long after he watched his friends get slaughtered in school."
He then rolled a clip of Taylor Greene following Hogg and calling him a "coward."
"The coward she was yelling at there is a teenager named David Hogg. He's an activist. She referred to him online as 'Little Hitler.' I wonder how it would go over with the Fox News and Ted Cruz crew if Nancy Pelosi called for Marjorie Taylor Greene to be executed and called a teenage kid Hitler? You think they'd have anything to say?" asked Kimmel. "Well, it was the other way around, and guess what? Most of them have nothing to say. Instead, they assigned her to the education committee—hoping she would get one? I don't know."
Kimmel's rant against Taylor Greene comes after he launched into another roast of QAnon supporters last week.
"This has been a very tough week for the QAnon crowd," Kimmel said on last Thursday night's installment of Jimmy Kimmel Live. "The prophecies that they built much of their lives around didn't come to fruition.
"These guys woke up yesterday thinking they were about to watch Trump round-up and arrest all the elites, the pedophiles and by six o'clock, Tom Hanks was introducing Bill Clinton to congratulate Joe Biden on being president."