Jimmy Kimmel Suggests Cutting Off Brett Kavanaugh's 'Pesky Penis' if He's Confirmed to Supreme Court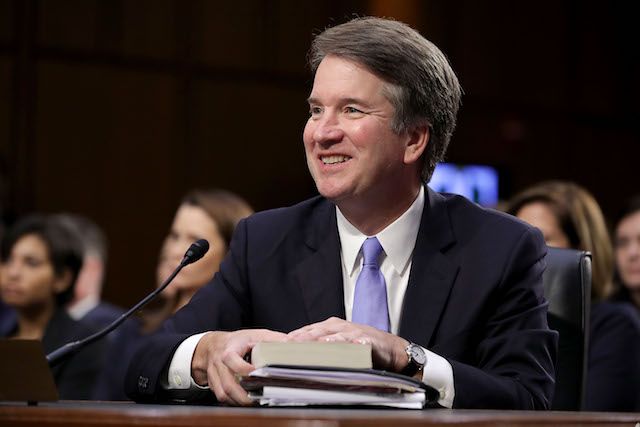 The only way Brett Kavanaugh deserves to be confirmed to the Supreme Court is if his penis gets cut off—at least that's what Jimmy Kimmel thinks. The late-night host had a mouthful to say about President Donald Trump's Supreme Court nominee after a second woman came forward with claims of Kavanaugh's sexual misconduct.
Kavanaugh sat down with Fox News in his first interview to defend himself against the allegations first raised by California professor Christine Blasey Ford last week. Kimmel, airing clips of Kavanaugh's interview during his show on Monday night, blasted Kavanaugh in particular for his claims of not yet being sexually active during the time frame Ford said he assaulted her. Kavanaugh told Fox News host Martha MacCallum he was a virgin in high school—the era in which Ford's accusations stem from—and well into college.
"Thank you for admitting that," Kimmel joked. "He was a virgin until many years after. So if he doesn't get to be on the Supreme Court, maybe he'll be The Bachelor."
On the topic of Kavanaugh's social calendar—which the 53-year-old claimed to still have as proof of not attending the party at which Ford accused him of trying to rape her—Kimmel teased, "What 17-year-old keeps calendars of his social engagements? No wonder he was a virgin."
Although assault the claims have sent Republicans and Democrats into a frenzy, Kavanaugh still has the unwavering support of the president, which Kimmel said was understandable considering Trump "has people coming out of the woodwork from 30 years ago" also accusing him of sexual misconduct.
Should Kavanaugh still manage to be confirmed to the Supreme Court, Kimmel had a solution he believed would please everyone. "Hear me out on this: So Kavanaugh gets confirmed to the Supreme Court, OK? Well, in return, we get to cut that pesky penis of his off in front of everyone," he said.