Jimmy Kimmel Calls Sarah Palin 'Typhoid Mary' for COVID Restaurant Gaffes
Jimmy Kimmel was the latest celebrity to call out former Republican Alaska governor Sarah Palin for dining at a New York City restaurant after she tested positive for the coronavirus multiple times.
Kimmel ripped into Palin during the Thursday episode of Jimmy Kimmel Live!, dubbing her "Typhoid Mary"—a reference to Mary Mallon, an American cook believed to have infected over 50 people with the disease in the early 1900s.
"But now, after testing positive, she went back to the same restaurant with COVID and a guy who's coughing," the comedian said as a clip of Palin eating at Elio's played. "There's Typhoid Mary having some linguine or something."
Palin was in New York for her defamation lawsuit against The New York Times and tested positive for COVID-19 on Monday, prompting the trial to be delayed.
"She is, of course, unvaccinated," the judge said in announcing that Palin had received three positive tests for the virus, according to USA Today.
On Wednesday, Palin was spotted eating outdoors at the popular Manhattan restaurant Elio's. The previous Saturday, Palin dined at that same restaurant indoors, which drew criticism because New York City requires indoor diners to be vaccinated.
Kimmel roasted the former vice presidential nominee, saying that while people are supposed to isolate themselves for five days after testing positive for COVID-19, Palin "plays by her own rules."
"In New York, you're supposed to isolate for five days after a positive test—but that's now how Alaska's top hockey mom does it," he quipped.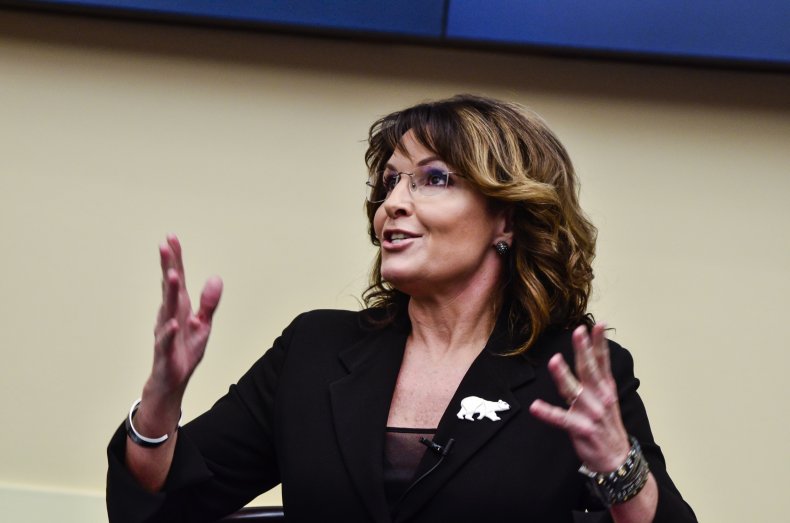 Palin revisited the restaurant to apologize for the "fracas" that arose from her previous visit, Elio's manager Luca Guaitolini said in a statement.
Guaitolini previously told The New York Times that they "made a mistake" by failing to check Palin's vaccination card during her Saturday visit.
In a statement to Gothamist, New York City Hall spokesperson Jonah Allo urged "any New Yorker who came into contact with Ms. Palin to get tested, just as we encourage all New Yorkers to get tested regularly, especially those who believe they may have been exposed to someone who tested positive for COVID-19."
According to the most recent U.S. Centers for Disease Control and Prevention (CDC) guidelines, unvaccinated people who have been exposed to or tested positive for COVID-19 must quarantine for at least five days.
Other well-known figures have spoken out against Palin's actions.
Bette Midler tweeted: "#SarahPalin, who's said she'd be vaccinated for Covid-19 over her dead body, has been diagnosed with Covid-19 for the second time. Covid-19 is a very famous, very busy virus, but it's sweet that it still took the time to try to help Sarah achieve her goals."
Political commentator Keith Olbermann warned the public against Palin on Twitter.
"ALERT: New York City has issued a Sarah Palin Warning. Sarah Palin is reportedly at large in the city, accompanied by ex-NY Ranger Ron Duguay," Olbermann tweeted. "If seen, do not approach. May be spreading Covid-19, Stupidity, and coupons for discount plastic surgery."