Jimmy Kimmel Compares Donald Trump to 'Dr. Pimple Popper' Show
Jimmy Kimmel has ripped into Donald Trump over his CPAC speech, comparing the former president to Dr. Pimple Popper.
Opening his Monday night monologue, Kimmel heralded the return of the "mythical creature" after his speech at the Conservative Political Action Conference, and said while he was disgusted, he couldn't look away—much like watching the show Dr. Pimple Popper, which if you haven't seen it, is about exactly what it suggests.
"The main event was 'Fiberace' himself," Kimmel said. "After weeks of hibernation, Donald Trump emerged from hiding. He was more than an hour late getting started but once he got on stage, not only was the magic back, but he was surprisingly diplomatic, some might say supportive of his successor in the White House."
Kimmel rolled a clip of Trump saying: "Joe Biden has had the most disastrous first month of any president in modern history."
Kimmel went on to complain that Trump "went on and on and on for 90 minutes."
"He was yelling, my wife was yelling at me for watching it," he joked. "You know it's kind of like that show, Dr. Pimple Popper, all this disgusting stuff keeps coming out and you're like 'Oh my god when is this going to end?' but until it does, you can't look away.
"That's him. That's Donald Trump."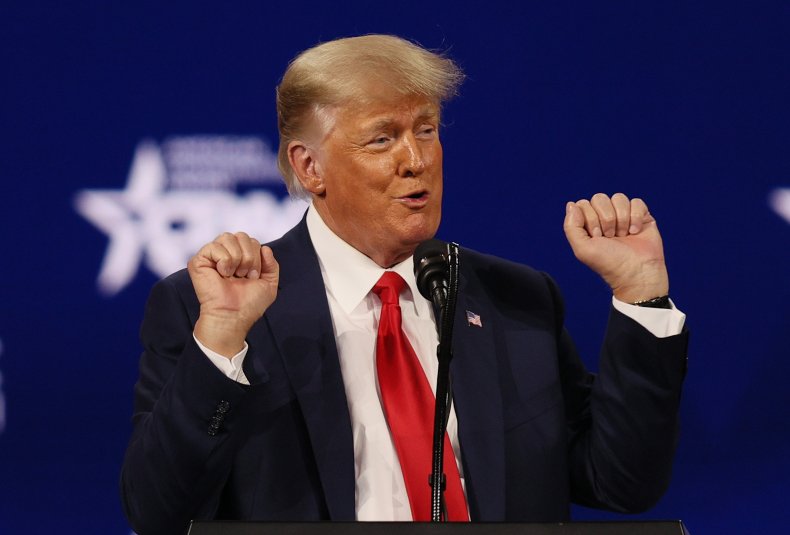 The late-night host also mocked what he called Trump's "self-love" fest where he blasted him for saying he was more loved as a president than Ronald Reagan.
"Quite the self-love fest, highlighted by the delusion that he is more loved than Ronald Reagan," Kimmel said, before rolling to a clip of Trump's speech in which he says:
"We had 56 unbelievable packed rallies. And nobody's ever had anything that we had. And we started hearing, 'We love you.' And I asked somebody because we really like Ronald Reagan, right? He was a great president. We had others. But I said, 'Did anybody ever say that to Ronald Reagan or to any of our great ...' And to the best of all of these political professionals' knowledge and pollsters. Nobody's ever heard that yet before, man. So it's an honor. Believe me, it's an honor. Great honor. That's a great honor. When you think about, we love you. When you're saying that about ... I hate to say it, am I a politician? I don't know. Maybe I'm a politician. I hate to admit it, but it's an honor that you would say."
This moment seemed to really tickle Kimmel who joked about Trump being "humble."
"He is something else," he laughed.