From Blackface to Melania Trump, A Timeline of Jimmy Kimmel's Controversies
Late night host Jimmy Kimmel has been facing backlash after a 1996 recording of the comedian using the n-word has surfaced.
Fox News reported that in a song for the KROQ deejays Kevin and Bean's A Family Christmas in Your A** album, Kimmel impersonated Snoop Dogg for a song called "Christmastime in the LBC." In the track, Kimmel raps lines such as "fat [n-word] in a slay, giving s**ts away" and "Me and my [n-word] down in LBC, we'll smoke that m*********n' Christmas tree."
According to Fox, Kimmel is listed as a co-producer on the album as "Jim Kimmel" and credited with "comedy material" on the album save for a few tracks.
Fox also cites a podcast interview Kimmel gave with Adam Carolla, where he talks about impersonating Black comedian George Wallace after the 2001 Friars Club Roast of Hugh Hefner, which was broadcast on Comedy Central. In the clip that Fox provides, Kimmel doesn't use the word nor address the song.
The resurfaced clip drew criticism including from Donald Trump Jr. who called Kimmel an "unfunny hack" and said, "it's hard to see how @ABCNetwork allows him to keep his show."
Kimmel apologized later, calling the past sketches "embarrassing" in a lengthy statement. In the apology, he expressed frustration at the past "thoughtless moments" being used against him to undercut his current stances against racism and oppression. "There is nothing more important to me than your respect, and I apologize to those who were genuinely hurt or offended by the makeup I wore or the words I spoke," he said in a statement.
The Snoop Dogg parody is the latest controversy that Kimmel has faced.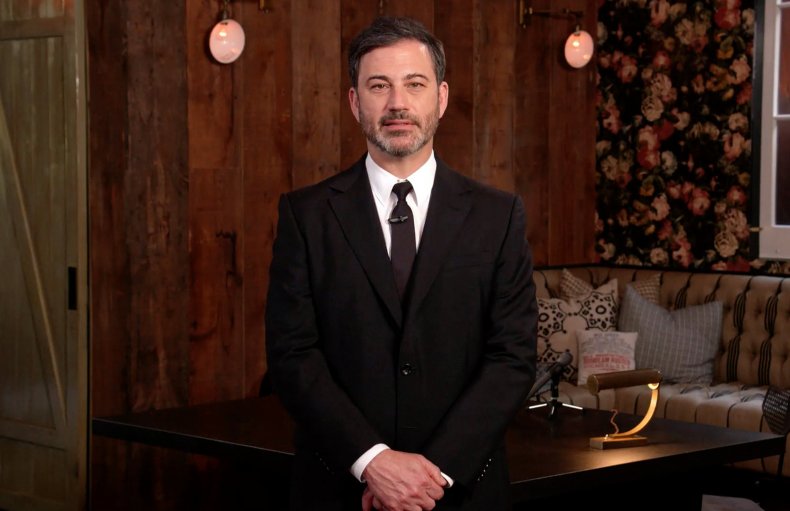 Blackface Sketches on The Man Show
Kimmel also recently came under fire after sketches where he played NBA star Karl Malone on The Man Show, which starred Kimmel and Carolla from 1999 to 2003. In the sketch, Kimmel impersonates Malone discussing aliens, while wearing blackface.
The clips resurfaced shortly after it was announced that Kimmel would host the Emmy Awards. Kimmel also announced that he would be taking the summer off during his show. "There's nothing wrong. My family's healthy. I'm healthy. I just need a couple of months off," he said, but people implied that the break was a response to the controversy.
Megan Fox Interview
Kimmel has also been criticized after an interview with Megan Fox has resurfaced. In the 2009 interview, the actress talks about her appearance being sexualized in one of Michael Bay's films. When Fox said it was a "microcosm of how Bay's mind works," Kimmel responded, "That's really a microcosm of how all our minds works, but some of us have the decency to repress those thoughts and pretend that they don't exist." People on Twitter thought that Kimmel was being insensitive to Fox.
Fox addressed controversies in an Instagram post. "[W]hen it comes to my direct experiences with Michael, and Steven for that matter, I was never assaulted or preyed upon in what I felt was a sexual manner," she wrote.
Detroit Pistons Joke
During an appearance on ABC's broadcast of the 2004 NBA Championship between the Los Angeles Lakers and Detroit Pistons, Kimmel made a quip referencing violence in Detroit following the Tigers' World Series win in 1984. "They're gonna burn the city of Detroit down if the Pistons win, and it's not worth it," Kimmel said at halftime, according to Entertainment Weekly. Kimmel's latest episode was pulled by ABC, after Detroit local affiliate announced that it would not air it. Kimmel issued two apologies. In the first he joked about wanting to "overturn [his] own car" if the Lakers won the series, but the latter apology was more serious. "When you're 2,000 miles away from a city you've never lived in, it's hard to understand the sadness people feel from something that happened in their town — even if it happened many years ago. It was never my intention to cause anyone pain. I was trying to make a joke and I'm sorry it resulted in anything other than laughter," he said.
Melania Trump Fueled Hannity Feud
Kimmel made a crack about First Lady Melania Trump's accent during a 2018 monologue joke, sparking outrage from many including Fox News personality Sean Hannity. According to the Chicago Tribune, Hannity called Kimmel a "despicable disgrace" and an "a** clown." Kimmel responded to Hannity's remarks by calling him the "whole a** circus" and said that he was "slobbering over" President Donald Trump. Kimmel later issued an apology saying that his wife and son had received death threats following the joke. He also said that he did not intend to "belittle or upset members of the gay community" with his jokes about Hannity. He did end his apology with one last sarcastic jab at Hannity. "I am hopeful that Sean Hannity will learn from this too and continue his newly-found advocacy for women, immigrants and First Ladies and that he will triumph in his heroic battle against sexual harassment and perversion," he wrote.
Updated 6/23/20 1:43 p.m. EST: This story has been updated to include Kimmel's apology, which was received after the story originally published.