Jimmy Kimmel Roasts Trump's State of the Union, Says Bipartisanship Plea Is Like Mike Pence Embracing Bisexuality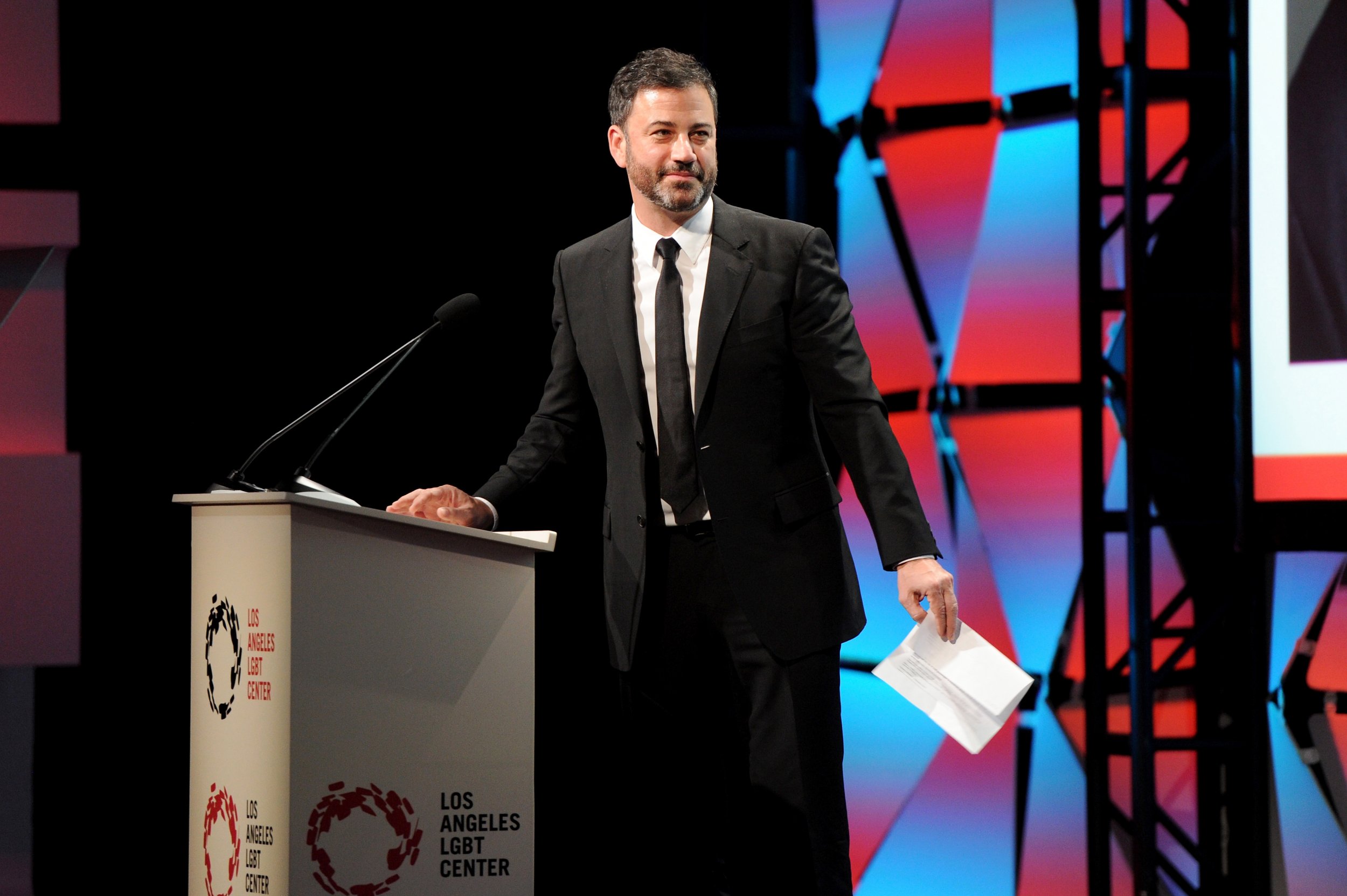 Late-night talk show host Jimmy Kimmel roasted President Donald Trump's State of the Union address on his program Wednesday night, mocking the president's calls for bipartisanship and poking fun at Vice President Mike Pence's hard-right beliefs on the LGBT community.
Trump "offered what he called an open hand to members of both parties, to work together in a bipartisan way," Kimmel said on Jimmy Kimmel Live! "Donald Trump calling for ... bipartisanship is about as believable as Mike Pence calling for bisexuality."
During his speech, the president asked members of Congress to work across party lines to make progress on issues such as immigration.
"Tonight, I am extending an open hand to work with members of both parties, Democrats and Republicans, to protect our citizens of every background, color, religion and creed," Trump said in his first State of the Union, also claiming that his administration followed "a bipartisan approach to immigration reform."
Trump's comments obscured the messy truth of the immigration debate. Two weeks ago, the day before a government shutdown started, Trump summoned Senate Minority Leader Chuck Schumer to the White House for the now-infamous "cheeseburger meeting." Schumer departed the meeting believing he had reached a deal with Trump to keep the government open and enact immigration reform, only to receive a call from White House Chief of Staff John Kelly a few hours later telling him there was no deal.
Kimmel also put the speech's ratings in perspective, saying they "were down from when he addressed Congress last year," before joking that some drama might've improved viewership.
"I knew he should have fired somebody during the speech. 'Mitch you're great, you worked hard, but you're fired,'" Kimmel said, suggesting the president should have fired Senate Majority Leader Mitch McConnell, whom he has often clashed with.
Trump tweeted Thursday morning about the audience for his speech, writing, "Thank you for all of the nice compliments and reviews on the State of the Union speech. 45.6 million people watched, the highest number in history. @FoxNews beat every other Network, for the first time ever, with 11.7 million people tuning in. Delivered from the heart!
The speech was not even close to the most-watched State of the Union. Former President Barack Obama's first official State of the Union speech in 2010 was seen by 48 million people and George W. Bush's 2003 State of the Union was viewed by more than 62 million people.
Kimmel has been an outspoken critic of Trump and GOP policies, such as when he got into a public feud with Senator Bill Cassidy (R-La.) last year over Cassidy's proposed health care bill. Kimmel became involved in the health care debate after he revealed that his infant son needed heart surgery to fix a birth defect.
Kimmel accused the senator of lying after Cassidy had gone on Kimmel's show earlier in the year with promises about what would be acceptable in health care legislation, going so far as to say any bill must pass the "Kimmel test." But when Cassidy proposed his legislation, Kimmel immediately claimed the legislation did not pass the so-called Kimmel test, prompting a war of words between the two.