Jimmy Kimmel Rips 'Lies' in Trump's Sarah Palin Congressional Endorsement
Jimmy Kimmel has mocked former President Donald Trump's endorsement of Sarah Palin in her bid for a congressional seat in Alaska, jokingly accusing the former president of telling "lies" in his glowing statement on the erstwhile governor.
Palin, who unsuccessfully ran for vice president on the late Senator John McCain's ticket in 2008, announced on April 1 that she will be vying to succeed Republican Representative Don Young, who held the seat for 49 years before he died in March.
Reacting to the news, Trump released a statement in which he publicly endorsed Palin, describing her as a "wonderful patriot" and a "true America First fighter."
"Sarah shocked many when she endorsed me very early in 2016, and we won big. Now, it's my turn," Trump said in his statement, which was released on April 3.
"Sarah Palin is tough and smart and will never back down, and I am proud to give her my Complete and Total Endorsement, and encourage all Republicans to unite behind this wonderful person and her campaign to put America First!"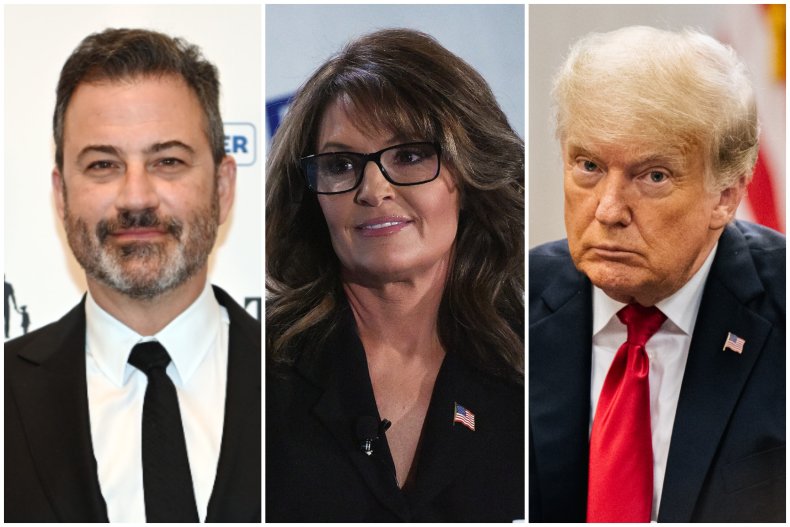 After reading out the statement on his ABC show Jimmy Kimmel Live on Monday, Kimmel had a few choice words for some of the descriptions Trump used.
"Even for Trump, it's impressive to fit three lies into an 11-word sentence," Kimmel quipped, highlighting his description of Palin as "tough and smart" and not being one not to "back down."
"But I guess The Masked Singer money dried up and Sarah's running for office," Kimmel went on, in reference to her appearance on the singing competition.
"Trump endorsing Sarah Palin is like paste-eating endorsing glue-sniffing," Kimmel added, drawing laughs from the studio audience. "It's ridiculous."
Elsewhere in his endorsement of Palin, Trump also took a swipe at McCain, who passed away in 2018 after battling a brain tumor.
"Sarah has been a champion for Alaska values, Alaska energy, Alaska jobs, and the great people of Alaska," said Trump. "She was one of the most popular Governors because she stood up to corruption in both State Government and the Fake News Media.
"Sarah lifted the McCain presidential campaign out of the dumps despite the fact that she had to endure some very evil, stupid, and jealous people within the campaign itself. They were out to destroy her, but she didn't let that happen."
In announcing her congressional bid last week, Palin said in a statement that she has "very big shoes to fill" should she successfully replace Young.
"Public service is a calling, and I would be honored to represent the men and women of Alaska in Congress, just as Rep. Young did for 49 years," Palin stated. "I realize that I have very big shoes to fill, and I plan to honor Rep. Young's legacy by offering myself up in the name of service to the state he loved and fought for."
"America is at a tipping point," she said. "As I've watched the far left destroy the country, I knew I had to step up and join the fight. The people of the great State of Alaska, like others all over the country, are struggling with out-of-control inflation, empty shelves, and gas prices that are among the highest in the world."
Palin went on to say that it was a "critical time in our nation's history," while touting herself as a leader who would "combat the left's socialist, big-government, America-last agenda."