What You Missed on Late Night: Jimmy Kimmel and Jimmy Fallon Keep Us Entertained From The Safety of Their Homes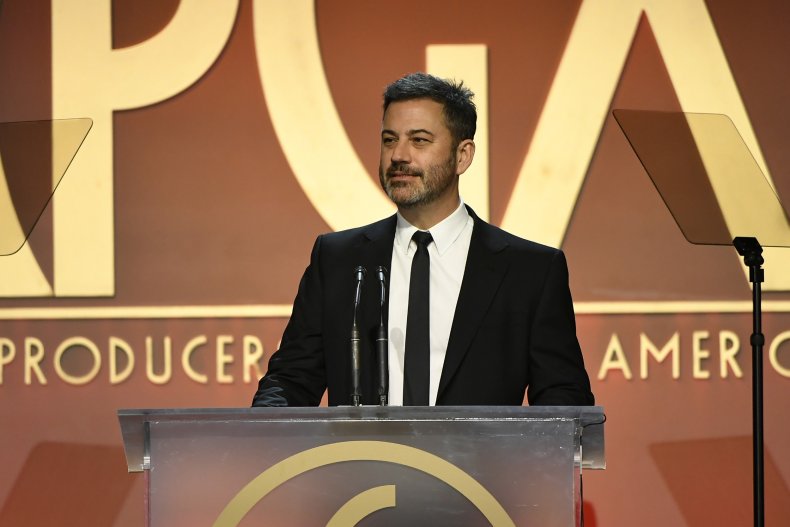 Late night isn't dead just yet.
Despite production of almost every late night television talk show being suspended due to the coronavirus outbreak, some hosts are still finding ways to keep audiences entertained while they practice social distancing from home.
Taking a play out of Stephen Colbert's book, both Jimmy Fallon and Jimmy Kimmel shared videos they recorded and produced at home on the YouTube channels of their respective shows, The Tonight Show with Jimmy Fallon and Jimmy Kimmel Live, on Tuesday. The late night show hosts' wives helped with filming while their children helped with the cue cards and graphics.
Fallon and Kimmel said they would continue to release nearly 10-minute-long monologues on their shows' YouTube channels on weeknights with celebrity guests appearing via Zoom.
Check out some of the best moment from Fallon and Kimmel's at-home "minilogues" below.
The Tonight Show With Jimmy Fallon
Fallon said he decided to produce a "home edition" of The Tonight Show in effort to "have some levity in these bizarre times." After thanking his "camera operator" and wife Nancy Juvonen, who is a film producer, Fallon introduced the first guest of the night: his dog Gary. Fallon's daughter Fanny also made an appearance.
"So we're going to be doing some jokes for you, maybe a song or just something. We'll switch it up every night but we want to give you some type of content every single night for as long as we're gonna do this," Fallon explained.
The show host also revealed each YouTube segment would focus on a specific charity and detail what it does for people. The first up was FeedingAmerica.org, a food-bank organization that helps people in need get access to meals.
Before wrapping, Fallon did a bit in honor of St. Patrick's Day that included him explaining how a Guinness, "the beer of choice," works (pro-tip: pour it in a glass and drink it), and showing off a few more Irish staples like soda bread and Kerrygold butter. He finished up with a little ditty that he wrote called "St. Patrick's Day Quarantine."
Jimmy Kimmel Live
Recorded through his webcam, Kimmel, decked in all green for St. Patrick's Day, said he decided to shoot a YouTube video of Live every day because "I have nothing to do, and the fact that you're watching this makes me assume that you have nothing to do."
Kimmel poked fun at some of the difficulties his family has faced while living in isolation
"You learn a lot about yourself when you're isolated at home. For instance, I learned that I have two young children, which was really something to find out. Thank God for television. My blood type right now is Disney positive or Disney Plus, whatever they call it. We've watched Frozen 2 more times than the animators who drew it watched Frozen 2," Kimmel said. "I'm actually hiding in my office right now from my children. We've run out of snacks. We've run out of crafts to do. We made macaroni necklaces yesterday. Today I ate them for lunch."
Of course, it wouldn't be Live without a few wisecracks aimed at President Donald Trump. Kimmel ripped the president for giving himself a 10 out of 10 rating for his handling of the coronavirus pandemic, which the late-night host teased "incidentally is the same amount of testing kits available in the United States." He also cracked on Trump's request for people to stop hoarding food and supplies before turning is attention to what may have been the most important news of the day: Tom Brady's announcement that he is leaving the New England Patriots.
"Tom Brady, for whatever reason, chose today, St. Patrick's Day, to announce he's leaving the Patriots. And for people from Boston, this is like if Santa died on Christmas. This is terrible," Kimmel said.