Kimmel Hits Back at Matt Gaetz's Claims He's a Misogynist
Jimmy Kimmel has taken a swipe at Rep. Matt Gaetz (R-FL), after the politician called him a "total jerk" and suggested he was misogynistic.
Kimmel has been locked in a war of words with Gaetz's colleague, Rep. Marjorie Taylor Greene (R-GA), in recent days, stemming from the comedian's quip about her reaction to Judge Ketanji Brown Jackson's Supreme Court confirmation.
Greene accused GOP senators Mitt Romney, Lisa Murkowski and Susan Collins of being "pro-pedophile" for backing Jackson's confirmation. This is based on disputed claims that Jackson gave lenient sentences to child sex offenders.
"Wow, where is Will Smith when you really need him?" Kimmel quipped on his talk show, Jimmy Kimmel Live, last week, referencing Smith slapping Chris Rock at the Oscars.
Responding to the jab, Greene tweeted that "this threat of violence against me by Jimmy Kimmel has been filed with the Capitol Police."
Keeping the feud going on Monday, Kimmel mocked Greene as he showed a video clip of her saying that the investigation into the January 6 Capitol riot as an "overdramatization of a riot that happened here at the Capitol one time."
"One time! If it happens again, we'll look at it," Kimmel said in reaction. "I feel like Marjorie Taylor Greene is a phenomenon that could have been prevented with a high enough dose of Valtrex."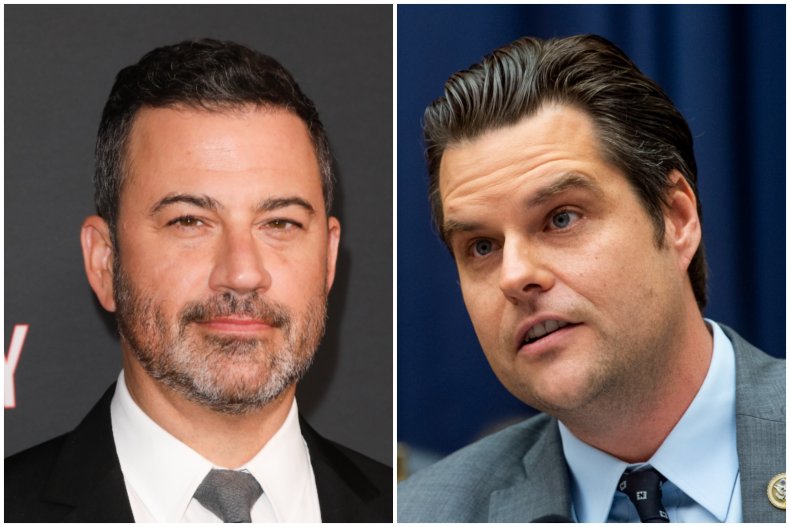 Kimmel then played a clip of Greene's recent appearance on Gaetz's podcast, Firebrand, where the colleagues complained about Kimmel.
"Jimmy Kimmel is a total jerk," Gatez was shown saying. "It seems that his trend is to attack women, which is particularly troubling."
"Says the guy who's currently under federal investigation for sex trafficking, obstructing justice and paying for sex with a 17-year-old girl," Kimmel shot back. "But keep going, I want to see where this is headed."
As the clip continued, Gaetz said to Greene of Kimmel: "His critiques of particularly you and our colleague Lauren Boebert are highly gendered critiques, right, because he [said] 'Oh, you're a Klan mom.' So like he's attacking you as a mom and as a woman.
"And then he attacks Lauren Boebert and says, 'Oh, she looks like stepmom porn.' See how he does that?"
"That's not fair at all," Kimmel said in response. "I make jokes about men, too. I make jokes about you, and if I remember I said I feel bad for you because you didn't have a girlfriend in high school until you were 30.
"Remember when I said your political background will come handy when you're a registered sex offender because you're used to knocking on strangers' doors to introduce yourself? You remember those things. Apology accepted, Matt."
Gaetz is currently the focus of an ongoing federal investigation into allegations of him sex trafficking a 17-year-old girl.
Last week, Gaetz posited a scenario of Kimmel "engaging in terrible, unprovoked violence against" Greene as he defended her, writing on Twitter: "NOTE to @JimmyKimmel: Not only would Marjorie Taylor Greene's husband make quick work of you, but @RepMTG herself would make quick work of you!"
"NOTE to @RepMattGaetz—stay indoors. It's Girl Scout cookie season," tweeted Kimmel in response.
During an appearance on Thursday's installment of Firebrand, Greene thanked Florida representative Gaetz for having her back in the war of words.
"Matt, I'm really grateful for you, as in your character and as a man that would stand up and defend me as a woman, she said, per Business Insider. "Because we need to recognize that women are the weaker sex, and men are stronger than us."
"And, you know, in my family if my husband had been there and had heard Jimmy Kimmel or any other man call for me to be smacked down by another man," she went on. "My husband, he would not have tolerated that, and he probably would have taken action against him and rightfully so because men should defend women."