Jimmy Kimmel Is Hosting the 72nd Emmys but He Has No Idea 'Where or How'
Jimmy Kimmel is hosting the Emmy Awards this year, whatever that may mean. On June 16, the late-night personality announced that he would serve as emcee for the Academy of Television Arts & Sciences' ceremony, and noted that there are many other details that need to be sorted out in the meantime.
"I don't know where or how or even why we are doing this, but we are and I am hosting it! The 72nd #EmmyAwards" Kimmel, who is also producing the show, Tweeted. He added that the ceremony is slated for Sunday, September 20 on ABC.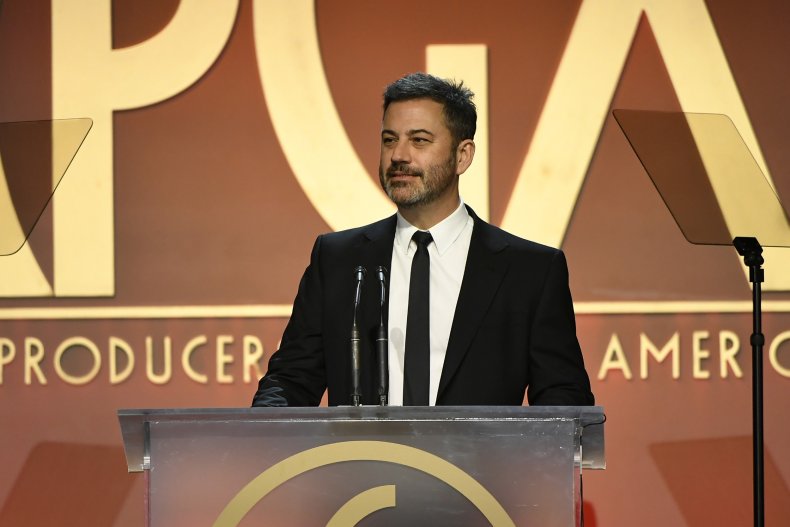 It remains unclear how the event will take place, as the coronavirus pandemic has prevented gatherings of large groups and many cancelations throughout the entertainment industry. Whether the Emmys will take place in person, how the statuettes will be given out and if Kimmel will be hosting from his couch instead of onstage has yet to be seen.
The prospects of holding a red carpet and a theater full of nominees and guests all while maintaining social distance is daunting, but the Television Academy is hopeful to have some type of ceremony happen in the fall.
Regardless of all the unknowns of the Los Angeles based ceremony, Kimmel is no stranger to hosting awards shows. He previously hosted the Emmy Awards in 2012 and 2016. He also emceed the Academy Awards in 2017 and 2018, before they went host-less in 2019.
"We know Jimmy Kimmel will deliver a uniquely entertaining, funny and moving Primetime Emmys show," said Karey Burke, president of ABC Entertainment, in a statement to CNN. "He's a true master of ceremonies who reveres this industry and its people; and just as Jimmy has done with his own show over the past few months, he will tackle this momentous event with heart and humor, and bring some much-needed joy and optimism to our television colleagues and viewers at home."
Fortunately, as far as eligibility goes for television shows, many programs were able to air with enough content to qualify for the 2020 awards. The Emmys eligibility goes from June 1 to May 31 according to the Television Academy's website. Many shows were also able to wrap up production before the coronavirus shut down studios in mid-March.
The Television Academy will announce the nominations for the 72nd Emmy Awards on Tuesday, July 28.
This news comes hot on the heels of the Academy of Motion Picture Arts & Sciences announcement regarding their postponing of the 2021 Oscars. The date, previously set for February 28 next year, was pushed back until April 25.
Jimmy Kimmel had no further comment for Newsweek at the time of publication.