Jimmy Kimmel: Kavanaugh Testified 'Like a Frat Out of Hell'
Supreme Court nominee Brett Kavanaugh testified "like a frat out of hell," late show host Jimmy Kimmel said on Thursday night after the hours-long hearing on Christine Blasey Ford's sexual assault allegations against the judge.
After Ford, a psychology professor at Palo Alto University, delivered what Kimmel called an "exceptionally believable" testimony, detailing the alleged 1982 sexual assault, the late show host said "things did not look good for the red team," referring to Republican senators.
"This Dr. Ford was [an] exceptionally believable witness, by all counts," Kimmel said. "Even the gang at Fox News agreed that she was very believable. She was everything the Democrats hoped she would be. She was polite, likeable, well-spoken."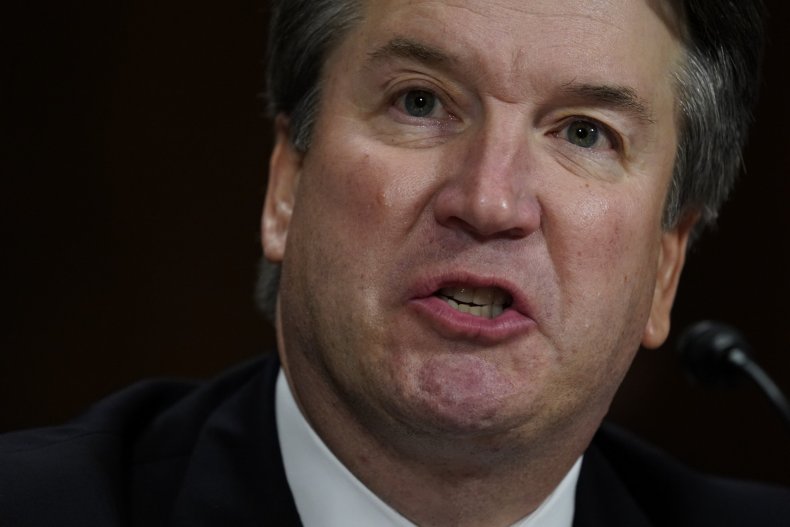 "At halftime," when Senate Judiciary Committee Chairman Chuck Grassley (R-IA) called for recess, "it seemed like the Democrats were up 32-0," Kimmel joked.
"Then Brett Kavanaugh sat down and delivered an impassioned, 45-minute speech, delivered like a frat out of Hell," he said, describing Kavanaugh's testimony as "loud," "angry" and "tearful."
"I haven't seen this much crying and yelling since the Cubs won the World Series," Kimmel said of Kavanaugh's often-emotional testimony. The comedian also noted Kavanaugh's frequent mention of his preference for beer throughout his testimony.
"Whether or not he's guilty of sexual assault, one thing we know for sure is that Brett Kavanaugh is the worst celebrity spokesperson for beer," Kimmel said, before playing a montage of the many times the Supreme Court nominee pointed to his love of the alcoholic beverage.
The late show host also took aim at Republican senators over their bursts of outrage throughout the hearing. "In particular, Lindsey Graham, who once Ford was safely out of the room, warned Democrats that, if this is the new normal, they'd better watch out for their Supreme Court nominees," Kimmel said.
"As if Merrick Garland isn't out there somewhere judging a dog show right now," he said. "And once he got some camera time, someone must have told Lindsey that Donald Trump was watching, because he lit up like someone left a thumbtack on Liberace's piano bench," the comedian added.
Read more: Jimmy Kimmel to Donald Trump Jr.: 'You Are a Dull-witted Canker Sore
Indeed, Graham (R-SC) gave an emotional defense of Kavanaugh, accusing Democrats of trying to "destroy" the Supreme Court nominee's life.
"What you want to do is destroy this guy's life, hold this seat open, and hope you win in 2020," Graham said. At the end of his speech, Graham asked Kavanaugh: "Are you a gang rapist?" To which the judge replied: "No."
"Well, that settles that, I guess," Kimmel said.
In addition to Ford's accusations, Kavanaugh has faced other accusations of misconduct, including from Deborah Ramirez, who alleges the Supreme Court nominee thrust his genitals in her face during a party in the 1980s, when both were students at Yale University.
A third allegation came from Julie Swetnick, who has accused Kavanaugh of being part of a group of teenage boys who sought to get girls "inebriated" and "disoriented" so they could take advantage of them in "gang rape attacks."