Voters Trust Jimmy Kimmel on Health Care Over Congress: Poll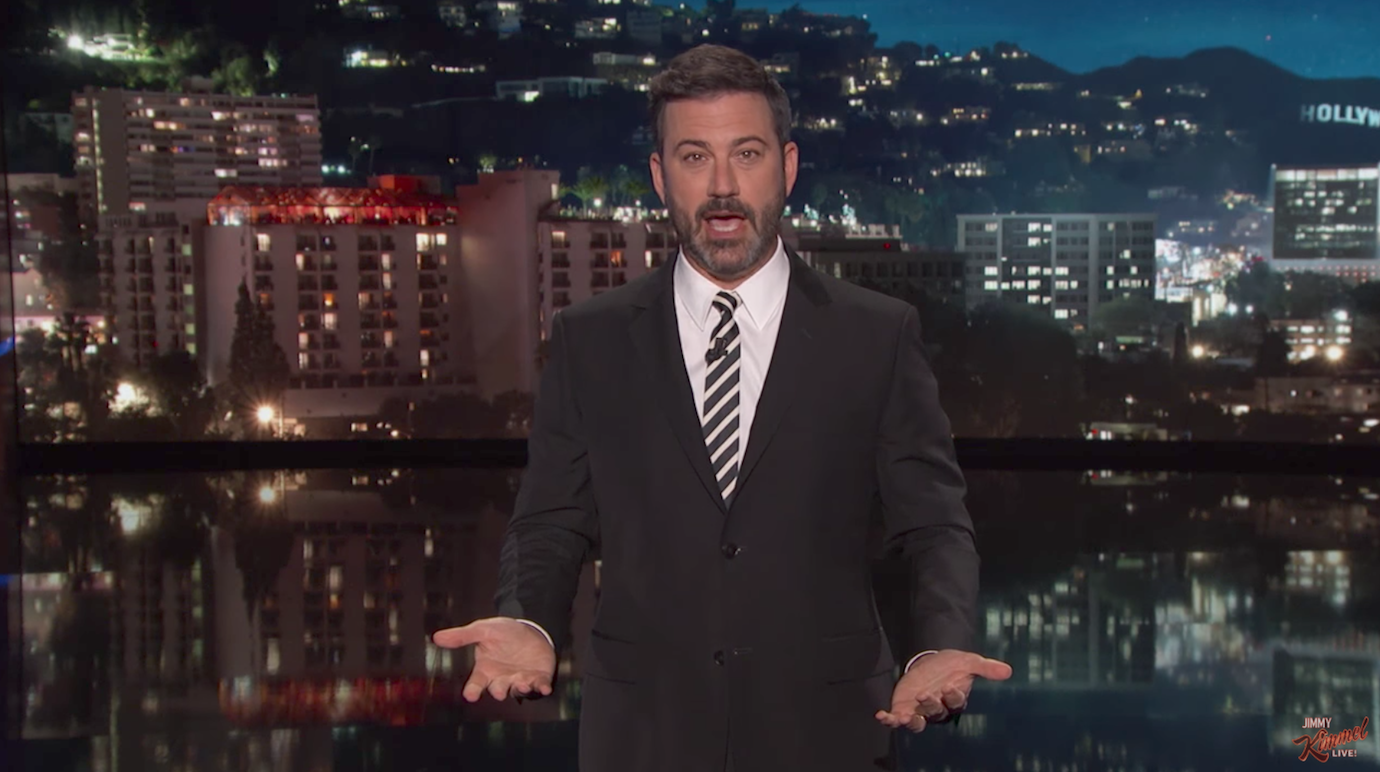 Late-night TV host Jimmy Kimmel, a vocal champion of affordable health care, has earned the trust of many voters, who, according to a recent poll, consider him more credible on the subject than Republican leaders.
Surveyed voters, by 47 percent to 34 percent, said they trust Kimmel more on health care issues than Republicans in Congress, Public Policy Polling found. He also has a 47 percent approval rating (with 30 percent disapproving), whereas House Speaker Paul Ryan of Kentucky sits at 25 percent approval and 51 percent disapproval. Sixty-one percent of voters have an unfavorable view of Senate Majority Leader Mitch McConnell of Kentucky, and Congress as a whole has a 9-76 split.
Kimmel has been a strong advocate of universal health care. In May, the host opened one of his monologues with emotional testimony about his son William John Kimmel, who was born in April with a serious heart condition. After sharing the story of his open-heart surgery, Kimmel made an impassioned plea about the importance of offering health care for patients with pre-existing conditions.
He asked that politicians be held accountable for their actions regarding health care legislation, CNN reported, adding that health care coverage should not be a partisan matter. "If your baby is going to die and it doesn't have to, it shouldn't matter how much money you make," he said at the time. "I think that's something that whether you're Republican or a Democrat or something else, we all agree on that, right?
Another highlight of Kimmel's quest to defend Obamacare was his attack on Senator Bill Cassidy of Louisiana and the health care bill he was sponsoring alongside Senator Lindsey Graham of South Carolina. During a show last week, Kimmel recalled an earlier appearance by Cassidy during which he said he would oppose any health care bill that would not protect people with pre-existing conditions or had an annual or lifetime cap for insurance companies.
"But unfortunately and puzzlingly, Cassidy proposed a bill that would allow states to do all the things he said he would not let them do," Kimmel said. "He made a total about-face, which means he either doesn't understand his own bill, or he lied to me. It's [as]simple as that."
When Republican senators pulled the plug on their recent attempt to repeal and replace Obamacare, Kimmel said on Tuesday that it was "a day of great relief for many millions of Americans. He later added that he hadn't "been this happy about something being dead since Osama bin Laden."