Jimmy Kimmel Says Lev Parnas' Trump Claims Feel Like 'The Sopranos' But Instead of 'Organized Crime, It's Very Disorganized'
Late night TV host Jimmy Kimmel has mocked the claims and counterclaims by those linked to President Donald Trump in the aftermath of the explosive interview given by former Rudy Giuliani business associate, Lev Parnas.
The ABC host started his monologue on Thursday night poring over the fallout of Parnas' revelations to MSNBC host Rachel Maddow in which he said Trump knew "exactly" what he was doing in Ukraine and that he was "basically on the team" seeking information on Hunter and Joe Biden's dealings in the country.
Parnas alleged other "team" members—including Giuliani, Attorney General William Barr, Vice President Mike Pence and others—were involved in the campaign to pressure Ukrainian President Volodymyr Zelenskiy to investigate both Bidens in return for promised military aid.
During his opening segment, the Jimmy Kimmel Live! host introduced clips of Trump telling reporters several times that he was unaware of Parnas, insisting "I don't even know who this man is."
Kimmel then mocked how California Republican Representative Devin Nunes had said that he did remember a phone call with Parnas, after earlier saying that he did not.
During impeachment proceedings, Parnas said that he had spoken to Nunes about arranging meetings with Ukrainian officials to investigate former Vice President Joe Biden, but Nunes claimed he could not confirm that the call had happened.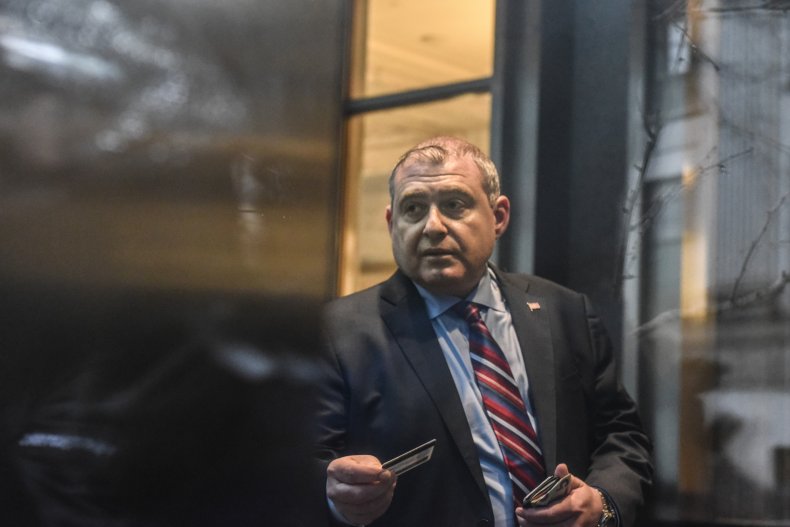 On Thursday's show, Kimmel threw to a clip of Nunes telling Fox News that he did not know the name Parnas.
"See, he doesn't even know how to pronounce the name Parnas," Kimmel said to audience laughter, pronouncing it "Par-Nas."
"I mean, there are a lot of Parnases out there—is he supposed to remember all of them?" Kimmel added.
As a graphic of a call record was shown on screen, Kimmel went on: "Call records show multiple calls between Nunes and Parnas. Once they spoke for eight and a half minutes.
"I don't speak to my mother for eight and a half minutes. The whole scenario feels like The Sopranos. Except instead of organized crime it's disorganized, very disorganized," he added.
Parnas was born in Odessa, Ukraine, and worked with Trump's lawyer Rudy Giuliani. He is said to be part of the former New York mayor's "shadow diplomacy" in Ukraine in 2019, according to The Hill, which reported he was part of efforts to have Trump recall the then U.S. ambassador to Ukraine Marie Yovanovitch.
In a statement provided to Newsweek on Thursday, White House press secretary Stephanie Grisham said of Parnas' claims: "These allegations are being made by a man who is currently out on bail for federal crimes and is desperate to reduce his exposure to prison.
"The facts haven't changed, the president did nothing wrong and this impeachment, which was manufactured and carried out by the Democrats has been a sham from the start."