Jimmy Kimmel Calls Marjorie Taylor Greene 'Frontrunner for Worst Human of 2021'
Jimmy Kimmel lashed out at Marjorie Taylor Greene in his Thursday night monologue, branding the congresswoman a "frontrunner for worst human of 2021."
The late-night host's comments come as Greene is being criticized for hanging an anti-trans sign amid the escalating Equality Act debate.
"The frontrunner for worst human of 2021 is working to defeat the Equality Act right now," Kimmel began. "This is an act that would ban discrimination against Americans based on sexual orientation or gender identity."
Kimmel then rolled a clip of Illinois Rep. Marie Newman hanging a transgender flag outside of her office in a response to Greene.
"Of course Marjorie could not let this go," Kimmel continued. "She had to respond by putting up a sign outside her office that said, 'There are two genders: male and female. Trust the science.' Now she trusts the science. Because that wasn't enough scumbaggery for one day, QAnon Marj had the audacity to say this on the floor of the House."
Congress voted on the Equality Act on Thursday in a significant decision that could expand the rights of LGBTQ Americans by amending the 1964 Civil Rights Act.
The bill passed and now states that people cannot be discriminated based on sexual orientation and gender identity.
"Our neighbor, Rep Marie Newman, wants to pass the so-called 'Equality' Act to destroy women's rights and religious freedoms," Greene wrote over Twitter alongside a clip of herself pinning her anti trans sign to the wall. "Thought we'd put up ours so she can look at it every time she opens her door."
"There are TWO genders MALE & FEMALE," the sign reads, before adding "Trust the science!"
"My god. We've got a Karen in Congress now. She's so awful," Kimmel continued about Greene.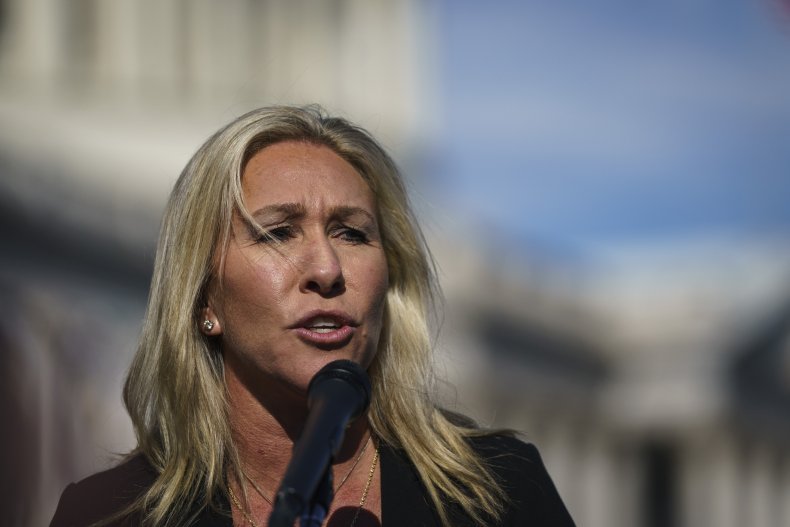 "And by the way, what she said is interesting because yesterday, we learned that one of her closest friends and allies, a guy named Anthony Aguero, was in the Capitol on January 6," he continued.
"This is a guy who, when she was banned from Facebook, she appeared on his Facebook account. They're very good friends. But she's offended, because she had nothing to do with what happened! And not only that, one of her other close friends is the guy who actually planned and incited the riot at the Capitol. This guy," he added, showing a photo of Greene at a rally with Donald Trump.
This is not the first time Kimmel has blasted Greene on his show.
Last month, he roasted the Republican for support of QAnon and for harassing school shooting survivor, David Hogg.