Jimmy Kimmel's Bizarre Mike Lindell Interview Leaves Viewers Baffled
Jimmy Kimmel welcomed MyPillow CEO Mike Lindell on his show Wednesday night leaving viewers baffled by a bizarre spectacle of an interview.
The fervent Donald Trump supporter Lindell rose to prominence these past few months over his support of baseless claims that the 2020 presidential election was rigged.
"Somehow a simple pillow salesman from Minnesota got to the bottom of the deepest conspiracy in the history of American politics," Kimmel said introducing Lindell. "It's so crazy, it's almost hard to believe."
Election watchdog groups had previously urged Jimmy Kimmel Live! not to go ahead with having Lindell on as a guest.
Comedian James Adomian even made an appearance doing an unflattering impression of Lindell on stage.
Promoting his book, Lindell spoke about his past drug addiction with Kimmel and suggested he had something in common with Hunter Biden, the president's son.
"I worry about you, I feel like you are maybe self-destructive," Kimmel said. "You have lost everything, repeatedly, so many times in your life... I feel like you're going to be out dressed as Spider-Man on Hollywood Boulevard at the end of this whole thing."
Lindell attempted to explain his conspiracy theories about voter fraud, which Kimmel was not rebuking.
"That's right, I've been working hard on this election and the machines," Lindell said, referring to the debunked claims that voting machines were rigged.
At one point he asked: "All we need to do is look at the machines. Why won't Dominion let the American people look at them?"
Kimmel attempted to speak sense to Lindell, asking: "Do you ever think it's weird, I mean just objectively looking at yourself and going, 'Why is it that the only person in the country who has this evidence is a guy who sells pillows on cable?'"
Lindell suggested it's a "Forrest Gump thing."
"I believe that you are sincere," Kimmel allowed later in the show. "I also think there's something going on from the crack or something."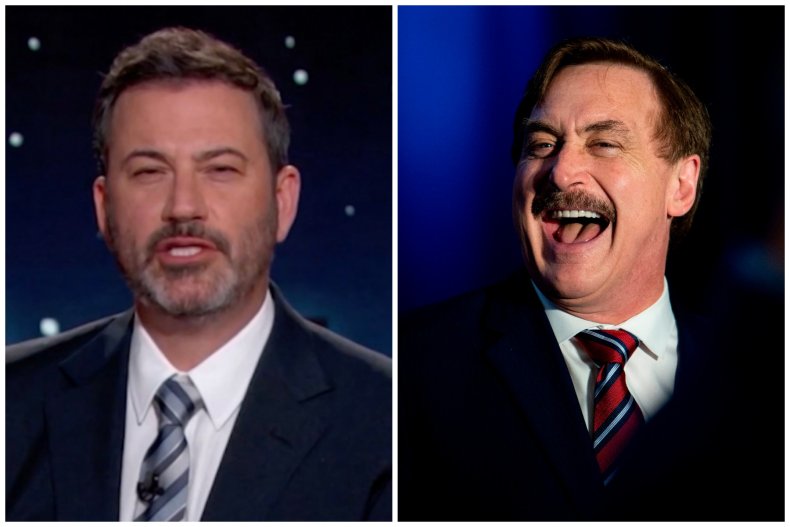 During the segment, Kimmel addressed the backlash the show faced after announcing Lindell's appearance, saying: "A lot of people didn't want you to come on the show. Liberals and conservatives, everybody said, told me, don't have you on the show, and they told you, don't go on the show. But I think it's important that we talk to each other."
Kimmel continued: "I don't think there's any validity to any of this stuff that you're saying. And I've studied you, I really have.
"A lot of these ideas you espouse, I think you could potentially draw a line from those to the riot we had at the Capitol where people were killed and a lot of bad things."
The reaction to the interview from viewers seems to be general bafflement.
Sharing a still from the interview on Twitter, the show tweeted: "We got a visit from a deranged pillow magnate tonight," prompting many people to ask: "Why?"
"What was the thought behind giving him this platform?" reads one tweet.
While another person added: "I'm sorry you felt it necessary to do this. You gave him more publicity, even if you managed to make fun of him. S***people like him seek the limelight, and he will spin his visit maximally—whether or not you skewer him."
Another questioned: "Why did you invite him on, if you think he's deranged?"