Here's Why Jimmy Kimmel Just Apologized to Mike Pence
On the Thursday episode of his show Jimmy Kimmel Live! the late-night host aired a clip of Vice President Mike Pence unloading boxes of personal protective equipment at a healthcare center in Virginia earlier that day, which appeared to show the VP plotting to carry empty boxes for a photo op. But the video was deceptively edited, and on Friday Kimmel issued an apology after deleting the clip from their social media feeds.
On Thursday, Pence visited the Woodbine Rehabilitation & Healthcare Center in Alexandria, Virginia—a short drive Washington D.C.—with Centers for Medicare and Medicaid Services Seema Verma and Navy Rear Admiral John Polowczyk. Together they delivered boxes of PPE from the Federal Emergency Management Agency (FEMA) using a convertible hand truck, greeted rehabilitation center administrators and left the boxes just inside the door.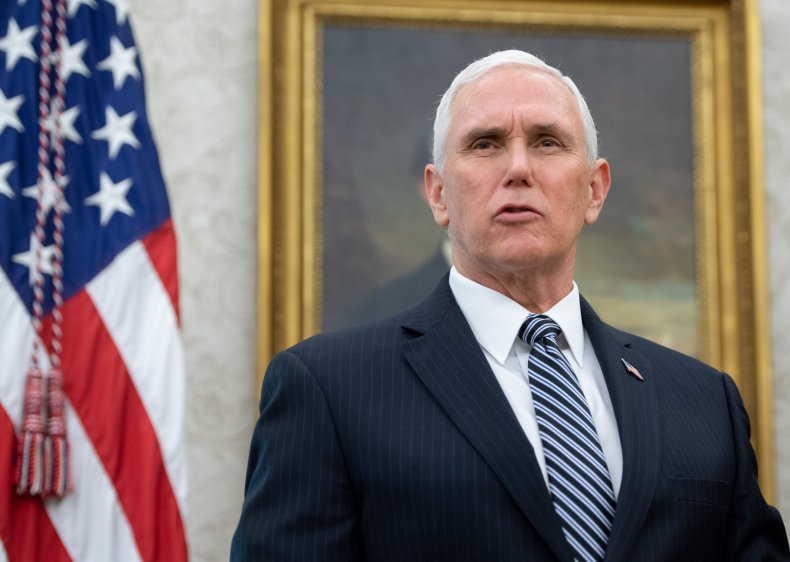 Wired with a microphone, cameras followed Pence back to the delivery van, where he pointed out other boxes to be brought in. When someone else pointed out that those boxes were empty, Pence can be heard saying, "Well, can I carry the empty ones? Just for the camera?"
On his Thursday show—in a segment shared online with the tweet "A big box of nothing, delivering another big box of nothing..."—Kimmel described the moment as accidentally revealing that Pence intended to carry empty boxes for additional press opportunities.
"Since it was going so well and also because he didn't realize he had a mic on, Magic Mike decided to keep it going," said Kimmel. "Listen in closely here."
However, the full C-SPAN clip reveals that Pence was just making a joke.
In the full video, another man helping to unload riffs with the vice president, to laughter from other people assembled.
"Absolutely," he jokes back. "They're a lot easier."
In his original segment, Kimmel used the moment to criticize Pence, ostensibly for the failures of the Trump Administration's Coronavirus Task Force, which the vice president chairs. According to the Center for Disease Control and Prevention, 73,297 people in the United States have died so far from the ongoing coronavirus pandemic—the highest death toll of any country in the world.
Newsweek has reached out to Jimmy Kimmel Live! for clarification on the origins of the clip and how the deceptive edit was made, but did not hear back in time for publication.
Pence campaign spokesperson Jon Thompson described the clip as "absolute garbage," calling out Kimmel in a tweet hashtagged #fakenews.
The deceptively edited clip was also shared by Matt Hill, Deputy National Press Secretary to Democratic presidential candidate Joe Biden.
On Friday, Kimmel issued an apology, but did not seem to retract his original criticism, which described the false characterization of Pence carry empty boxes of PPE as a "perfect metaphor for for who he is and what he's doing: a big box of nothing, delivering another box of nothing."
"I know how dearly this administration values truth," he wrote sarcastically, at the end of his apologizing tweet.