Jimmy Kimmel Mocks Bill Cosby for Defending Convicted Sex Offender R. Kelly
Bill Cosby has been criticized by Jimmy Kimmel for defending R. Kelly after the singer's conviction for racketeering and sex trafficking.
Cosby faced his own fall from grace in 2018, when he was convicted of three felony counts of aggravated indecent assault. However, Cosby was released from prison in June this year, after the Pennsylvania Supreme Court vacated his conviction.
"I Believe I Can Fly" singer Kelly—whose full name is Robert Sylvester Kelly—is now awaiting sentencing after his conviction in a New York court on Monday. Prosecutors said the 54-year-old had sexually abused women, girls and boys for many years.
But Cosby, through his spokesperson Andrew Wyatt, has expressed support for Kelly. On Tuesday, Wyatt was asked by TMZ what the 84-year-old former comedian thought about the conviction. Wyatt replied: "We talked about it today, and the first thing he said was, 'Look, the guy was railroaded.'
"As he said, [attorney] Gloria Allred did the same thing that she did with him. You parade women out and you stir up the public sentiment to go against him. And that's what they did to R. Kelly."
Wyatt later made similar comments in an interview with the New York Post—catching the attention of Kimmel, who mentioned them during the opening monologue of his late-night talk show on Wednesday.
After going over the headlines of the day, Kimmel said: "Bill Cosby would like to free R. Kelly, I don't know if you heard this."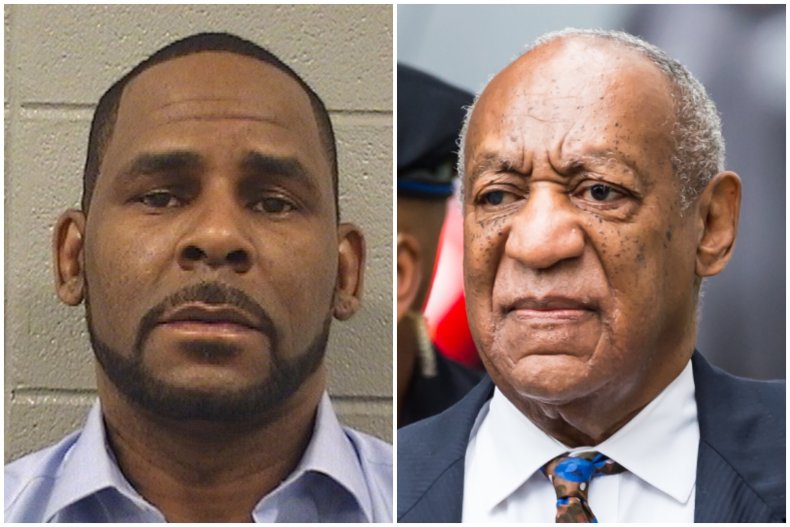 The Jimmy Kimmel Live! studio audience was heard groaning in reaction to the two men's names, prompting him to add: "Oh, it's not a joke. Cosby's spokesman told the New York Post that Bill Cosby thinks R. Kelly got a raw deal and his constitutional rights were grossly abused.
"And if anyone knows about grossly abusing, it is Bill Cosby," Kimmel quipped. "It's a shame he canceled his comedy tour, because he clearly has still got it."
According to the Post, Wyatt said Cosby felt that "the deck was stacked against Robert. His constitutional rights were grossly abused."
Wyatt also discussed the 2019 documentary Surviving R. Kelly, saying: "I don't know anywhere but in this country, in the United States, that a documentary can bring criminal charges against someone."
Wyatt went on to attack Kelly's attorneys, saying they had failed to "humanize" the singer. He added: "He also didn't have the resources and means, he should have asked for support from the court. He would have gotten better representation.
"This is a guy who made the song 'I Believe I Can Fly' when there were rumors about young girls. The song played at every wedding and in every church. He was doing music with Lady Gaga!"
Kelly faces between 10 years and life in prison when he is sentenced on May 4, 2022.
During his trial, the court heard how Kelly had obtained forged paperwork that allowed him to marry the singer Aaliyah when she was just 15 years old.
Kelly also faces charges related to prostitution in Minnesota, as well as child pornography charges in his native Illinois. Both sets of charges were brought against him in 2019, but start dates for the trials have yet to be set.
In Cosby's case, the Pennsylvania court vacated his conviction in part because it contravened a previous agreement with a prosecutor that he would not face criminal charges.
Back in 2005, then Montgomery County District Attorney Bruce Castor said he had found "insufficient credible and admissible evidence" on the allegations against the star. He agreed with Cosby's lawyers not to file criminal charges.
About 60 women have accused Cosby of drugging and raping them. He has denied the allegations.