Jimmy Kimmel Mocks Donald Trump For Getting 'Dumped' By Accountants
Donald Trump being dumped by his longtime accounting firm has proven to be a hot topic for late-night hosts, with Jimmy Kimmel poking fun at the former president's financial woes.
Mazars cut ties with Trump's company last week, saying that financial statements they prepared for him from 2011 to 2020 should "no longer be relied upon."
"In other words, 'We are not going to prison with you, Mr. Trump,'" Jimmy Kimmel joked in his Tuesday night monologue.
The decade's worth of statements have been withdrawn by Mazars as part of New York Attorney General Letitia James' investigation into allegations Trump inflated the value of some New York properties to obtain better bank loans and other financial benefits.
"The New York attorney general and Manhattan district attorney have been trying to determine whether the insurers, lenders and others Trump dealt with were misled about the strength of his finances," Kimmel said. "Let me save you guys some trouble: They were."
The host then joked that Trump now has to "angrily" set up a TurboTax account to get his taxes done.
"I tell you, there's nothing more depressing than getting dumped by your accountant during tax season," he added. "It's like getting divorced on Christmas Eve."
Financial pressures continue to plague the Trump Organization, with Kimmel then turning his attention to the three eldest Trump children.
The comedian joked about Trump's "terrible kids making the rounds, desperately trying to protect the golden goose."
"Eric [Trump] took time out of his busy schedule to promote this made-up Hillary Clinton spying case they're now pumping into the Fox News viewers' soft, oatmeal-like brains," Kimmel said.
Kimmel questioned if this could be the scandal that finally finishes Trump, asking: "A lot of people believe this could be it for Donald Trump—this could be the one. I don't know. How many 'the ones' have we had now. We've had like 400 or something?"
Meanwhile, other late-night hosts could not resist poking fun at the situation, with Stephen Colbert saying on The Late Show: "So, for those nine years, no one should trust any of his financial statements, or any of his statements."
He later quipped: "If there's any karma in this world, they dropped him for a younger, hotter client."
Meanwhile, James Corden poked fun at Mazars, joking: "Good for them, standing up and doing the right thing 10 years too late."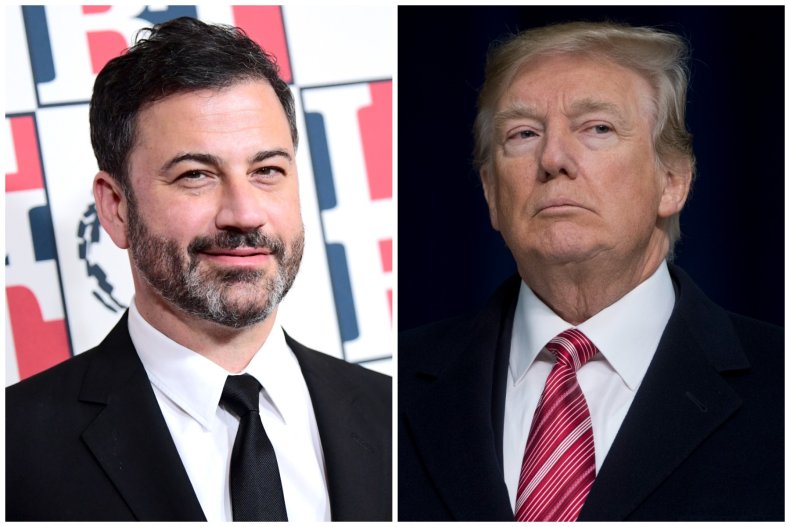 He later added: "What new information could have come to light right now? Were they like 'Wait a minute—Trump Organization? As in Donald—does that have something to do with Donald Trump?'"
The Trump Organization said in a statement Monday that the company was "disappointed" that Mazars has chosen to part ways.
"This confirmation effectively renders the investigations by the DA and AG moot," the Trump Organization said in a statement.