Jimmy Kimmel Prays Manafort and R. Kelly Are Put in 'Same Cell' in Prison
Jimmy Kimmel targeted Paul Manafort during Thursday's episode of Jimmy Kimmel Live! as he mocked President Donald Trump's ex-campaign chairman with a prayer amid his sentencing.
Manafort, 69, was sentenced to 47 months in prison for tax and bank fraud. Manafort's sentencing was significantly less than what he was expected to receive, as he was previously facing up to 25 years in prison.
Kimmel addressed the headline-making moment before his studio audience, joking about his short prison stint.
"President Trump's former campaign chairman was sentenced to 47 months in prison, which was a shock to prosecutors, who suggested a sentence of 19 to 24 years," Kimmel, 51, said on Thursday, according to Deadline. "You know a sentence isn't too stiff when they announce in months…like when you tell somebody how old your baby is."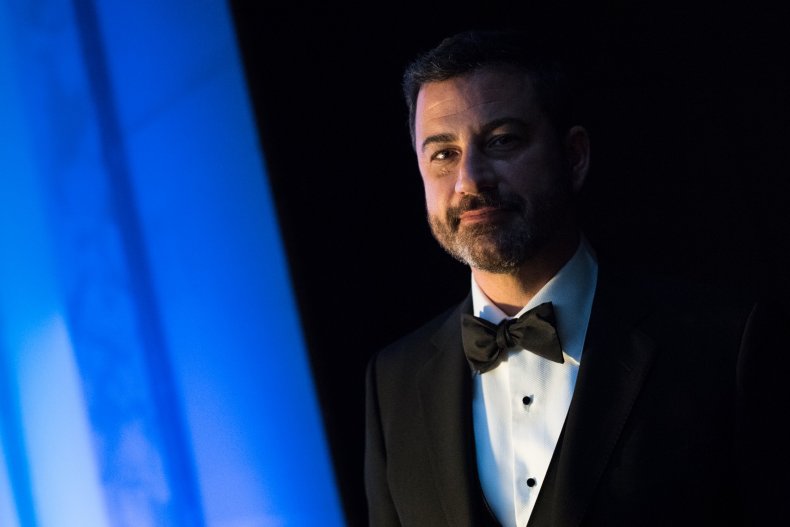 Kimmel continued his discussion on Manafort by explaining how the former Trump aide "said prayer and faith have helped him." From there, he began to jokingly pray, saying: "God, you know, I don't ask for much. But please if you can, please put Paul Manafort in the same cell as R. Kelly. Amen."
Kimmel wasn't the only late-night host to throw jabs at Manafort. On The Late Show Thursday, host Stephen Colbert argued Manafort's sentence was "shockingly lenient" considering the crime at hand and what was initially recommended for his sentence. However, Colbert also commented on how Manafort is set to get another sentencing by a different judge next week.
"Manafort will receive a second jail sentence from a different federal judge for witness tampering and money laundering," he said. "You know you're in trouble when the only time you get out of jail is to go get sentenced to more jail."
In the wake of Manafort's sentencing, Trump addressed the matter before reporters at the White House on Friday as he was leaving for Alabama and Georgia to assess tornado damage. According to CBS News, Trump said he feels "very badly" for Manafort and suggested that "it's been a very tough time for him."
Trump also tweeted about Manafort's case on Friday. He affirmed, once again, that no collusion was involved.
"Both the Judge and the lawyer in the Paul Manafort case stated loudly and for the world to hear that there was NO COLLUSION with Russia," he tweeted. "But the Witch Hunt Hoax continues as you now add these statements to House & Senate Intelligence & Senator Burr. So bad for our Country!"