Jimmy Kimmel Pledges To Hire Furloughed Federal Employees To Work On 'Jimmy Kimmel Live'
As the government shutdown drags on and an estimated 800,000 federal employees work without paychecks, talk show host Jimmy Kimmel is hoping to ease the worry for some.
On the January 7 episode of Jimmy Kimmel Live, Kimmel announced that the show would employ one furloughed federal employee for each episode until the partial government shutdown ends.
The shutdown entered its 17th day on January 8, with no end in sight as President Donald Trump plans to address the nation about security along the U.S.-Mexico border and the need for a wall to curb illegal immigration.
"Nearly 800,000 federal employees are working without pay and that is Donald Trump doing what Donald Trump does best; not paying the people who work for him. That is where he shines" Kimmel said in his opening monologue.
"It's unfortunate that these people, these workers, who have nothing to do with this ridiculous wall aren't getting paychecks, especially right after the holidays. So I wanted to do our part to pitch in," Kimmel said before bringing out John Kostelnik.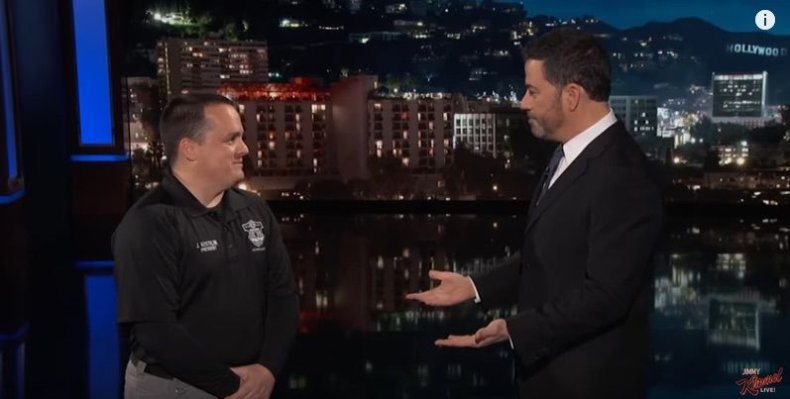 Kostelnik works as a prison guard at the Federal Correctional Complex in Victorville, California and told Kimmel that 1,000 other officers are still on duty at the prison and working without pay.
Kimmel asked if he "objected to being used as a pawn in this fight over a wall." Kostelnik said that he did.
Kostelnik added that he hoped that federal workers would be paid once the government shutdown ends before Kimmel asked if he played a musical instrument. Later, Kostelnik was given a tambourine as he joined Jimmy Kimmel Live's house band Cleto and the Cletones.
Kostelnik's appearance on JKL is but one way that federal workers have attempted to keep themselves afloat amid the shutdown. Another federal worker told CNN that she started a GoFundMe to help pay her rent in January while another has begun writing reviews on makeup in addition to other side jobs like pet sitting and bartending, the Washington Post reports.
Thousands of others are concerned that creditors will not be lenient at their lack of ability to pay mortgages and other bills.
Kimmel, meanwhile, minced no words as to his opinion of Trump and the border wall, saying "He's threatening now to declare a — he's gonna declare a national emergency to fund this wall which, I dunno, is that something that he needs to declare? Every day of this presidency is a national emergency."
"This is the third-longest shutdown ever — the first for no reason — but the president doesn't like to call it a shutdown. He says he prefers the word strike, which is ....it's the first ever involuntary strike in the history of American labor. This is basically the same thing he does with Donald Jr.'s allowance, it makes no sense."