Kimmel Applauds Biden for 'Yukking It Up' With Trump Joke
Jimmy Kimmel has applauded President Joe Biden for "yukking it up" with a joke at the expense of his White House predecessor, Donald Trump.
During his appearance at North America's Building Trades Unions Legislative Conference in Washington D.C. on Wednesday, Biden took a swipe at Trump while promoting the White House's infrastructure plans.
"I mean it's just so outrageous," said Biden while standing at the podium, "that $2 trillion tax cut the last guy. What was his name? Anyway, the last guy. I forgot. He never showed up to the inauguration."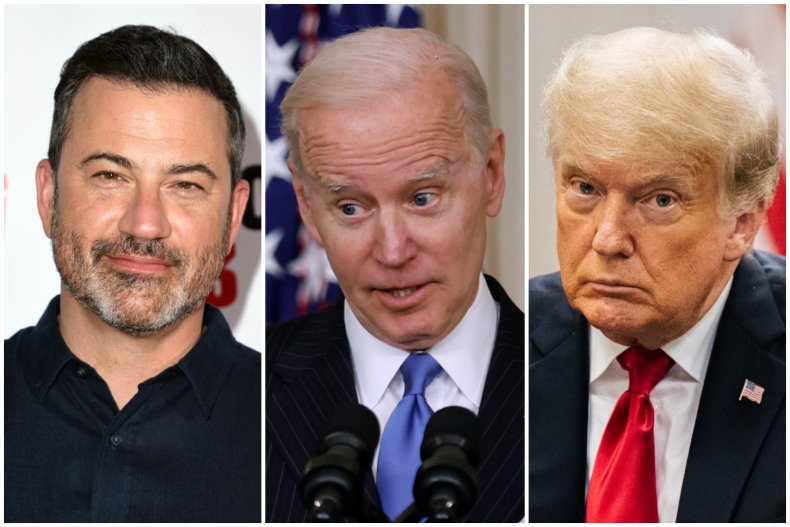 Playing the clip on ABC's Jimmy Kimmel Live hours later, Kimmel linked Biden's quip, which drew laughs from attendees, to former President Barack Obama's Tuesday visit to the White House.
"Yesterday, Joe welcomed his old boss to the White House and that seems to have lightened his mood," Kimmel said, before playing a clip of Biden's swipe at Trump.
The host went on: "Obama comes back for one day and all of a sudden Biden turns into Billy Crystal. He's yukking it up! 'Please don't leave, Barack, I hate it here!'" The video can be viewed at the top of this article.
Biden, who served as Obama's vice president for two terms from 2009, welcomed the former president into the White House on Tuesday to announce new changes to the Affordable Care Act, also known as ACA or "Obamacare."
"Feels like the good old days," Biden said in remarks delivered in the East Room of the White House. "Brings back so many good memories."
Obama joked about his reunion with Biden, initially addressing the president as "Vice President Biden." The event marked Obama's first time back at the White House since he left office in 2017. The ACA, Obama's signature legislation to expand private and public health insurance, had its 12th anniversary last month.
On Tuesday, Biden announced a proposal to expand ACA coverage. The rule change would allow families to receive financial assistance if the cost of their coverage exceeds more than 10 percent of their incomes.
Fixing the so-called "family glitch" will result in 200,000 uninsured people gaining coverage, a senior Biden administration official told reporters, and increase affordability for roughly one million people.
The "family glitch" exists under current regulations which, according to the White House, define coverage provided by an employer as "affordable" based on the cost of covering the employee only and not their family members.
"Once today's proposed rule is finalized, starting next year working families in America will get the help they need to afford full family coverage," Biden said. "As a result, families will be saving hundreds of dollars a month."
Biden also signed an executive order directing agencies to "do everything in their power" to continue strengthening access to affordable, high-quality health care.