Jimmy Kimmel Reacts to Trump NATO Video: 'You Know You're a Mess When' Boris Johnson Is Making Fun of You
Jimmy Kimmel had plenty to say about the viral video seen around the world on Wednesday night's Jimmy Kimmel Live.
On Wednesday, a clip of world leaders Justin Trudeau, Emmanuel Macron and Boris Johnson seemingly making fun of President Donald Trump at a NATO reception in London was shared widely across social media. The video, taken from an event at Buckingham Palace on Tuesday, prompted Trump to call Canadian Prime Minister Trudeau "two-faced" on Wednesday and cut his trip to the U.K. short.
The footage shows an animated Trudeau saying, "He was late because he takes a 40-minute press conference off the top," apparently referring to a joint press conference Macron and Trump held earlier in the day. Trudeau later said: "You just watched his team's jaws drop to the floor."
Kimmel played the clip on his show Wednesday night and sarcastically joked: "And now the bombing of Canada begins. This is absolutely unacceptable. How dare they laugh at our ridiculous president." He quickly added: "That is our job."
The late-night comedian brought up Trump calling Trudeau "two-faced," but pointed out that U.K. Prime Minister Boris Johnson is a Trump ally and therefore "that's the one that's got to hurt most."
"We already know Trudeau and Macron don't like him ... but Boris? Sweet, disheveled, crazy-haired Boris? He's supposed to be the Donald Trump of England. And he's laughing," said Kimmel.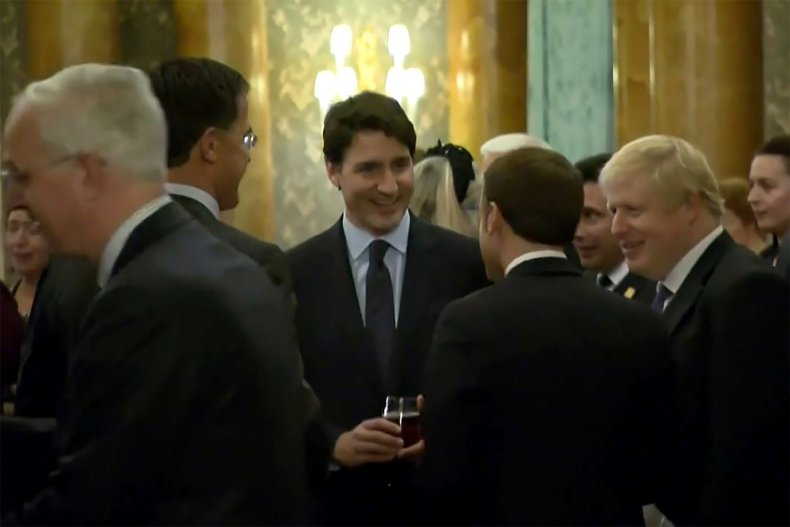 "You know you're a mess when even this guy's making fun of you," Kimmel added, showing an unflattering picture of Johnson on screen.
Kimmel wasn't done, however. The comedian continued that Trump has repeatedly claimed "the world is laughing at us and he's going to make it stop." Cue a montage of no less than seven occasions when Trump has claimed the world is laughing at the U.S. in the past, making the NATO hot mic footage even more embarrassing.
"Mock him up," said Kimmel, paraphrasing the "lock her up" taunt that Trump often lobbed at Hillary Clinton.
On Wednesday, Trudeau told reporters in London that his "jaws drop" remarks were in relation to Trump's announcement that the next G7 meeting will be held at Camp David, not at a Trump-owned resort near Miami, Florida.
"We were all surprised and I think pleased to learn that the next G7 will be at Camp David," Trudeau said. "I think that was an unscheduled announcement."
"I think every different leader has teams who every now and then have their jaws drop at unscheduled surprises, like that video itself," added Trudeau.