Jimmy Kimmel Rails Against 'Dumb' Republicans Amid Vaccine Passport Debate
Jimmy Kimmel has lashed out at the Republican politicians who have taken to social media and condemned proposed "vaccine passports."
The late-night host described the situation as "kind of unbelievable but also par for the course."
"We now have controversies where we never had them before," Kimmel said in his Tuesday night monologue.
Kimmel referenced the backlash from Republicans to the so-called vaccine passports that are currently being developed by the Biden administration.
"If you have a vaccine passport," Kimmel explained, you will be able to do things like travel or go to concerts and sporting events. "But unfortunately many Republicans aren't on board with that."
Kimmel's joking about the situation came after Georgia Republican Congresswoman Marjorie Taylor Greene labeled the proposed vaccine passports as "a means of control" and "corporate communism" in a Facebook live video earlier this week.
"It's still fascism, or communism, whatever you want to call it, but it's coming from private companies," Greene said in the video. "So, I have a term for that. I call it 'corporate communism.'"
"Is this something like Biden's mark of the beast? Because that is really disturbing and not good," Greene said in the live stream, as well as expressing similar thoughts on Twitter.
Meanwhile, Florida Governor Ron DeSantis has said he will take executive action to ban the use of vaccine passports for people to "participate in normal society."
"It's completely unacceptable for either the government or the private sector to impose upon you the requirement that you show proof of vaccine to just simply be able to participate in normal society," Gov. DeSantis said at a press conference on Monday.
Taking aim at "the terrible Governor of Florida" DeSantis, Kimmel joked that his opposition to vaccine passports is "very rich coming from the party that wants nine forms of identification before you can vote."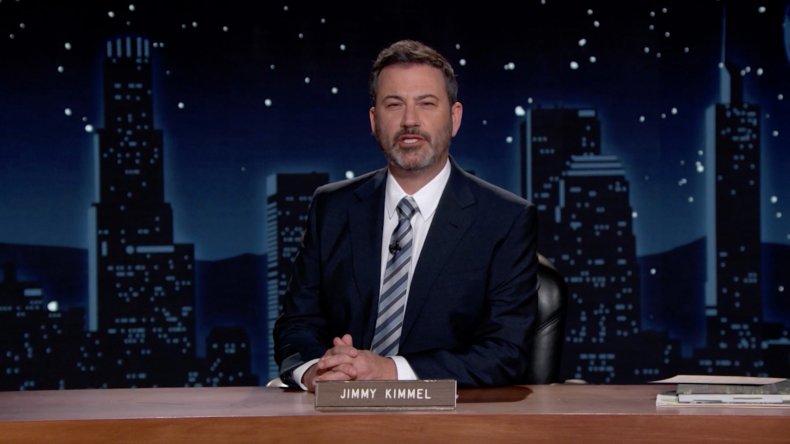 Turning his attention to Greene, Kimmel added: "None other than Klan Mom herself, Marjorie Taylor Greene, believes there are Biblical implications!"
Rolling her livestream in which Greene referred to the immunity passports as "Biden's mark of the beast," Kimmel then mocked: "Poor Joe Biden. How do you reach across the aisle when the other side thinks you have hooves? What a dumb person. Everyone knows, the Mark of the beast is Zuckerberg."
He also felt it necessary to inform Green that "fascism and communism are literally opposite things."
"It's why Germany and the Soviet Union fought in World War II," he added. "But they both have 'ism' in 'em so you know they're bad things. Fascism, communism... astigmatism, all bad things!"