During his show Monday night, Jimmy Kimmel made a joke in his monologue comparing President Donald Trump to his daughter Jane.
Kimmel said he realized the similarities while spending time at the park with her and his son over the weekend.
The late night talk show host likened his daughter's self-centered attitude to the president.
"While we were playing, it occurred to me that Jane, my daughter Jane, is a lot like Donald Trump," he said. "She's totally self-centered. The world, as she sees it, revolves around her. She wants everything. You take her to Target, forget about it. She gives nothing to charity; and even when she does give something to someone else, you have to make a big show complimenting her. 'Oh, you gave your brother one Skittle from the pack, what a great sister you are.'"
Kimmel also likened his daughter's temper tantrums to Trump's outbursts.
"She has tantrums, regularly. When she doesn't get her way, she yells. She even told me I was fired once," Kimmel joked, referencing Trump's Apprentice catchphrase.
Perhaps the monologue's funniest comparison was when Kimmel compared his daughter's knowledge of foreign leaders to Trump's: "She doesn't know the names of any foreign leaders."
Kimmel concluded the bit by rattling off some more childish behavior that his daughter participates in, as expected, because she's a 5-year-old.
"All she wants to do all day is watch TV. You tell her not to do things; she does them anyway. She lies and thinks you don't know she's lying. She claims she has a lot of money in her piggy bank—really not that much, like $11. Her spelling is atrocious. She always orders chicken fingers, no matter where we are. She puts ketchup on everything," he quipped. "And, she has tiny hands! She's got tiny pink hands, just like the president. You take out the cute part, they're almost the same person."
ABC, the White House, and Trump campaign did not immediately respond to Newsweek's requests for comment.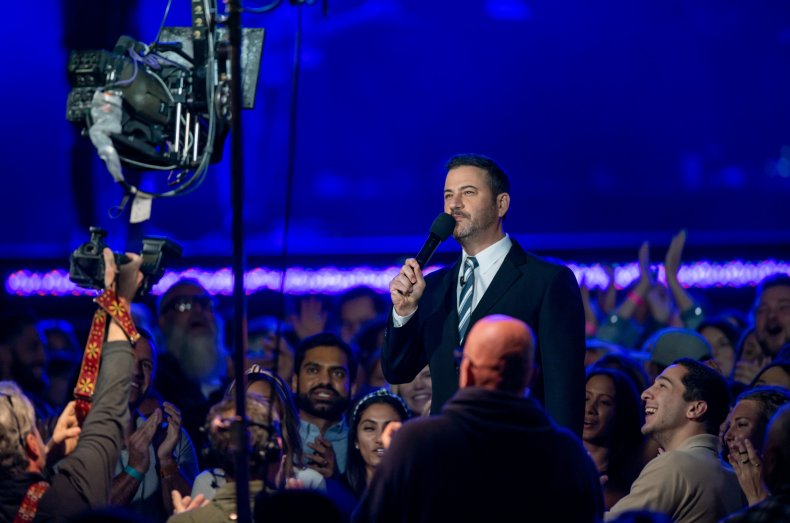 Throughout the rest of his monologue, Kimmel continued making fun of the president for a meeting with black leaders who only praised the president, his Conservative Political Action Conference appearance where he "sexually molest[ed] the American flag," and his tweets about former Vice President Joe Biden's victory in South Carolina's primaries.
Kimmel also made fun of the Democratic candidates who are still in the running ahead of Super Tuesday. Besides quick cracks on some of Biden's gaffes during a Fox News interview and a campaign rally, where he seemingly forgot the text of the Declaration of Independence, Kimmel also joked about former South Bend, Indiana, Mayor Pete Buttigieg's name being difficult to pronounce and for dressing like "he worked at Office Max." Kimmel also played the clip of billionaire Tom Steyer singing and dancing along to Juvenile's "Back That Azz Up."
Kimmel's monologue was bookended with jokes about the coronavirus, including one where he greeted his sidekick Guillermo Rodriguez with new handshakes where they bump knees ("The Patella Hello") or elbows ("The Hello-bow"). His monologue ended with him referencing one of Trump's gaffes, where he called one of the victims, "a wonderful woman," only to later find out that the patient was a male.