Racer Accuses 'Street Outlaws: Memphis' Host Of 'Attempting to Kill Him,' Lawsuit Says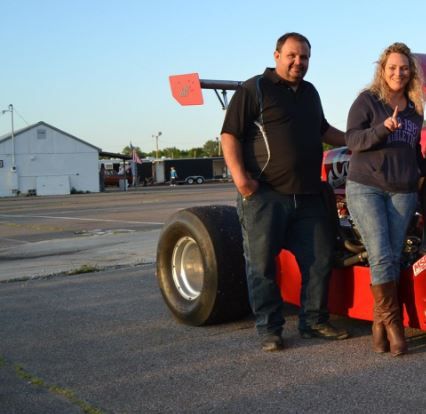 When TV viewers in February tuned in to watch Episode 7 of "Street Outlaws: Memphis" premiere -- a crime may have unfolded before their eyes, when the star of the street racing show allegedly brawled with another driver.
Chad Larkin, a street car racer from Missouri, and his wife Genny are accusing Jonathan "JJ Da Boss" Day, the 45-year-old host of the Discovery Channel show, of inciting an assault against him that he believed was going to be fatal.
"...Larkin literally believed the Street Outlaws were attempting to kill him. He literally feared for his life," according to a federal civil complaint lodged by Larkin and his wife on Monday at a Memphis federal court which names Day, the Discovery Channel and a North Hollywood, California-based production company Pilgrim Films & Television as defendants.
Day is also accused, in an Affidavit obtained by Newsweek, of inflicting blows against Larkin that allegedly took place as the reality show was filming.
Larkin claimed he was repeatedly "kicked and hit about his head and body" by Day and his several of his associates after defending himself. He said that Day allegedly yelled: "F--- you fat boy, get your own show!" before he was attacked.
The seasoned racer identified Day for the assault after being shown a six-person photo array. Larkin was ultimately hospitalized with a chipped front tooth, and also suffered a busted lip, black eye, herniated disk and torn left meniscus, the document states.
Newsweek's messages to the Discovery Channel, Pilgrim Films & Television and Day's attorney were not immediately returned.
Day and his crew of street racers reached out to Chad Larkin on Facebook challenging him and some other racers to compete in a race for cash. The race would be videotaped and Larkin only had to pony up $1,000.
Larkin accepted the challenge, legal docs said.
If victorious in the races, according to his attorney David Weissman, Larkin could have walked home $30,000 richer.
"He's a skilled racer with over 1,000 races to his name," Weissman told Newsweek. "He was of the mindset that this race was going to be legitimate and he would be on the show to win a legitimate prize."
Producers informed Larkin to respond to the producers with a "guest list" and be in Memphis on Sept. 23, 2017 where he would be texted a clandestine address 30 minutes before, the civil complaint reads.
Secrecy reigned supreme.
"Larkin was further advised he could post on social media about the race but that he could not mention 'Street Outlaws' or television likely due to the illegal nature of the event," the civil document notes.
At around 3:30 p.m. on that day, Larkin, who brought along a buddy dressed in a prison jumpsuit, arrived and described the scene in the suit as "a contrived production to create scandal and controversy."
The show producers inspected Larkin's and his fellow challengers' wheels and then gave Larkin a line that would trigger a volley of barbs before a fight ensued.
The camera crew allegedly coached Larkin's prison-attired friend to run up to Day and tell him, "You might be JJ but he's the boss," referring to Larkin, the civil complaint states.
By late evening the cars were lined up in "car show" fashion "with the Memphis Street Outlaws on one side of the road and the invited racers" (that included Larkin) on the opposite side.
The civil document accuses Day of being "hostile and aggressive" in his demeanor from the beginning and setting the table for a rumble when he allegedly told the invited races to "get into the Memphis Street Outlaws' heads" by "talking trash, whatever you [have] to do to get into our heads."
When one of the invited racers approached Day in the center of the road, Day allegedly chewed him out, saying, "What the f--- is on your mind? Why are you stepping out like that," according to the civil complaint.
The first race between Memphis Street Outlaw and an unnamed Texas racer went south.
The complaint describes the driver as leaving before the arm drop start signal as the Texas challenger remained stationary. Day's cohort was supposed to be disqualified as a result.
"This caused Mr. Day to become outraged," the document states. "He began cursing and screaming" before huddling up with his team.
Day, the document alleges, then "instructed his group of racers to pull 'every dirty trick they could,'" and that meant more mind games and "declaring war" on their rivals.
With tensions rising, the Larkins accused producers of doing nothing to stop the fallout and "allow heated emotions to cool down or to take other remedial action."
Instead, the document alleges, the produces who were working on behalf of Discovery were seeking "sensationalistic trash likely to result in violence."
Larkin attempted to stick up for the Texan who held back as racer allegedly jumped the gun in the duel.
"Don't be mad because this guy beat you at your own game," Larkin told Day, according to the complaint.
Larkin was now in Day's crosshairs, the documents suggest, and Day responded: "F--- you fat boy, get your own show," The faceoff caught the interest of the film crew as "two cameras focused on Larkin and Day," the document suggests.
Before the second race took place, Larkin wished the racer challenging one of Day's Outlaw crew "good luck" and the document shows, told him, "Let's all of us out-of-towners pull together as a team and show these Memphis Street Outlaws they aren't as fast as they think they are."
That remark allegedly set Day off. He, along with two of his crew named "Bounty Hunter" and "Mustang Mike," started "cursing at [Larkin]," and the document states they were "attempting to attack" him.
As Larkin was turning around he claims in the document of hearing his wife scream, "Look out!"
Day and "Bounty Hunter" rushed him and allegedly "threw punches at Larking and tackled him to the ground," the complaint details.
Larken reflected back in the document to the excruciating pain in that moment as his left leg's "muscles and tendons were ripping."
Larkin thought his life was being threatened and accused Day and "Bounty Hunter" of "attempting to kill him," according to the complaint.
Larkin's wife Genny claimed that as she tried to break up the scuffle with her husband, a woman member of the Memphis Street Outlaws allegedly "grabbed the back of her head and pulled her to the ground by her hair, resulting in physical and emotional injury," the document states.
The couple also blame the reality show's film crew. While they could have intervened, the Larkins' lawsuit suggests the crew apparently stood by to capture the beatdown for popcorn fodder.
"While the assault was ongoing, the producers of the show made no effort to stop it," the document states. "Rather, the camera crew and producers continued filming… one of the producers instructed a cameraman to get closer and get a better shot."
And when on-set medics who were present along the open stretch of asphalt on Riverport Road dressed as a race track allegedly attempted to attend to Larkin, one producer vetoed, and allegedly told them to "get off [my] set," before guiding a director of photography to "get a good shot of Mr. Larkin's face all bloody," the document states.
Some of the gory footage aired on the episode in what was described by the document as "highly edited fashion."
Day was arrested a month later and booked for aggravated assault charges. He was released on a $30,000 surety bond, court records show.
The case is still pending after a June 27 preliminary hearing was held, where the Larkins were subpoenaed to testify about the alleged attack, a Shelby County Attorney General official told Newsweek.
Day hasn't been formally indicted as evidence is still being presented to a Grand Jury, the official added.
Chad Larkin is seeking compensatory damages "not to exceed $5 million" and punitive damages for the same amount. And Genny Larkin is seeking compensatory damages of $500,000, the civil complaint states.