JJ Watt Signs With Arizona Cardinals—Blake Shelton and the NFL React
J.J. Watt has chosen Arizona as his next football destination, and the NFL and fans are reacting in kind.
On Monday, the three-time Defensive Player of the Year took to social media to announce his decision to sign with the Arizona Cardinals. The announcement was brief: It consisted of a photo of Watt lifting weights in a Cardinals shirt with the caption, "source: me."
The new deal is reportedly for two years, worth $31 million and with $23 million guaranteed. So the 10-year veteran is getting paid and is reuniting with his former teammate in Houston, Deandre Hopkins.
Cardinals fans are, understandably, very excited by the signing. Just ask country music mega-star Blake Shelton, who tweeted his congratulations on Monday afternoon.
NFL pundits and fans are salivating at the fact that Watt will play on the opposite side of the defensive line of Chandler Jones. They have the first and second most sacks since 2012, which will make the Cardinals an even tougher defense than they already were.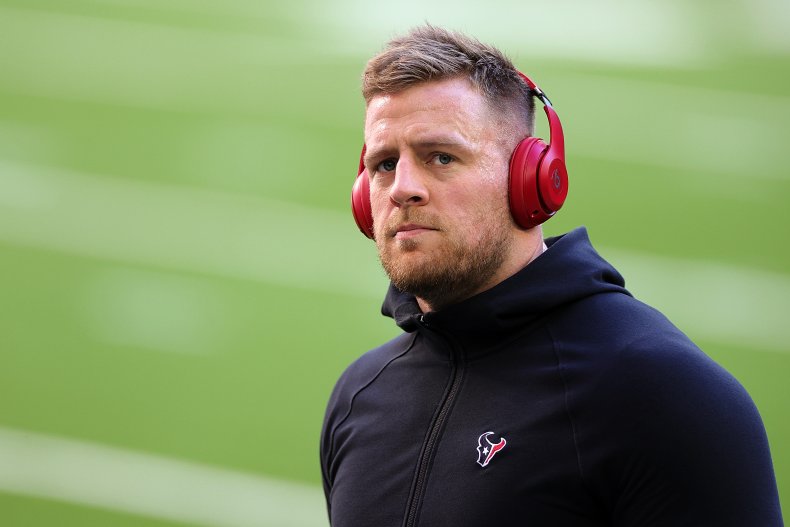 Football fans are also pointing out how Seattle Seahawks quarterback Russell Wilson will have a tough division to play against next season. Between the aforementioned Watt and Jones combination in Arizona, Joey Bosa in San Francisco and Aaron Donald in Los Angeles, Wilson might have a hard time standing upright once the NFL returns in the fall.
Even Chandler Jones had to get in on it.
Watt's decision has also broken the hearts of a few fanbases, including those belonging to the teams that many thought were frontrunners in the J.J. sweepstakes—namely, the Cleveland Browns, Green Bay Packers and the Buffalo Bills.
The official Wisconsin Football Twitter account, the school that Watt played for in college, tweeted that they really wanted the alum to choose a team "closer to home"—meaning the Packers—but they still wish Watt the best of luck.
Watt requested his release from the Houston Texans in early February in what has become a tumultuous 2020-21 for the franchise. Not only did the Texans trade away Pro Bowl wide receiver DeAndre Hopkins for a second round pick to the Cardinals, but the team also had a dismal season, finishing with a record of 4-12.
Head coach and general manager Bill O'Brien was fired after the team's 0-4 start and the direction of the team reportedly has franchise quarterback Deshaun Watson unhappy.
What do you think of J.J. Watt going to Arizona? Let us know in the comments section.