J.J. Watt Tells Teammates Not Being Professional, 'You Shouldn't Be Here'
Houston Texans star defensive end J.J. Watt let the emotions of a poor defensive performance by his team and a bad season roll into Sunday's post-game press conference.
Watt said the team played "horrendously" in Sunday's 37-31 loss to the Cincinnati Bengals, and even called his team's 4-11 record "trash."
He didn't call out any players by name, but said there was an extreme lack of professionalism with some of the players. He cited missing workouts, missing the weights and not showing up on time.
"We're professional athletes getting paid a whole lot of money," Watt said. "If you can't come in and put work in in the building, go out to the practice field and work hard, do your lifts and do what you're supposed to do, you should not be here. This is a job. We are getting paid a whole lot of money."
Watt continued railing into the team, even using some expletives that are bleeped out in this video.
"There are a lot of people that watch us and invest their time and their money into buying our jerseys and buying a whole bunch of s***, and they care about it. They care every single week.
"We're in Week 16 and we're 4-11, and there's fans that watch this game, that show up to the stadium that put in time and energy and effort and care about this. So if you can't go out there and you can't work out, you can't show up on time, you can't practice, you can't want to go out there and win, you shouldn't be here. Because this is a privilege. It's the greatest job in the world. You get to go out and play a game. And if you can't care enough, even in Week 17, even when you're trash, when you're 4-11. If you can't care enough to go out there and give everything you've got and try your hardest, that's bulls***."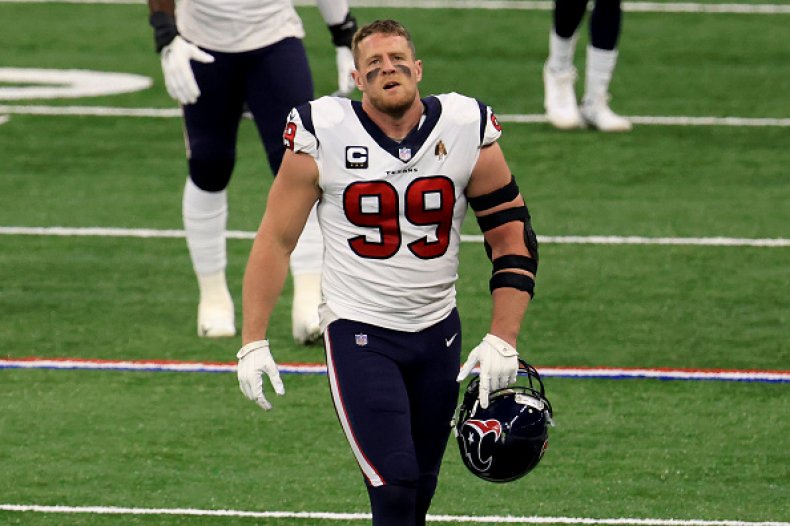 Sunday's game was the fourth-consecutive loss for the second time this season. After the team started the season 0-4, they fired coach Bill O'Brien. Romeo Crennel took over as the interim coach, and the Texans have won just four games—two of those came against the Jacksonville Jaguars, who are 1-14 on the season with a 14-game losing streak.
The Texans gave 540 yards to the Bengals, who are playing with backup quarterback Brandon Allen after rookie starter Joe Burrow had a season-ending injury last month.
Still, fans still let Watt know they're pulling for the team despite their tough year.
"There are people every week that still tweet you, that still come up to you and say, 'Hey, we're still rooting for you; we're still behind you.' They have no reason whatsoever to. We stink. But they care and they still want to win and they still want you to be great. That's why.," Watt continued.
"Those people aren't getting paid. We're getting paid handsomely. That's why. And that's ... that's who I feel the most bad for, is our fans and the people who care so deeply and the city and the people who love it and who truly want it to be great. And it's not. And that sucks as a player to know that we're not giving them what they deserve."