Jjong Trends As Fans Mark the Anniversary of K-Pop Singer Kim Jong-hyun's Death
Fans of late K-pop singer Kim Jong-hyun flooded social media with messages of remembrance to mark the two-year anniversary of his death on Wednesday.
The singer, who was a member of K-pop boy band Shinee before he became a solo artist in 2015, was found unconscious in a rented apartment in the Cheongdam-dong neighborhood of Seoul on December 18, 2017.
The singer was believed to have died by suicide after coal briquettes burnt on a frying pan were found upon arriving at the apartment. Police believed he died from inhaling the intoxicating fumes from the coal, South Korea's Yonhap News Agency reported at the time.
The singer's sister was reported to have received a text message from Kim stating: "Please let me go. Tell me I did well" and "Final farewell," Yonhap reported, which led her to believe her brother was going to harm himself.
Fans of the late singer have shared messages of love, mourning and tribute on social media and "Jjong", the affectionate name by which fans knew the late singer, has been trending on Twitter.
"Our jjong. there's not a single day where I don't miss you. thank you for always being my brightest star, my happy pill, my source of comfort, my loving place, my home. thank you for having the best discography, personality, smile. I'll never forget you," wrote @melovixx.
" 'Maybe tomorrow' gives us reassurance that it's okay to have bad days, that although today you feel nothing has gone your way, there's always a tomorrow, a day after tomorrow and that even if you feel the same way for months, jjong will be there ♡," wrote @k3bum.
"I truly believe people live on as long as they are alive in the memories of those who loved them. as long as someone knows jjong's name, as long as someone out there associates him with his unique warmth and light, he will be here," wrote @bumkejk.
"Each day that passes another part of me leaves. It doesn't actually feel like what people call gods world it's more like a living hell. Jonghyun I miss you more and more. You will never be forgotten you are truly a legend #JONGHYUN #weloveyoujonghyun," wrote @shineekibum_.
Kim released 12 albums with Shinee before he made his solo debut in January 2015 with the EP album Base, which topped the Billboard's World Album Chart.
Kim's final public appearance was on December 9-10 in 2017 for a solo concert in Seoul titled "Inspired."
If you have thoughts of suicide, confidential help is available for free at the National Suicide Prevention Lifeline. Call 1-800-273-8255. The line is available 24 hours, every day.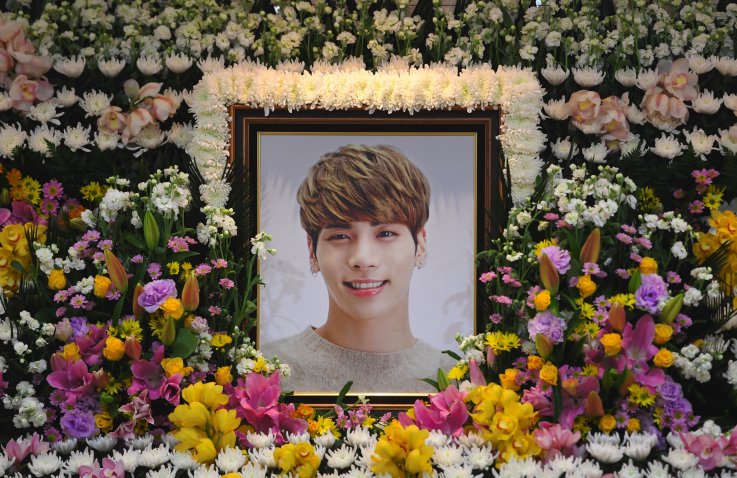 Jjong Trends As Fans Mark the Anniversary of K-Pop Singer Kim Jong-hyun's Death | News